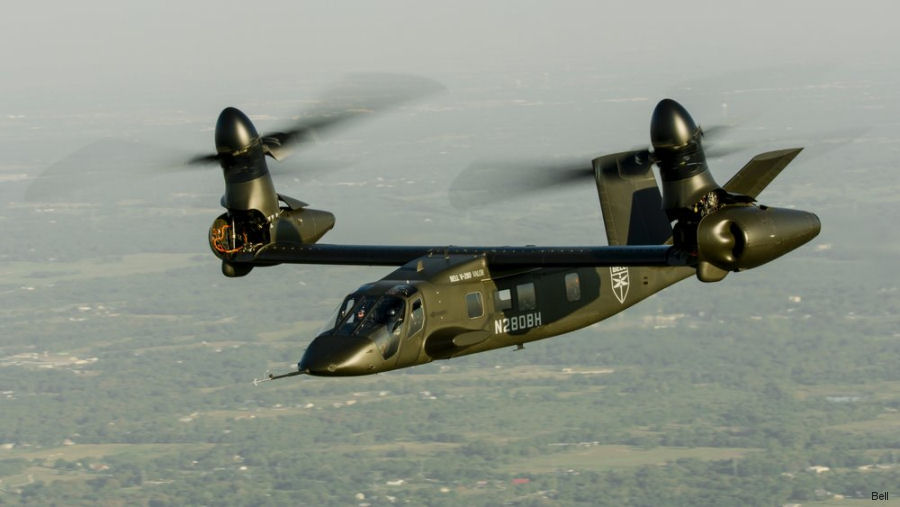 Bell, April 12, 2021 - Fort Worth, Texas – Bell Textron Inc., a Textron Inc. company and the U.S. Army have agreed to terms on the execution of the second phase of the Competitive Demonstration and Risk Reduction (CD&RR) contract that was awarded in March 2020 for the Future Long-Range Assault Aircraft (FLRAA) program.

This new contract is an important milestone and testament to the continued momentum for Army modernization.

Bell's flight-proven V-280 Valor design advances from an aircraft with transformational speed and survivability towards a low-risk weapons system ready to support joint combined arms and maneuver operations around the world.

"This is the next step to a program of record and Bell is proud to closely collaborate with the Army to transition our flight-proven V-280 Valor into a highly-capable and sustainable FLRAA weapons system," said Keith Flail, executive vice president, Advanced Vertical Lift Systems at Bell.

"Bell and our Team Valor teammates continue to optimize our platform based on research, design, and thorough flight-testing of the aircraft to deliver an outstanding capability for the Army."

During phase one of the CD&RR, Bell provided detailed iterations on the V-280 design, data to highlight the feasibility of executing the program of record requirements, and executed trade studies using model-based systems engineering. This work will continue under phase two as the Army finalizes requirements for the program of record planned for 2022.

Bell has already safely delivered groundbreaking performance and successfully completed a rapid design, build, and test program with the V-280. Since its first flight in 2017, the V-280 team has executed a rigorous flight test program flying more than 200 hours through over 160 individual test flights that delivered critical data to validate Bell's digital models and performance.

As the FLRAA competition moves to a program of record, Bell continues to take a holistic approach to transition the V-280 to a weapons system that ensures exceptional performance and is affordable throughout the lifecycle.

From the outset, the Bell V-280 Valor was designed for efficiency—using simplified and inherently reliable designs, adhering to Army Modular Open Systems Approach (MOSA) requirements, reducing maintenance costs, and increasing reliability.

Bell applied digital design and manufacturing technologies, included maintenance as part of the design process, and used emerging commercial processes to bring a comprehensive view of digital models, processing, and analysis. This methodology has reduced programmatic risk, improved lifecycle maintenance and servicing outcomes, increasing program affordability.

"This aircraft is not an engineering science project. The V-280 tiltrotor provides a critical and combat-proven capability needed to maintain our U.S. military's ability to deter adversaries by radically improving over the current fleet's speed, range, versatility, and sustainability. Our program has provided evidence that the V-280 is a transformational long-range assault aircraft solution for the Army and we are proud to move forward as a team to continue to mature the weapons system," said Ryan Ehinger, vice president and program director, FLRAA at Bell.

FLRAA >
Bell V-280 Valor
Bell V-280 Agility Testing

Defiant X Competitive Demonstration