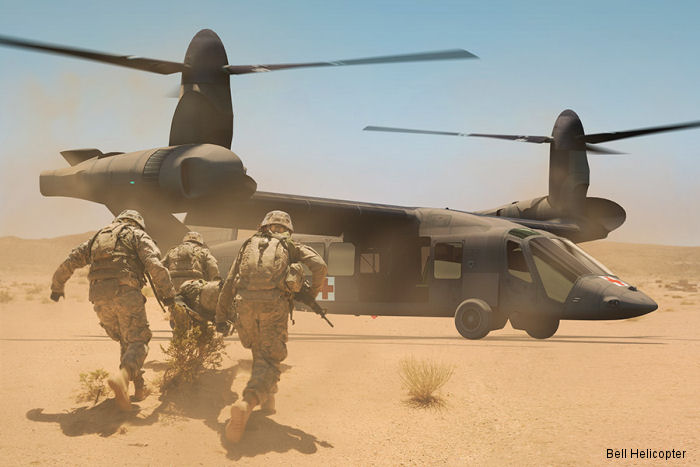 Bell Helicopter, March 26, 2015 - Bell Helicopter, a Textron Inc. company, has announced its show plans for the 2015 Army Aviation Mission Solutions Summit in Nashville, Tenn., March 29 – April 1.

The company will display its full-size mockup of the Bell V-280 Valor next generation tiltrotor aircraft.

"The Army Aviation Summit provides us with a great opportunity to engage with current and future Army aviation leadership," said Mitch Snyder, executive vice president of Military Business at Bell Helicopter.

"This unique event gives us the chance for precise, in-depth discussions on what the next generation of tiltrotor can deliver in support of the U.S. Army's operating concepts and future doctrine."

Throughout the show, the V-280 mockup will be shown in both attack and utility configurations, demonstrating the aircraft's versatility and multi-mission capability to attendees. The annual event will be held at the Gaylord Opryland Hotel and convention center and will host representatives from 22 countries.

The first flight of the next generation tiltrotor is scheduled for the second half of 2017. The V-280 tiltrotor will provide unmatched speed, range and payload, along with unmatched agility at the objective. The aircraft will provide the best value in operations and maintenance costs, and is being designed with sustainability, affordability, and ease of manufacturing in mind.

The Army Aviation Mission Solutions Summit provides the Army Aviation community with the opportunity for professional development, and brings together Army Aviation, government leaders and industry representatives at the 16 acre exhibit. Attendees will be able to hear leadership messages in general sessions, network with fellow attendees in deep dive sessions on technology and training, and attend presentations from U.S. Army leadership. The annual show also features recognition ceremonies for deserving Aviation soldiers and units.
Bell V-280 Valor