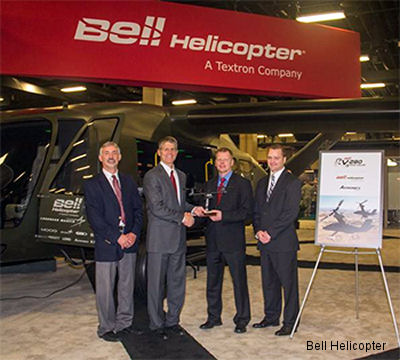 Bell Helicopter, May 05, 2014 - Fort Worth, Texas – Bell Helicopter, a Textron Inc. company, announced today that Astronics Advanced Electric Systems will design and manufacture power distribution systems for the Bell V-280 Valor.

John Garrison, president and CEO of Bell Helicopter, says: "We are pleased Astronics is making the strategic decision to join our growing team of aerospace leaders and help develop our third generation tiltrotor, the Bell V-280. By using Astronics solid state power distribution systems, we provide enhanced reliability, weight savings, and advanced control capabilities for the V-280 Valor. Team Valor continues to align interests and resources on this clean sheet design, together delivering technology and innovation that reduces cost, weight and complexity in order to make the next generation of tiltrotor technology more affordable."

Kellsey Justus, vice president of Astronics product line, says: "Astronics is very proud to be selected as a teaming partner on the Bell V-280 program. Building on our successful work on the Bell 525 and 505 programs, Astronics will be providing the primary and secondary electrical power distribution system for the V-280 tiltrotor. We are pleased to continue our relationship with Bell by participating in this exciting program that sets the stage for the future of vertical lift and the latest innovations in power distribution technology."

The transformational features of Bell Helicopter's third generation tiltrotor technologies within the Joint Multi Role (JMR) Technology Demonstrator (TD) reduce risk and inform the requirements for the Future Vertical Lift (FVL) program. With increased maintainability and component and systems reliability, the Bell V-280 is designed to deliver the best value in procurement, operations and support, and force structure. With twice the speed and range of the U.S. Army's current fleet, the Bell V-280 Valor will offer commanders a combat maneuver platform with the operational agility and effectiveness to self-deploy and perform multiple vertical lift missions.

Team Valor is a group comprised of leading aerospace companies bringing the best engineering resources, industrial capabilities and critical thinking to meet the U.S. Army's needs.

About Bell Helicopter: Bell Helicopter, a wholly owned subsidiary of Textron Inc., is an industry-leading producer of commercial and military, manned and unmanned vertical-lift aircraft and the pioneer of the revolutionary tiltrotor aircraft. Globally recognized for world-class customer service, innovation and superior quality, Bell's global workforce serves customers flying Bell aircraft in more than 120 countries.
Bell V-280 Valor