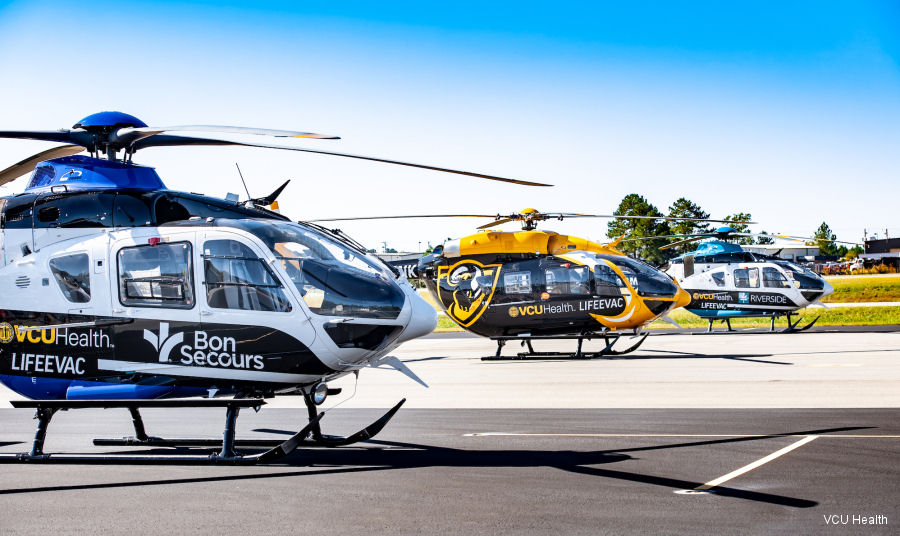 VCU Health, October 31, 2021
- RICHMOND, VA – VCU Health System, Bon Secours, Mary Washington Healthcare and Riverside Health System announced an air medical transport alliance that will increase access and shorten response times for patient transfers requiring critical care air support.
Supported by Med-Trans Corporation, the alliance will add a new air base in Hanover, expanding access to life-saving air transport services northeast of Richmond.
"When a patient is critically ill or injured, seconds count," said Art Kellermann, M.D., senior vice president for health sciences at VCU and CEO of VCU Health System. "So does skill, dedication and teamwork. This new alliance proves that when community-based health systems come together to serve all Virginians, good things happen. It will save lives."
This month marks the 20-year anniversary of VCU LifeEvac's first flight and expands the base locations from two to three. The fleet will offer accident scene responses and critical care air transport service 24 hours a day, seven days a week.
VCU Health will continue providing expert medical oversight and clinical staff for the LifeEvac fleet, putting the resources and expertise of its nationally-renowned Level I Trauma Center and Neonatal Intensive Care staff in the air. Med-Trans will own and maintain the helicopters and provide highly-skilled pilots to fly them.
The base locations are as follows:
-
Hanover Airport
(new location)
-
Bon Secours Southside Medical Center
in Petersburg (will relocate from Dinwiddie County Airport later this year)
-
Middle Peninsula Airport
in West Point (existing location)
"This expansion strongly positions our institutional alliance for the future and demonstrates the successful coordinating capacity and collaboration among these four health systems," said Faraaz Yousuf, president, Bon Secours Richmond. "Bon Secours is proud to be a part of this alliance, which will benefit both our local Richmond community and the Commonwealth of Virginia."
The alliance's helicopter fleet operates as a community resource, transporting patients to the most appropriate hospital in the region based strictly on their clinical needs. Alliance partners will meet quarterly to review performance metrics and implement changes to best serve patients everywhere.
"We offer a service we sincerely hope you will never need," said Eileen Dohmann, senior vice president and chief nursing officer, Mary Washington Healthcare. "However, if your life ever depends on receiving the highest level of care possible during transfers, this alliance ensures you receive seamless continuity of that extraordinary care."
Adding a third air medical transport base in Hanover will significantly decrease flight response times. A trip to the Kings Dominion area from the Dinwiddie County Airport base currently takes 22 minutes. Once the Hanover base is fully operational, the response time will drop to less than 10 minutes.
The LifeEvac helicopter fleet will be branded to match three of the partner organizations. VCU Health System, Bon Secours and Riverside Health System will each have a LifeEvac helicopter representing its brand under the LifeEvac umbrella to reinforce the message that this is a multi-system alliance.
"We are incredibly proud to operate as part of this alliance," said Mike Dacey, M.D., president and chief operating officer for Riverside Health System. "We are committed to providing world-class service and care alongside other health systems that share our values."
Med-Trans Corporation, part of the Global Medical Response (
GMR
) family of companies, is succeeding Air Methods Corporation as medical transport provider for VCU Health System. Med-Trans is a leading national medical transport provider with more than 100 base locations in 26 states.
"Med-Trans is proud to partner with these three outstanding hospitals to provide rapid, safe transport to patients in need of a higher level of emergency health care," said Kim Montgomery, chief operating officer for Med-Trans Corp. "Our expert pilots and aviation maintenance professionals provide the highest level of safety for flight crews and patients."
"We are grateful for our long-term partnership with Air Methods Corporation, which began in 2001," said Bert Bogue, Critical Care Transport Network administrator at VCU Health. "Thousands of patients from across the Commonwealth and beyond have benefited from extraordinary flight service and in-transit critical care over nearly two decades. Our new partnership with Med-Trans positions us to further expand our geographical footprint to help even more people in need across the region."
Virginia air ambulance alliance

About Bon Secours – Richmond: Bon Secours – Richmond is part of Bon Secours Mercy Health, one of the 20 largest health systems in the United States and the fifth-largest Catholic health system in the country. The ministry's quality, compassionate care is provided by more than 60,000 associates serving communities in Florida, Kentucky, Maryland, New York, Ohio, South Carolina and Virginia, as well as throughout Ireland. Bon Secours – Richmond provides compassionate medical care through a network of hospitals, primary and specialty care practices, ambulatory care sites and continuing care facilities.

As one of Richmond's largest employers, the not-for-profit health system employs more than 9,000 people, including nearly 420 providers as part of the Bon Secours Medical Group. Bon Secours – Richmond includes St. Mary's Hospital, Memorial Regional Medical Center, Richmond Community Hospital, St. Francis Medical Center, Rappahannock General Hospital, Southside Medical Center, Southern Virginia Medical Center, Westchester Emergency Center, Short Pump Emergency Center and Southside Emergency Care Center. Consistent with its commitment to serve each patient with dignity, Bon Secours Mercy Health provides nearly $2 million per day in community benefit.

The mission of Bon Secours is to extend the compassionate ministry of Jesus by improving the health and well-being of our communities and bring good help to those in need, especially people who are poor, dying and underserved.

About Mary Washington Healthcare: Mary Washington Healthcare is a fully integrated, regional medical system that provides inpatient and outpatient care through over 50 facilities including Mary Washington Hospital, a 471-bed regional medical center, and Stafford Hospital, a 100-bed community hospital. Mary Washington Healthcare is a non-profit health system with a longstanding commitment to provide care regardless of ability to pay.

About Med-Trans Corporation: Med-Trans is a leading national medical transport provider, focused on establishing professional relationships with leading health systems, medical centers and EMS agencies. Med-Trans offers a broad range of solutions to help its partners achieve successful patient outcomes. With relationships in 26 states and operations from more than 90 base locations, more than 1,200 Med-Trans team members make a difference everyday in the lives and communities they serve.

Med-Trans is part of the Global Medical Response family of companies. Global Medical Response, Inc. is the industry-leading air, ground, specialty and residential fire services, and managed medical transportation organization. With more than 38,000 employees, GMR delivers compassionate, quality medical care, primarily in the areas of emergency and patient relocation services in the United States and around the world.

About Riverside Health System: Riverside Health System is an integrated health network touching two million lives annually. Serving Eastern Virginia since 1915, Riverside is guided by a mission to "care for others as we would care for those we love." The health system offers a variety of services and programs in the areas of prevention, primary care, diagnostics, neurosciences, oncology, orthopedics, aging-related services, rehabilitation, medical education, home care and hospice.

Riverside operates four acute care hospitals and a behavioral health hospital, in addition to a physical rehabilitation hospital and Critical Illness Recovery Hospital in partnership with Select Medical. Riverside Medical Group has more than 600 physicians and advanced practice providers across a broad spectrum of specialties in over 75 locations throughout the region.

Riverside Lifelong Health operates six nursing home facilities and three vibrant continuing care retirement communities, and Home Health and Hospice services. In addition to these health care services, Riverside operates the College of Health Careers and four medical residency programs. The company employs more than 9,000 team members throughout Eastern Virginia.

About VCU and VCU Health: Virginia Commonwealth University is a major, urban public research university with national and international rankings in sponsored research. Located in downtown Richmond, VCU enrolls more than 30,000 students in 233 degree and certificate programs in the arts, sciences and humanities. Twenty-two of the programs are unique in Virginia, many of them crossing the disciplines of VCU's 11 schools and three colleges.

The VCU Health brand represents the VCU health sciences academic programs, the VCU Massey Cancer Center and the VCU Health System, which comprises VCU Medical Center (the only academic medical center in the region), Community Memorial Hospital, Children's Hospital of Richmond at VCU, and MCV Physicians. The clinical enterprise includes a collaboration with Sheltering Arms Institute for physical rehabilitation services.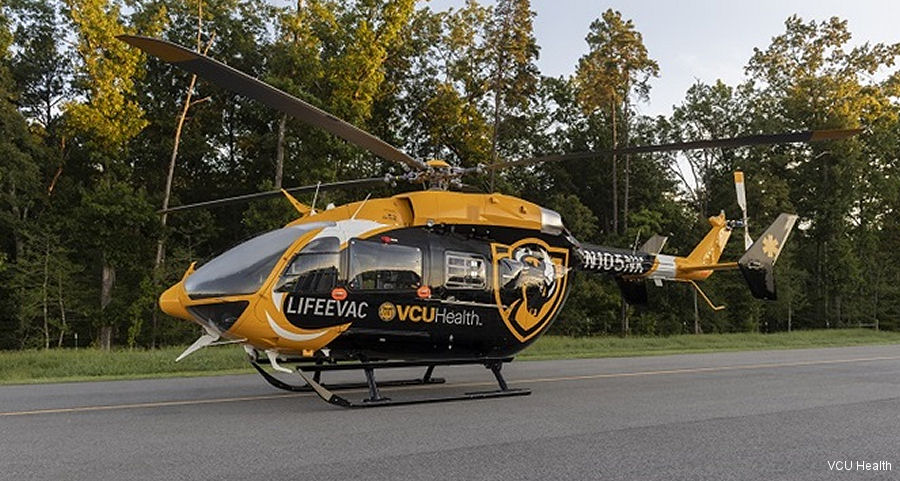 New air ambulance helicopter operated by Med-Trans Corp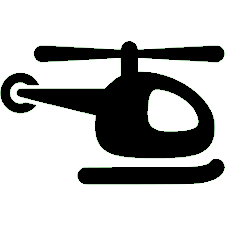 Aircraft mentioned in this article :
EC145 N105NK ( State of Virginia )



Location :

Hanover County Muni


List of Air Medical Ambulance Services
VCU Health

LifeEvac Virginia
State of Virginia

Med Trans Corp