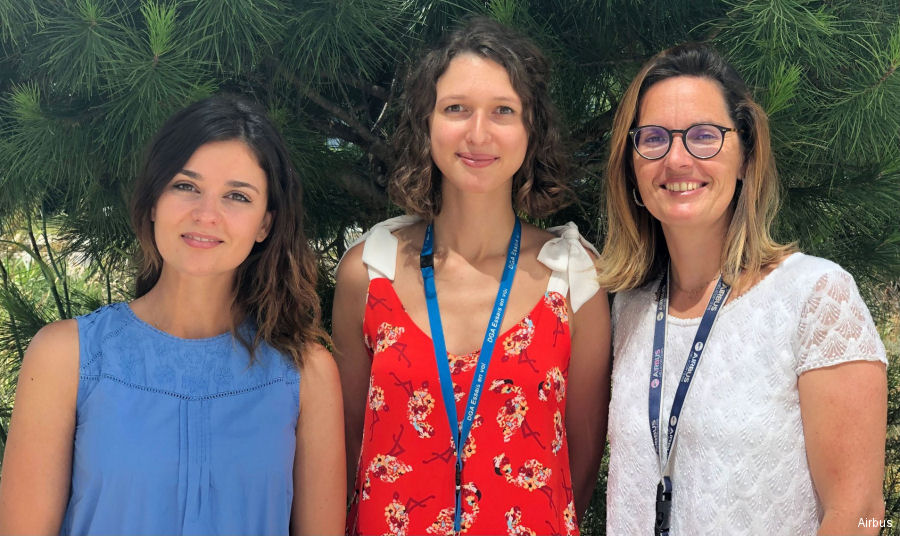 Airbus Helicopters, June 25, 2021
- We "make it fly" every day thanks to the work of an entire community of Airbus engineers.
Diversity is what makes this team strong, and helps everyone find new ways to develop the techno-bricks that will contribute to safer and cleaner rotorcraft. Just like everyone else, women and girls are part of this journey toward the aviation of tomorrow.
For Women in Engineering Day 2021, Airbus strives to inspire the next generation of girls who are looking to see how they too can "make it fly."
Elise Payenneville, Océane Martin and Anne Saby are engineers at Airbus Helicopters who are building the fleets of tomorrow thanks to improved systems, data collection and analysis processes.
While they may be among the first women at Airbus Helicopters to hold a position as engineers in their area of expertise, they certainly won't be the last. They give women and girls interested in aviation a few pieces of advice on how they can contribute to the future of the industry.
Women from all walks of life can become engineers

According to Payenneville, the first thing every woman thinking about a career in the aviation industry needs to know is: there is no one single path to becoming an engineer.

Payenneville explains: "My own journey toward the missions I currently get to complete is unconventional. I was always passionate about the aviation industry, but I took a few twists and turns before entering the Health Usage and Monitoring Systems (HUMS) service to help improve the safety levels of our fleet."

While she dreamed of becoming a pilot, Payenneville chose to explore other functions related to aeronautics and completed a B.A. in industrial engineering and maintenance. This first experience gave her the opportunity to discover the complexity of helicopters, during an internship with public services using rotorcraft in their daily missions.

Airbus' Elise Payenneville believes there is no one single path to becoming an engineer.

She explains: "Every day, I could see all the pilots and engineers working on this beautiful product that is the H145, and I understood that I wanted to work with helicopters, too."

She was enrolled as an apprentice at Airbus Helicopters to monitor the vibrations affecting helicopter elements, and added an M.A. in instrumentation to her resume. During the next two years of her apprenticeship with the company, she met her current colleagues in HUMS.


A million ways to make the future of aviation possible

Although Payenneville always knew she wanted to work in the aviation industry, Anne Saby, a Vehicle Management Systems (VMS) engineer, says that doesn't necessarily have to be the case.

"You don't necessarily have to know that you want to work with helicopters in order to become an engineer in the aeronautics industry," said Saby. "But you do need to have a love for problem-solving and to believe in the outcome of your work."

While she was a student in engineering school, Saby's career target was to become a network administrator. But her plans changed after she discovered a new area of expertise: signal processing. Working on radars, imaging, and wireless communications, Saby started a Ph.D. in complex systems in order to create a wireless decoder.

ontrary to what one might believe, a doctorate doesn't always lead to research activities. Saby explains: "I knew I didn't want to become a researcher, so I applied for positions in service-sector companies, where my skills as an engineer would really be put into practice." As a result, Saby was recruited by Airbus Helicopters to develop the embedded software that monitored and controled the H160's air conditioning.

Her mission was then expanded to the whole fleet. She was in charge of the programme for five years. Having kept in touch with some VMS engineers she had met while at Airbus, she finally applied for a position within the team and became a VMS engineer herself, working on the new Helionix avionics suite.

The variety of missions and activities undertaken by Payenneville, Saby and Martin are proof that there are a host of different ways one can put their knowledge and skills to use to make sure that operators are able to complete their missions. One key lesson the three engineers agree on: "Don't let anyone, including yourself, create barriers on your way toward working in aviation," Saby says.

Martin, a data analyst working closely with Payenneville to improve the design and maintenance process of the aircraft, adds: "There are many ways to put what you learned at school into practice, so go look it up. Career fairs and your personal research will help you see all the possibilities." Martin studied data analysis and then entered the Ecole Nationale de l'Aviation Civile (ENAC) as an apprentice. She always had dreamed of becoming an aviation engineer, but when she was taught how to analyse data, it was always shown as a service-sector activity, mostly in banking and insurance.

"It's even more exciting to work as a data analyst at Airbus Helicopters, because we had to start from scratch and think about which type of data we wanted to collect in order to improve the design and performance of our aircraft," she says.

When Martin was called on to present her work to the top management of Airbus Helicopters, she felt both eager and apprehensive. "I explained the importance of data analysis for the future of our division. Although I felt anxious, I knew I was prepared. And one thing I learned is: if someone asks you to present your work to the top management, it means they trust you. So, trust yourself too and make the best of the opportunity."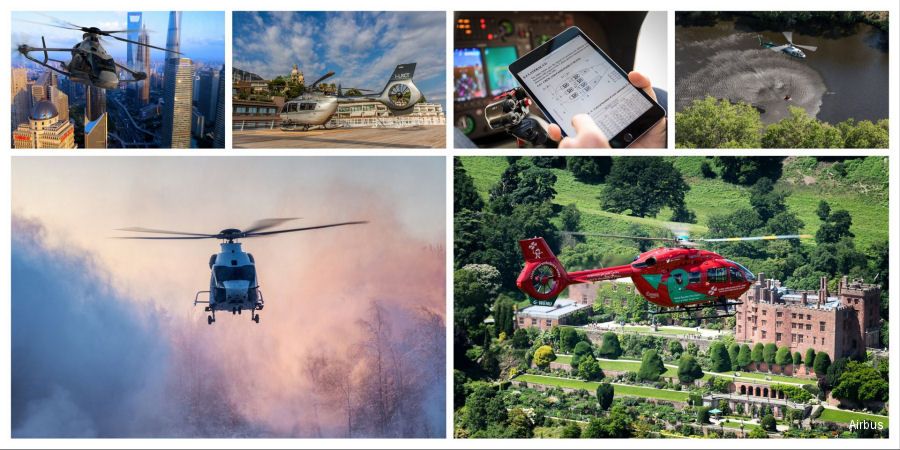 Airbus Helicopters
Airbus