Established in 1993 providing helicopter transport services in the North Sea. On 2009 changed name to
Bristow Norway AS

Norsk Helikopter achieves 30,000 fleet hours with S-92, 06-Oct-08 : STRATFORD, Connecticut - Less than a year after reaching its previous milestone, Norsk Helikopter has reached the 30,000 fleet hour milestone with its Sikorsky S-92® helicopter, Sikorsky Aircraft announced today. Sikorsky Aircraft Corp. is a subsidiary of United Technologies Corp. (NYSE:UTX) The aircraft achieved the milestone on Sept. 29. The achievement follows the fleet hour milestone of 20,000 hours with the Sikorsky S-92 helicopter, reached on Nov. 26, 2007.
Norsk passes 1000 flight hours with their 2 S-92, 17-Oct-05 : Bergen, Norway - Norsk Helikopter has achieved another industry milestone by becoming the first S-92 operator in the world to reach 1,000 fleet hours on both their S-92 helicopters. The aircraft was made by Sikorsky, a United Technologies Corp. company.
Norsk Helikopter Received First S-92 , 09-Feb-05 : Norwegian company Norsk Helikopter received its first S-92 scheduled for offshore service in the North Sea in a ceremony at the Sikorsky plant in Stratford, Conn.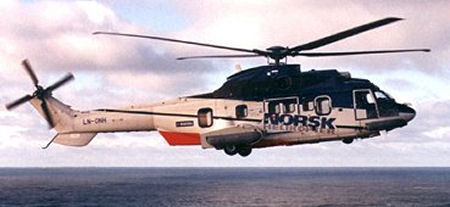 500th Super Puma Goes to Bristow Norway, 17-Jun-99 : Eurocopter delivered the Super Puma #2500 to Norsk, a Norwegian subsidiary of Bristow, during the Paris Air Show 1999 to support the oil industry from Sola Airport