NHS was formed in late 2009 providing Norwegian offshore services within the North Sea area.
Part of
Avincis Group
and in 2014 bought by
Babcock International
. In 2015
HNZ Group
bought 49.9%. Operations ceased on June 30, 2017.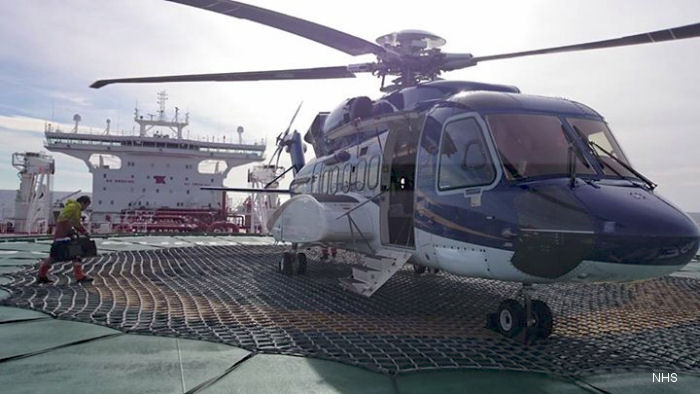 HNZ Investment In Norway NHS, 01-Jun-15 : The international provider of helicopter services HNZ Group announced investment in Norsk Helikopterservice AS (NHS) an offshore helicopter provider based in Stavanger, Norway.
Bond S-92 10y contract with EnQuest, 26-Apr-13 : Bond Offshore Helicopters Ltd (Bond), one of the UK's leading providers of energy support services, is delighted to announce that it has been awarded a new contract with EnQuest PLC, the largest UK independent oil producer in the UK North Sea.
07-Feb-13 - NHS gets first of 16 new S-92s

Rotary Wing Aircraft Unit
Created
Disband
NHS
2009
2017




Base / Heliport
Units on this Location




Model
Del'd
From
To
Sikorsky S-92
2013
2017




Model
C/N
Built
ID
AW139
41270
2012
LN-OEA : Norsk Helikopterservice AS from ; 08Aug12 pictured (pic1) at Norw ...

S-92A
92-0181
2012
LN-OEC : arrived at Stavanger-Sola airport by An-124. With Sistership 92 ...
: pictured (pic2) at Aberdeen, Scotland

S-92A
92-0182
2012
LN-OED : NHS; pictured at Aberdeen, Scotland

S-92A
92-0220
2013
LN-OEE : Norsk Helikopterservice AS Jun14-Apr16
: op by Bond helicopters at Aberdeen

S-92A
92-0181
2012
N181L : NHS d/d Jan13, pictured (pic1)


4 Construction Numbers in this organisation found