The Mobile Emergency Service for Resuscitation and Extrication ( Serviciul Mobil de Urgenta Reanimare si Descarcerar ) was established in 1990 by the Government of Romania ( Guvernul României )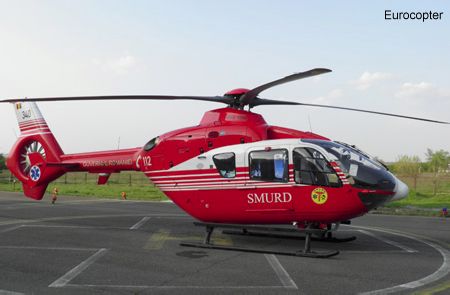 Two more EC135 for the Romanian Ministry of Health, 25-Apr-12 : Bucharest, Romania - by Pascale Fleury - The Romanian Ministry of Health's Eurocopter EC135 helicopter fleet will be increased with two additional helicopters ordered as part of a framework contract signed last year covering a total six of the twin-engine rotorcraft.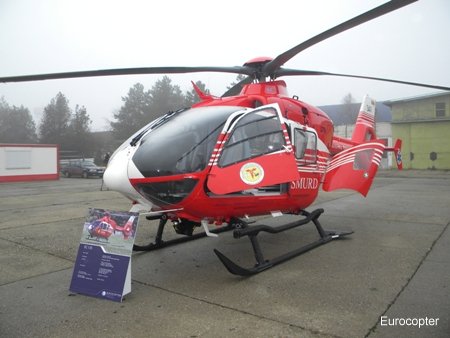 EC135 to the Romanian Ministry of Health, 15-Dec-11 : Marignane, France - A ceremony was held in Bucharest today for the delivery by Eurocopter Romania, a subsidiary of Eurocopter - the world's leading civil and parapublic helicopter manufacturer - of an EC135 helicopter to Romania's Ministry of Health. The ceremony was attended by the Romanian Minister of Health Ladislau Ritli, the Secretary of State in the Romanian Ministry of Administration and Interior Mihai Capra, His Excellence Henri Paul from the French Embassy in Romania, His Excellence Andreas Von Mettenheim from the German Embassy in Romania, as well as by Jean-Louis Mascle, CEO of Eurocopter Romania and Xavier Poupardin, Eurocopter Vice President for the EC135 program.
Model
Del'd
From
To
EC EC135
2002




| | | | | |
| --- | --- | --- | --- | --- |
| | Model | C/N | Built | ID |
| | EC135T2 | 0302 | | 302 : SMURD / Ministry of Health, test serial D-HECQ; w/o unk |
| | EC135T2 | 0328 | | 328 : SMURD / Ministry of Health, test serial D-HECO; w/o unk |
| | EC135T2 | 0334 | | 334 : SMURD / Ministry of Health, test serial D-HECL |
| | EC135T2+ | 0692 | | 340 : SMURD / Ministry of Health, test serial D-HECQ |
| | EC135T2+ | 1034 | | 341 : SMURD / Ministry of Health, test serial D-HECG |
| | EC135T2+ | 1060 | | 342 : SMURD / Ministry of Health, test serial D-HECK |
| | EC135T2+ | 1075 | | 343 : SMURD / Ministry of Health YR-MPQ, test serial D-HCBE |
| | EC135T2+ | 1088 | | 344 : SMURD / Ministry of Health YR-ECR, test serial D-HECR |
| | EC135T2+ | 1124 | | 345 : SMURD / Ministry of Health YR-JLM, test serial D-HECQ |
| | EC135T2+ | 1140 | | 346 : SMURD / Ministry of Health YR-SKY, test serial D-HECH |
| | EC135T2+ | 1172 | | 347 : SMURD / Ministry of Health YR-MAI, test serial D-HCBB; w/o 02jun ... |
| | EC135T2+ | 1115 | | 348 : SMURD / Ministry of Health YR-CJC, test serial D-HECQ; w/o 15dec1 ... |

12 Construction Numbers in this organisation found