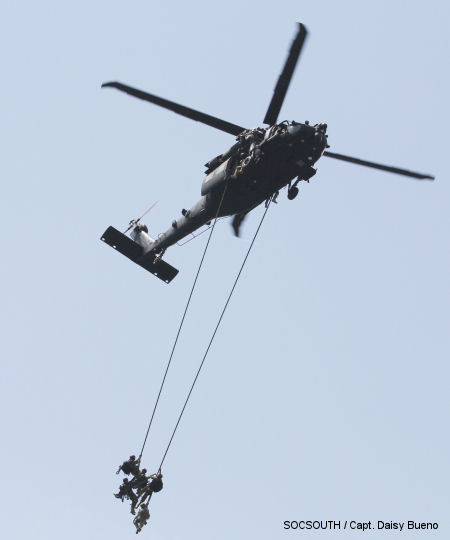 160th SOAR trained in Training and Tobago, 20-Feb-14 : PORT OF SPAIN, Trinidad by Capt. Daisy Bueno – Service members assigned to the 7th Special Forces Group (Airborne) and the 160th Special Operations Aviation Regiment (Airborne), in support of Special Operations Command South, trained with Trinidad and Tobago Air Guard, Trinidad and Tobago Defence Force (TTDF), Coast Guard Special Naval Unit (SNU) and Multi-Operational Police Service (MOPS) as part of a month-long Joint Combined Exchange Training (JCET) focusing on drug interdiction from Jan. 12 to Feb. 14.
Model
Del'd
From
To
AW AW139
4
2011




Model
C/N
Built
ID
AW139
41235
2010
9Y-AG311 : TTAG from Jun11

AW139
41256
2011
9Y-AG312 : TTAG from Jun11

AW139
41284
2012
9Y-AG313 : TTAG from May12

AW139
41285
2012
9Y-AG314 : TTAG from May12
: Jan17 pictured Air Guard won '17 Salute to Excellence Leonardo ...


4 Construction Numbers in this organisation found