Established in 2003 with main hub at Sultan Abdul Aziz Shah airport.
On May 2013 started operations for Tullow Oil in Nouakchott, Mauritania and in 2014 with
United Offshore Aviation
in Thailand.
Weststar will be the first AgustaWestland customer operating the whole family of AW139, AW169 and AW189 helicopters.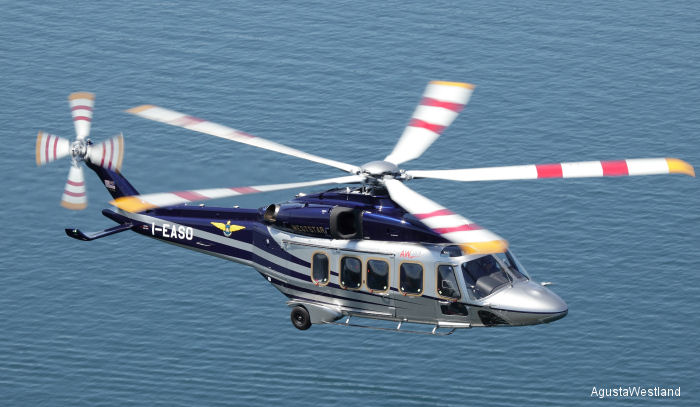 Weststar Received Its First AW189, 16-Jul-14 : AgustaWestland is pleased to announce that Weststar Aviation Services Sdn Bhd (WASSB) of Malaysia has taken delivery of the first of two AW189 super medium helicopters.
Model
C/N
Built
ID
AS350B2 Ecureuil
4409
9M-AZA : Weststar Aviation

EC155B1
9M-AZM : Weststar by Mar12
: 04nov15 at Melaka, Malaysia

S-76C
76-0751
2008
9M-CHS : Weststar Aviation 2009; Mar17 for sale

SA365N Dauphin 2
6096
1983
9M-DSA : Weststar, noted Dec07; 26nov11 pictured (bot) at Subang Airport,M ...

SA365N Dauphin 2
6021
9M-LDV : Weststar; ex N917EG, RP-C3282; conv N2

AW119 Koala
9M-PBH : Weststar Aviation, noted 2013

EC120B
1416
9M-SAZ : Weststar

AW139
31324
2010
9M-WAA : Weststar d/d Nov10, test serial I-EASK; 07jan11 pictured (bot) at ...

AW139
31326
9M-WAB : Weststar d/d Nov10

AW139
31336
2011
9M-WAD : Weststar d/d Jan11

AW139
31340
9M-WAE : Weststar d/d Jan11

AW139
31342
9M-WAF : Weststar d/d Feb11

AW139
31343
9M-WAG : Weststar d/d Feb11

AW139
31344
9M-WAH : Weststar d/d Feb11
: 18mar15 at Kerteh, Terengganu, Malaysia

AW139
31349
9M-WAI : Weststar d/d May11

AW139
31352
2011
9M-WAJ : Weststar d/d Jun11; 30June11 crashed shortly after lift off at Su ...

AW139
41267
9M-WAK : Weststar d/d Jun11; ex N305YS

AW139
31384
9M-WAL : Weststar d/d Jun11

AW139
9M-WAM : Weststar Aviation, noted 2013

AW139
31419
2012
9M-WAO : Weststar d/d Jul12, ex I-EASW, I-RAIU

AW139
31441
9M-WAP : Weststar Aviation, VIP blue livery in Thailand, test serial I-RAI ...

AW139
31467
9M-WAQ : Weststar from May13, test serial I-EASH

AW139
41342
2013
9M-WAR : Weststar Aviation d/d Sep13, their 18th aw139

AW139
41365
9M-WAV : Weststar from Dec14

AW139
41383
9M-WAX : Weststar from Mar15

AS355F1 Ecureuil 2
5012
9M-WST : Weststar Aviation noted 2011, ex ?

AW139
31543
? : Weststar May14, for Thailand

AW139
31550
? : Weststar May14 for Thailand

AW139
31554
? : Weststar Jun14 for Thailand

AW139
41356
? : Malaysia, TO BE CONFIRMED

AW139
41358
? : Malaysia, TO BE CONFIRMED

AW139
41376
? : Malaysia, TO BE CONFIRMED

AW189
49012
2014
? : Weststar as 9M-? d/d Jul14 Farnborough airshow

AW139
31441
? : 05jun16 approaching Murcia, Spain with ATR 72 9M-FIE


33 Construction Numbers in this organisation found