Formed in 1987 provides Business Aviation Services in Canada. Operating a large fleet of jet aircraft to destinations around the world. Chartright is also a Transport Canada Approved Maintenance Organization (AMO) licensed to maintain a wide variety of aircraft.

It Is located at Toronto's Lester B Pearson International Airport.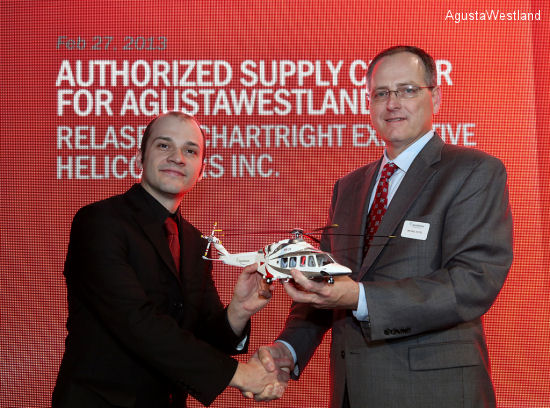 AgustaWestland Open Canadian Supply Center, 04-Mar-14 : AgustaWestland, a Finmeccanica company, has signed an agreement for its first Canadian Supply Center, to be strategically located in Toronto and operated by Chartright Executive Helicopters.
Chartright appointed AgustaWestland Service Center, 05-Mar-13 : AgustaWestland, a Finmeccanica company, is pleased to announce that Chartright Executive Helicopters, located at Toronto's Lester B Pearson International Airport in Canada, has been appointed as an AgustaWestland Authorized Service Center for the AW109 Power, Grand, GrandNew and all variants of the AW119.




First Corporate GrandNew in North America, 05-Mar-13 : AgustaWestland, a Finmeccanica company, is pleased to announce that the first GrandNew to be delivered to a Canadian customer and the first corporate configured GrandNew to be delivered in North America is making its debut at Heli-Expo 2013, being held at the Las Vegas Convention Center from 5th to 7th March.








4 Construction Numbers in this organisation found