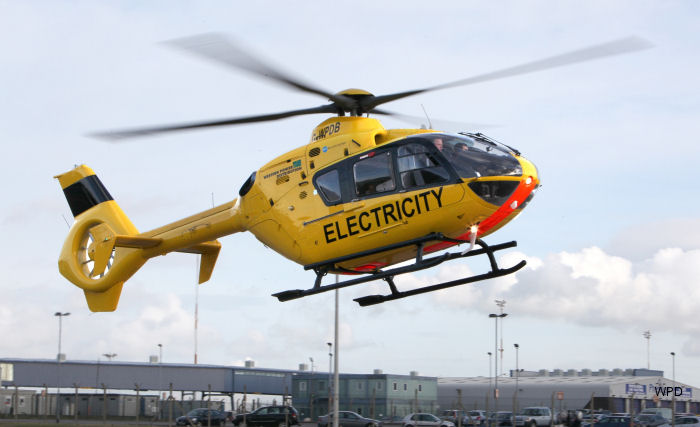 Western Power Distribution (WPD) is the distribution network operator for the Midlands, South West England and South Wales, and is responsible for delivering electricity to approximately 7.8 million customers in the UK.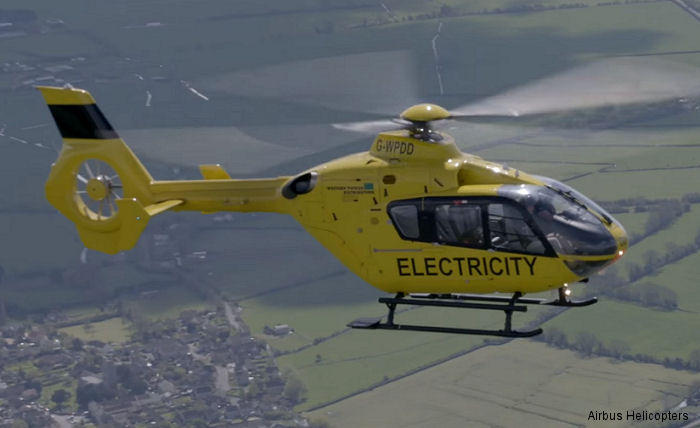 UK Western Power Distribution EC135, 14-Oct-16 :

UK's Western Power Distribution (WPD) EC135 helicopter fleet undertakes surveillance flights on a daily basis covering, as a minimum, 36,000 km each year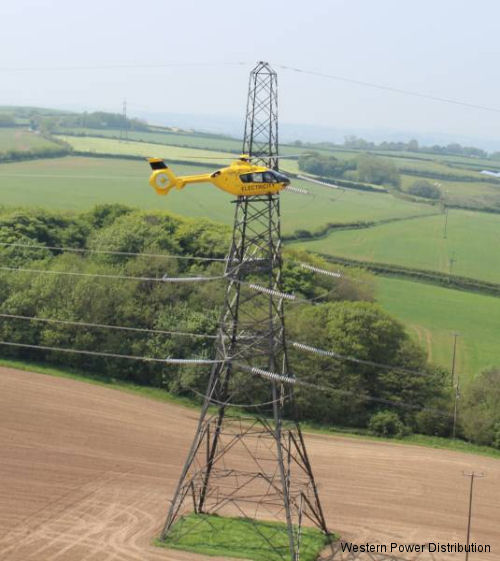 UK Western Power Distribution Selects EC135P2, 30-Oct-14 : Western Power Distribution purchase an EC135P2 and will join four current EC135P1. The EC135 series is the most widely used aircraft across UK Emergency Services and National Resilience market
Model
C/N
Built
ID
206B-2 Jet Ranger
967
1973
G-BARP : WPD Jun80-Apr12

AS355E TwinStar
5043
1981
G-BNBK : Western Power Distribution Plc Feb87-Jun12

206B-3 Jet Ranger
3569
1981
G-MFMF : WPD Feb86-Jul12

AS355F Ecureuil 2
5194
1982
G-OHMS : WPD Jun90-Jun12, 355F1 type

EC135P1
0112
1999
G-WPDA : WPD from Nov11
: 24feb16 pictured at Newquay Airport

EC135P1
0109
1999
G-WPDB : WPD d/d Nov.2011; ex D-HIPT

EC135P1
0090
1999
G-WPDC : South Western Helicopters Ltd ( WPD ) from Jun12; 24jul12 picture ...
: 29dec13 refuel stop at Shoreham

EC135P1
0071
1998
G-WPDD : WPD Jul12; ex D-HSOS
: 08nov12 over Telford, Shropshire as G-WPDD but still using old HE ...
: 22may15 pictured at Tatenhill

EC135P2+
1145
2014
G-WPDE : Western Power Distribution ordered Oct14
: 23apr15 pictured at Ostend, Belgium in refueling stop from German ...
: 26may15 at Bristol
: 24feb17 flown over Olney

212
30853
1977
N362EH : 17jan17 prforming lifting work for Western Power Distribution in ...
: 11sep17 seen over past few weeks on ground alongside a residentia ...
: 17sep17 still noted in grounds of residential home just north of ...


10 Construction Numbers in this organisation found