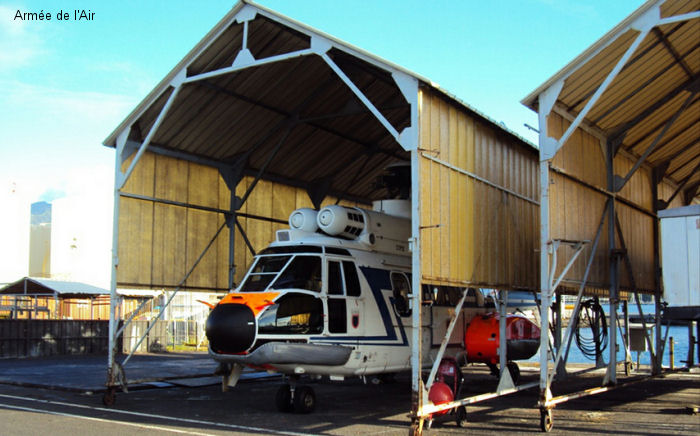 Established 1961, as
Détachement air 190 Tahiti-Faa'a
.
French AF ETOM82 (Tahiti) Super Puma made its last flight November 19th, 2011. BA190 will be transformed into a Base Aeronavale once both new
AS365N3+
SAR helicopters have arrived.
As part of the A de lA overseas drawdown, on 18 Jul 2012 ETOM 82
Maine
returned its Super Puma and Fennec to France. The Marine Nationale will provide Dauphins in their place.

ETOM 82 List of helicopters

Help Us
| | | | | | |
| --- | --- | --- | --- | --- | --- |
| | C/N | Version | Built | In this Org | In other Org |
| | 2057 | as332b | | 2057 : AdlA /PO; 1982-1998 asg ETOM 82 at Mururoa | HD.21-15 : Ejercito del Aire from 2017; conv H215 for SAR 801 / 802 Squadron |
| | 2093 | as332b | | 2093 : AdlA; 1982-1998 ETOM 82 at Mururoa | : Ejercito del Aire from 2017; conv H215 for SAR 801 / 802 Squadron |
| | 2244 | as332L1 | | 2244 : 1989 to 1998 was in the flight of ETOM 82 at Mururoa | HD.21-17 : Ejercito del Aire from 2017; conv H215 for SAR 801 / 802 Squadron |