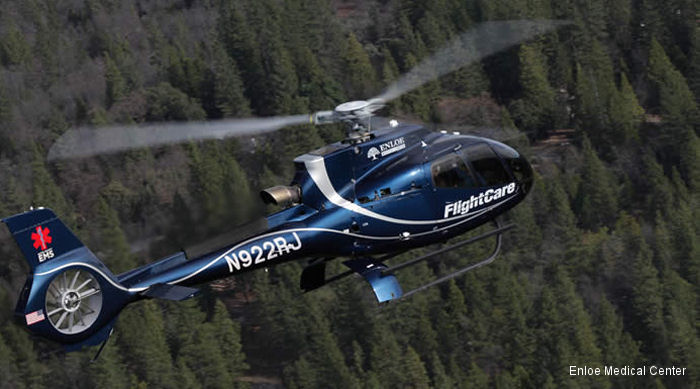 Enloe Medical Center is a local, nonprofit health care organization. Founded in 1985, FlightCare was the first air ambulance service north of Sacramento California. As of 2014 they transported more than 17,000 patients.
News of Enloe Flight Care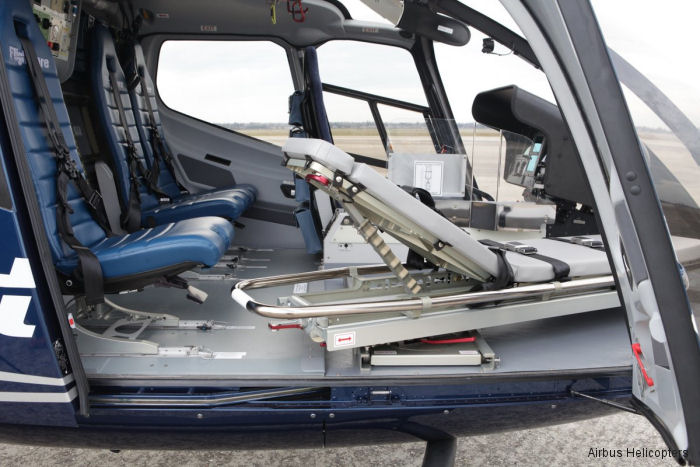 H130 at ATMC 2016, 12-Dec-16 : Airbus featuring the EC130T2 / H130 in ambulance configuration at the Air Medical Transport Conference (AMTC) Dec. 13/15 at the Charlotte Convention Center, NC.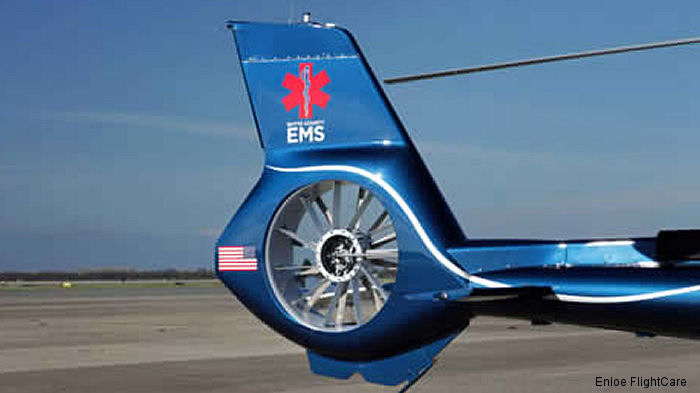 Enloe FlightCare to unveil EC130T2 EcoStar, 05-Jan-15 : Enloe FlightCare of Sacramento California will be the first in the world to use an EC130 T2 EcoStar helicopter that has been retrofitted as an air ambulance. Public unveiling scheduled Jan.10 at 2PM
Years
Models
Aerospatiale AS350B Ecureuil
Eurocopter AS350B2 Ecureuil
Eurocopter EC130T2


C/N
Version
Built
In this Org
In other Org
1556
as350b
1985
N911NT : Enloe Medical Center, Enloe FlightCare, AS350BA type; w/o 22sep01 Butte Me+

- N58043 : to N911NT

3422
as350b2
2001
N922RJ : Enloe Medical Center, Enloe FlightCare Dec01/Jun13

N436AE : American Eurocopter, N220CF ntu, to N922RJ

7628
EC130T2
2013
N922RJ : Enloe FlightCare from Aug13; Enloe Medical Center at Chico, CA
: Enloe FlightCare; 10jan15 pictured during introduction into service cerem+
: Feb15 Enloe FlightCare ready for service

N912AE : American Eurocopter from Apr13

3422
as350b2
2001
N922RU : Enloe FlightCare from Jul13

N436AE : American Eurocopter, N220CF ntu, to N922RJ