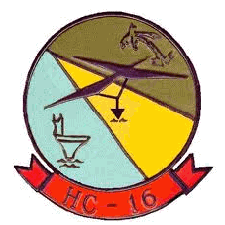 HELSUPPRON 16, tail code BF, provided Search and Rescue from NAS Pensacola
By Howard M. Tillison, Lieutenant Commander, U. S. Naval Reserve (Retired) :
Helicopter Combat Support Training Squadron Sixteen (HCT-16) was commissioned at Naval Air Station Pensacola, Florida on 1 November 1974. The unit was comprised of officers, sailors and aircraft which had formerly been assigned as the Search and Rescue (SAR) Detachment under the overall command of the Commanding Officer, NAS Pensacola. Lieutenant Commander Lee Wright was the first commanding officer of HC-16.

The mission of HCT-16, assigned to Training Wing Six headquartered at NAS Pensacola, was to provide helicopter search and rescue "plane guard" service for the training aircraft carrier, USS Lexington, CVT-16, and overall SAR coverage, on five-minute alert, for the Pensacola Naval air training complex whenever any aircraft from any of the fixed wing and helicopter squadrons were conducting flight training operations. HCT-16 also participated in the U. S. Coast Guard "SAR Net" and answered SAR calls from Apalachicola, Florida to Mobile, Alabama as assigned by the USCG Rescue Coordination Center which had responsibility for overall SAR coverage from Port Arthur, Texas to Panama City, Florida.

Additionally, HCT-16 took on the role of Fleet Readiness Squadron (FRS) for student pilots who had already earned their wings, and provided transition training from the TH-1 series training helicopter to the CH-46/HH-46 helicopters operated by fleet HC squadrons, and by Naval air station SAR detachments at various bases.

HCT-16 was transferred from the Naval Air Training Command to operational control of Commander, Atlantic Fleet under COMNAVAIRLANT (Commander, Naval Air Forces, Atlantic) on 2 May, 1977, and was redesignated Helicopter Combat Support Squadron Sixteen (HC-16) at that time. HC-16 continued to perform the plane guard, SAR and FRS training missions until the H-46 series aircraft were pulled back for service with the United States Marine Corps in 1985.

I reported to HCT-16 as an Ensign, newly graduated from helicopter training at HT-18, on 1 July, 1975, and served there until I was transferred to become a student at the U. S. Naval Postgraduate School in Monterey, California in August of 1978.


---
HC-16 was originally commissioned as HCT-16 in 1972. It was the Navy training squadron for the H-46. The designation changed to HC around 1978. The squadron started off with only H-46s and didnt get the first UH-1N until 1980. The H-46 was with the squadron until the summer of 1985 when it was replaced by the SH-3D. The UH-1N and the SH-3D remained with the squadron until it was dis-established in 1993. I was a very proud member of the Bullfrogs for 7 years. During the squadron life span, 272 people, military and civilian, had their lives saved by the dedicated flight crews of HC-16. Unfortunately, we lost two pilots and one crewman. One of our Parachute Riggers also lost his life while trying to aid a swimmer in distress at a local beach.

Jun70, I was designated a Naval Aviator and was the first permanent officer assigned to the brand new CVT SAR Det at NAS Pensacola. All of my classmates went to HAL-3 in Vietnam Nam. We flew the UH-2A/B until the UH-2C model was introduced. Eventually the TAD aviators were replaced by permanent officers. It was a terrific outfit. The enlisted ranks were superior. I was very eager and became a maintenance test pilot in the A/B in the late winter of 1971 with fewer hours than required by NATOPS. The Det was desparate for test flying and I was the only option. When we got the Charlie model, I transitioned and eventually flew a total of 1,000 hours in the A/B/C in three years, much of it doing maintenance test flying. Curiously, Captain Bill Jett was CO of NAS Pensacola and later we became friends in Bloomfield, CT where the KAMAN Aircraft Corporation built the Seasprite. The patch associated with HC-16 was designed while the unit was still the SAR Det. Great experience. Always keep the blue side up and the wet side down.

Originally established as HCT-16 from NAS Pensacola Search and Rescue (SAR) November 1974, operationally attached to the Training carrier USS Lexington (CVT-16) and administratively under NAS Pensacola. I was part of the original
Plank Owner
team as an H-2 and then HH-46 Pilot until 1976. Just returned from Pensacola having celebrated a 40th anniversary pilot/officer reunion, I guess once a Bullfrog, always a Bullfrog!

I was at the very beginning. I was an AMH3 with air ops in Pensacola. I was asked to help put the UH-2A's together and due to complications on sea duty orders I was asked if I would join SARDET. We had a great bunch of crew and pilots. I left in Dec72. I was proud to be a part of a great group that served at the highest level.

Mar78-Aug81, I was plane cpt of. The month powerplant tech. Pqs quallified. 1st to train female pilots. 1st to test fiberglass blades.

1979-1982, Yes I remember the Bullfrog very well, as a member of the Basketball team for 3 years we won the captains cup in 1981, I can't remember the exact year but we lost our basketball coach in a helicopter crash.That event shock my world as a young 18 year old frowning up in the military. AD3 Johnny Norwood -

1980 we were awarded the most ready manned squadron in the naval air force for our participation in the Cuban crisis.