Friday December 20, 2002
AB139 Begins US Certification Flying
FORT WORTH,Texas, USA ( Bell/Agusta Aerospace Company Press Release ) - The AB139 medium twin helicopter, one of Texas-based Bell/Agusta Aerospace Company's two products, arrived in the USA on December 16th 2002. Equipped with Honeywell's Primus Epic integrated control and display system, this aircraft, #3, will continue certification testing at Honeywell's facilities at Phoenix, Arizona this month.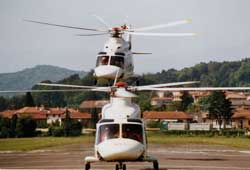 The arrival in the U.S. of this AB139 for the testing program represents an important milestone in the aircraft's development and manufacturing process. The presence of the AB139 in the Dallas Fort Worth metroplex area confirms its solid Texas connection. Bell, Agusta and BAAC senior officials have all stated that the AB139 will be manufactured in Texas as well as in Italy.
The AB139 is a product of the Bell/Agusta Aerospace Company that was formed out of a joint venture between Bell and Agusta. Beyond the Bell and Honeywell participation in the AB139, a host of other North American suppliers including Pratt and Whitney contribute to the product. With the addition of specialized equipment required by U.S. law enforcement and medical evacuation operators the US industry participation is a major element in the AB139 program.
With numerous orders already placed for the AB139, FAA certification is expected in 2003 and initial deliveries will be made soon after to civil and commercial customers. Current orders have established a two-year backlog for the aircraft.
While the AB139 did fly at the Farnborough Air Show in July 2002, this is the first time it has flown in the USA. BAAC officials view this as an opportunity for potential US customers to physically view the aircraft as it moves through the certification program.
The AB139 was recently selected by Integrated Coast Guard Systems (ICGS), a joint venture established by Lockheed Martin and Northrop Grumman, as the VRS (VTOL Recovery and Surveillance Aircraft) solution for the US Coast Guard's Deepwater program. In addition to the USCG, a number of US Government Agencies are showing a keen interest in this new state of the art medium twin-engine helicopter that brings new levels of speed, comfort, reserve power and space for crew, passengers and survivors alike. These features make the AB139 ideally suited for Law Enforcement operations whether overland or at sea, as does its fully integrated Honeywell Primus Epic System cockpit and display providing for either single or dual pilot IFR operations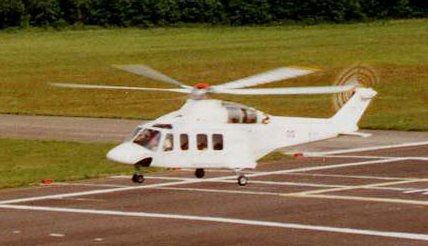 Bell Helicopter, a Textron Company, and Agusta, an AgustaWestland company, have successfully collaborated on a variety of products, combining their unique skills when they formed Bell/Agusta Aerospace Company. This joint venture brought together the two companies' unmatched technological, marketing, sales and after sales support assets. The significant design, development and production synergies thus created are bringing to the world both the BA609 tiltrotor and the AB139 medium twin-engine helicopter. Assembly for the AB139 will initially be undertaken in Italy at Agusta's Vergiate plant, near Milan, prior to the establishment of a Bell AB139 assembly facility in Texas, which will be coupled with support, spares distribution and training for customers in the USA.
Bell Helicopter Textron is a $1.6 billion, leading producer of commercial and military helicopters, and the pioneer of the revolutionary tiltrotor aircraft. Globally recognized for customer service, innovation and superior quality, Bell's global workforce of over 7,500 employees serves customers flying Bell aircraft in over 120 countries.
Bell Helicopter is a division of Textron Inc., a $12 billion multi-industry company with more than 51,000 employees in 40 countries. The company leverages its global network of businesses to provide customers with innovative solutions and services in industries such as aircraft, fastening systems, industrial products and components and finance. Textron is known around the world for its powerful brands such as Bell Helicopter, Cessna Aircraft, Kautex, Lycoming, E-Z-GO and Greenlee, among others.
AgustaWestland, a Finmeccanica and GKN Company, with primary operations in Cascina Costa, Italy, and Yeovil, United Kingdom, is a commercial enterprise, offering an unrivaled range of products designed to satisfy the most diverse requirements of civil and military customers. With turnover in 2001 exceeding $2.5 billion, AgustaWestland is committed to delivering outstanding products and services in globally competitive markets.