Tuesday March 19, 2002
Bell-Boeing gets $770 million for 11 MV-22
WASHINGTON, ( Reuters ) - The Bell-Boeing aerospace team has been awarded a $770 million contract to build 11 MV-22 ``Osprey'' military helicopters in a test program for the troubled tilt-rotor aircraft, the Pentagon said on Tuesday.
Work on the helicopters is expected to be completed in 2005 by the Bell Helicopter division of Textron Inc. and Boeing Co. in a planned $40 billion program that has been hit by fatal training crashes.
The Pentagon decided last year to continue low-rate production of the aircraft for development purposes, but to conduct a two-year testing program to determine if the Marine Corps will finally buy as many as 360 Ospreys.
The corps hopes the MV-22, which uses swivel engines to take off and land like a helicopter while flying like a plane, can replace its fleet of aging Vietnam-era troop-carrying helicopters. Thursday February 28, 2002

Osprey to resume Flight Testing
PATUXENT RIVER, Maryland, USA ( US Naval Air Systems Command Press release ) - After a year long struggle to save the V-22 "Osprey" aircraft, hailed by military officials as a cornerstone technology that will have significant and long-term implications for future combat operations, the program is getting ready to embark on a new beginning.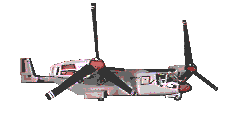 An important decision that has shaped the future direction of the V-22 Osprey program occurred Dec. 21, 2001, when the Undersecretary of Defense for Acquisition, Technology and Logistics signed a Program Memorandum authorizing the return to flight, continued testing and production of the V-22 Osprey. This Memorandum enabled the V-22 Joint Program Office to implement a carefully developed plan to correct the aircraft's deficiencies and resume testing.
The V-22 is scheduled to resume developmental flight testing in late April 2002 at the V-22 test facility, Naval Air Warfare Center, Aircraft Division, Patuxent River, Md. Over an 18-month developmental flight test period, two MV-22 Engineering, Manufacturing Development (EMD) aircraft and three MV-22 low rate initial production aircraft will return to flight with improvements in routing of hydraulic/electric lines in the nacelle as well as an upgraded software system. Developmental flight testing will validate these engineering and software changes and further test such areas as vortex ring state boundaries, dynamic shipboard compatibility, formation flying, combat maneuverability, and low speed hovering and landing conditions when the prop rotors blow up dust and debris.
A total of 1800 flight test hours are scheduled for the flight test program which also includes testing of the aircraft's icing, cargo handling, and radar warning systems. Senior Defense and Navy officials will assess the testing program at various points and have said that tests will not move to new areas until engineers fully understand the results of earlier testing.
In July, the Air Force is expected to resume flight testing of the CV-22 at Edwards Air Force Base, using two EMD aircraft that have been configured with Special Operations equipment.
"Now that we have an approved way ahead plan, we will return to flight with a methodical and event driven flight test program that will deliver an aircraft to the fleet that is safer and more capable than ever before. Event driven means the V-22 program progress is based on a clearly articulated set of accomplishments, not a date, " said Col. Dan Schultz, V-22 joint program manager. "We will leave no stone unturned to ensure that the V-22 is a reliable, operationally suitable and safe replacement for our aging medium lift helicopters."
Schultz further added that the V-22's comprehensive developmental flight test program will put "X's in the outer corners of the flight envelope" and be the most extensive testing undertaken of the vortex ring state phenomenon. "In this regard, we will dedicate one aircraft for one year of high rate of descent testing and set the standard for flying every conceivable approach to this kind of situation," said Schultz.
The V-22, which can take off like a helicopter and then rotate its rotors and fly like an airplane entered low rate initial production in 1999. The program had approached a major milestone decision to enter full rate production when a MV-22 suffered a fatal accident during a routine training mission in December 2000. Since that time, two independent reviews conducted by a Department of Defense Blue Ribbon Panel and NASA Ames Research Center have assessed the safety of the aircraft and the maturity of the technology to carry out the missions of the user services. Both reviews have recommended that the program move forward with specific engineering changes and improvements that will result in a safer and more operationally capable aircraft. They also concluded that there are no inherent flaws in the tiltrotor design or known aeromechanics phenomenon that would stop the safe and orderly deployment of the V-22, and that the program should proceed with a phased approach in return to flight and fleet introduction.
Part the phased approach will involve a Flight Readiness Review to the Naval Air Systems Command, the approval authority for returning the aircraft to flight status. Once the approval authority grants this approval, the phased return to flight approach will begin at Patuxent River, Md. in late April 2002 with developmental flight testing. This will be followed by the planned delivery in late 2003 to the Marine Corps of a production aircraft that will have a redesigned nacelle and software system as well as reliability and maintainability improvements. The second phase of flight testing will include another operational evaluation period estimated to occur between late 2004 and spring of 2005.
The V-22 is the first production tiltrotor in existence. By combining the hovering characteristics of a helicopter with the speed, range and fuel efficiency of a turboprop airplane, the V-22 can meet multi-service, multi-mission requirements. The V-22's leap ahead technology will provide the Marine Corps and the Air Force with unprecedented capability flexible enough to permit responsive action in a very uncertain world. Bell Helicopter Textron (Ft. Worth and Amarillo, Texas) and the Boeing Company (Philadelphia, PA) jointly produce the V-22 "Osprey."