Tuesday October 9, 2007 :
Spanish Marine Safety Agency Orders Two Additional AW139 Helicopters
UK / Italy : ( AgustaWestland Press Release ) - AgustaWestland is pleased to announce that Sasemar, the Spanish Marine Safety Agency, has signed a contract for two AW139 medium-twin helicopters in Search and Rescue (SAR) configuration. This order is the second placed by Sasemar for the AW139, having signed an initial contract for three aircraft in February 2006.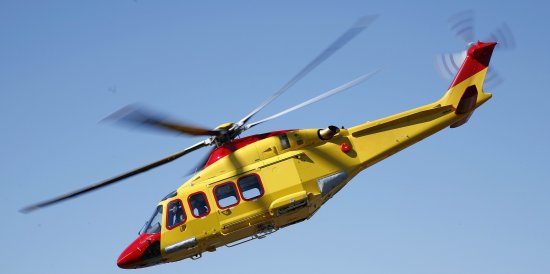 Sasemarís AW139s will be used for SAR and water pollution detection missions and they will be equipped with rescue hoist, Forward Looking Infra-Red (FLIR), a search/weather radar, emergency flotation system and a four-axis autopilot with SAR modes.
The AW139 is a new generation medium twin-turbine helicopter setting new standards against which all new Search and Rescue-dedicated medium twin will be measured. Designed with inherent multi-role capability and flexibility of operation, the AW139 is capable of carrying up to 15 passengers or six litters with four medical attendants at the highest speed, in the most spacious cabin and with the best power reserve of any other helicopter in the medium twin-engine class. The internal dimensions of the AW139ís roomy unobstructed cabin make it an ideal choice for SAR applications. The flat floor and ceiling provide maximum cabin flexibility for easy and quick conversion to/from various configurations. Its Pratt & Whitney turbines endowed with FADEC together with a state-of-the-art 5-bladed main rotor provide an excellent maximum cruise speed even in demanding hot and high conditions at all weights, with an outstanding power to weight ratio. Superior range and endurance offer extended search patrols. Excellent one engine inoperative capability ensures the aircraft can deliver while on-station, safely accomplishing the rescue mission. Cutting edge technology includes Honeywell Primus Epicģ fully integrated avionics, a 4-axis digital AFCS and large flat panel colour displays in the cockpit, reducing pilot workload and allowing the crew to concentrate on rescue. Advanced avionics and superior manoeuvrability provide a major contribution making the AW139 an incredibly forgiving and safe aircraft during the entire flight operational envelope.
The AW139 has become the benchmark medium-twin helicopter and orders for more than 280 helicopters have been placed by more than 80 commercial, government and military customers from over 30 countries.