Thursday May 10, 2007 :
Fourteenth EC 725 delivered to the French Forces
( Eurocopter Press Release ) - The French Air Force has received its sixth EC 725, which has joined the EH 1/67 Pyrenees Squadron based in Cazaux.
This helicopter was the last in a series of fourteen helicopters ordered by the French Armament Procurement Agency, comprising six helicopters for the Air Force and eight for the Special Operations Detachment (DAOS) of the French Army Air Corps (ALAT).
This last delivery marked the successful completion of an exemplary program that provided the French Armed Forces with top performance aircraft over a very brief timeframe.
The EC 725 program was launched in response to a French Air Force requirement for a helicopter specifically designed for Combat Search and Rescue (CSAR) missions. The AS 532 A2 Cougar was initially chosen in 1996 but following extensive trials, the French Air Force recommended the development of an even more ambitious machine based on the AS 532 A2.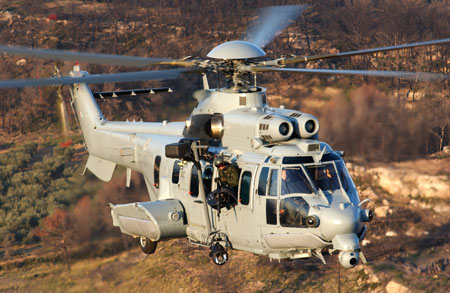 The EC 725 was designed in this context and made its maiden flight in November 2000. At the time it was the most complex helicopter ever developed by Eurocopter. With a takeoff weight of 11 metric tons, the EC 725 carries an impressive fuel load of 3750 liters, guaranteeing a flight time of 5 hours 30 minutes - which can be virtually doubled thanks to its in-flight refueling capability. The helicopter also features a reinforced main gearbox and a new five-bladed main rotor. The crew can rely on a range of equipment never previously available on a helicopter of its class: 4-axis autopilot, optronic turret with infrared camera and laser rangefinder, emergency locator transmitter homing system, a very comprehensive suite of navigation and communication equipment, and a "glass" cockpit featuring six large active matrix multifunctional LCD screens. For self-defense, the helicopter is fitted with two MAG 58 machine guns, cockpit armor plating, and an integrated decoy and warning detector system.
With the six helicopters initially ordered, designated "Caracal" by their users, the new helicopters quickly entered into active service, first in the Lebanon in Operation Baliste to evacuate people in the summer of 2006, and later in Afghanistan. Since the end of 2006, two EC 725s have been based in Kabul, where they support the coalition forces operating around the Afghan capital.
On round-the-clock alert, the helicopters fly medical evacuation missions and transport troops. In four months of operation, they have carried out 300 missions and logged 300 flights hours - all with excellent availability and without no major incidents.

Established in 1992, the Franco-German-Spanish Eurocopter Group is a Division of EADS, a world leader in aerospace, defence and related services. The Eurocopter Group employs approx. 14,000 people. In 2006, Eurocopter confirmed its position as the world's No. 1 helicopter manufacturer with a turnover of 3.8 billion euros, orders for 615 new helicopters, and a 52% percent market share in the civil and parapublic sectors. Overall, the Group's products account for 30% percent of the total world helicopter fleet. Its strong worldwide presence is ensured by its 17 subsidiaries on five continents, along with a dense network of distributors, certified agents and maintenance centres. More than 9,800 Eurocopter helicopters are currently in service with over 2,500 customers in 140 countries. Eurocopter offers the largest civil and military helicopter range in the world. 100 years of vertical flight
In 1907, Paul Cornu performed history's first ever vertical flight. Since then, thanks to pioneering spirits, technological advances and innovative minds, the helicopter has become a key to saving lives, protecting citizens and contributing to economic development the world over. In 2007, Eurocopter is proud to celebrate this anniversary and to share its passion for helicopters.