Helicopter Westland wasp Serial f.9591 Register 9M499-03 M499-03 XT421 used by Malaysian Aviation Training Academy Tentera Laut Diraja Malaysia (Royal Malaysian Navy) Fleet Air Arm (Royal Navy). Built 1964. Aircraft history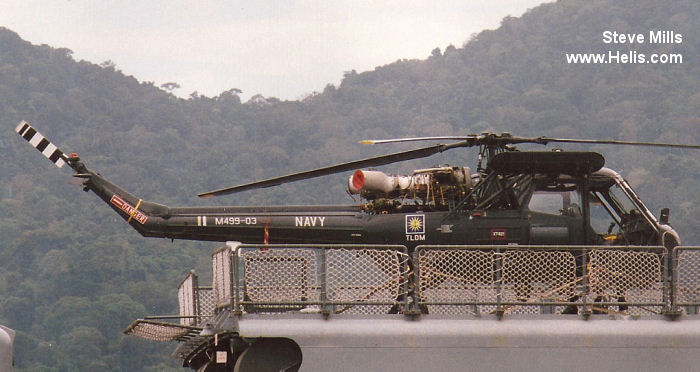 ID

XT421


Fleet Air Arm
RN
829 Sq HQ Flt/503 by Oct 1970 still Jul 1972
RNAY Fleetlands by Nov 1972
829 Sq Arethusa Flt/426-AR by Jan 1973 still Nov 1973
uncoded Dec 1973 (panel swap ?)
829 Sq Andromeda Flt/472 by Sep 1973 still Nov 1977
829 Sq Euryalus Flt/433-EU by c Jan 1978, still Aug 1981 still 1984
sold to Malaysian Navy

M499-03


Tentera Laut Diraja Malaysia
Malaysian Navy (TLDM) d/d 1988, ex XT421, wfu 26sep02

M499-03


Tentera Laut Diraja Malaysia
14Apr97 (still with XT421 on the side) on a Malaysian warship

9M499-03


Malaysian Aviation Training Academy
Instructional air frame at Malaysian Aviation Training Academy,Kuantan. Painted in all white colour scheme.