Helicopter Sikorsky HSS-1N / SH-34J Seabat Serial 58-1271 Register 148013 used by US Navy (United States Naval Aviation) US Air Force. Aircraft history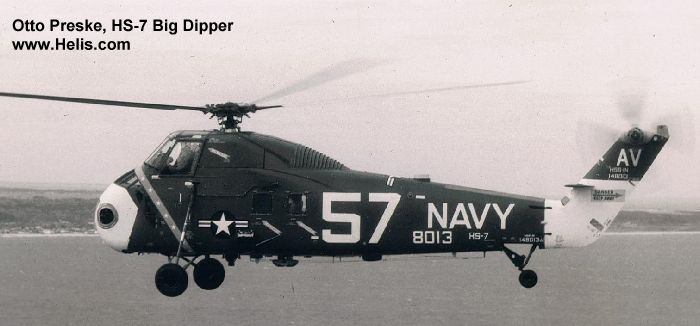 ID
New Layout

148013


US Navy
Sikorsky HSS-1N, c/n 58-1271, ff?
del USN as HSS-1N, 148013 unk
redesig SH-34J, Oct62
wfu & stor MASDC as HD088, 06Jan71
converted to UH-34J at MASDC
xfer NARF Pensacola, FL, 15Sep71.

148013


US Navy
Feb62 as HS-7 Big Dipper /AV-57 off NAS Norfolk coast

148013


US Air Force
Sikorsky HH-34J Choctaw
redesig HH-34J, unk
xfer 304th ARS, Portland, OR, Jun71
emergency landing site in Northern California on way to xfer to L.A. Sheriff Dept, 1974
xfer BEALE AFB DRMO.