c/n 2026
Year 1964 to 1966
Helicopter Boeing-Vertol UH-46A Serial 2026 Register 150965 used by US Navy USN. Built 1964. Aircraft history and location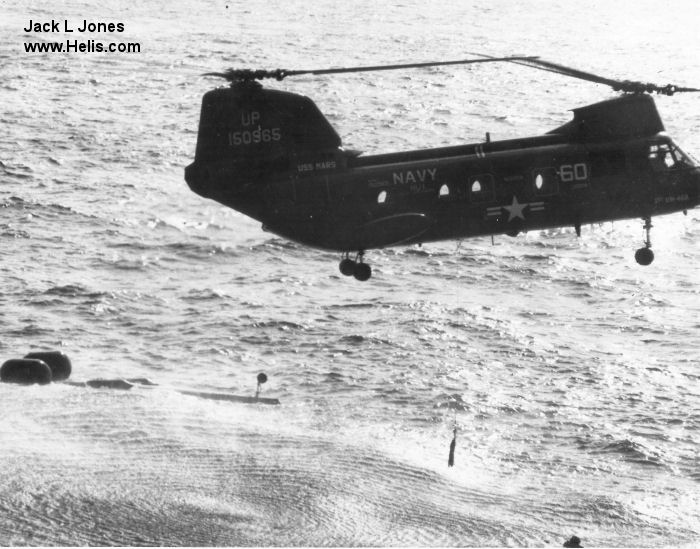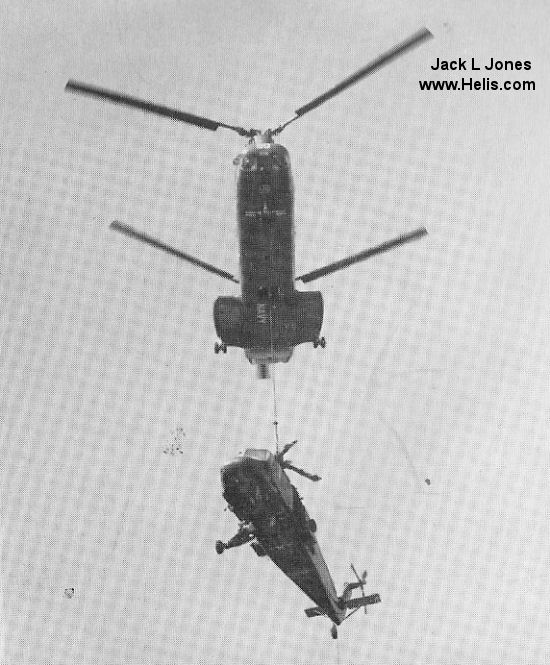 150965

US Navy
1964-06-27
US Navy UH-46A d/d 27jun64
asg HC-1 /60
w/o 12Dec66 Ream Field, Imperial Beach, CA HC-1
1965-03
Mar65 as HC-1 Det.47 /60 USS Mars (AFS-1) somewhere in the South China Sea performing the first rescue by an UH-46A



Jack L Jones personal account of the event March 1965:

This was the first Navy detachment for the UH-46A. We were writing the book on vertical replenishment. Heres a picture of 150965, side number 60. This was taken from the deck of an aircraft carrier, don't remember which one. It 1965 somewhere in the South China Sea.

ADJ3 Ludolph was flying aircrew in 60 and I was in 150966 61, we were vertical replenishing the carrier when a UH-2 flying plane guard lost power and went into the water.

Ludolph had just made his drop on the carrier deck, so they responded to the May-Day and picked up the 4 man crew of the downed UH-2, taking them back to the carrier.

After about 3 hour on deck they returned to the crash site and lifted the floating upside down UH-2 back to the carrier. A boat crew had attached a lifting sling to the down helo and made the hook for 150965. This was a first, I remember a lot of concern on lifting this much weight but we did it.....






1966-12-12
I believe this UH-46A crashed on 12dec66 30 miles off San Diego, 4 miles from USS Tripoli (LPH 10) about 1900 hours in good weather. 10 Lives lost (8 officers and 2 EM). One body recovered. Pilot was Lt. Cmdr. Clarence D. Van Gundy (father of my friend). Killed included Capt. McKee (Commodore of Amph. Sqd. 9) returning from inspection of USS Seminole (AKA-104) with 4 of his staff. Killed in the crash besides McKee were:
Lt. Cmdr. Walter P. Winsek
Lt. John M. Swazey
Lt. Russell B. Scamehorn
Lt. Paul C. Herd
Lt. Cmdr. Clarence D. Van Gundy (PIC)
Lt. Cmdr. Stearns L. Hayward(co-pilot)
Aviation Electronics Chief John M. Powell
, and Aviation Metalsmith 1C Jimmie W. McGarrah. RIP
1966, as a young sailor in HC-1, I had the opportunity to work on and fly in old number 60. We installed 150 gallon F-4 Aux tanks on this bird and did all the flight testing at Ream Field. I think we got the MUC out of this endeavor. Was on Det. on the Sacramento when we received word of the crash.
| | |
| --- | --- |
| | |