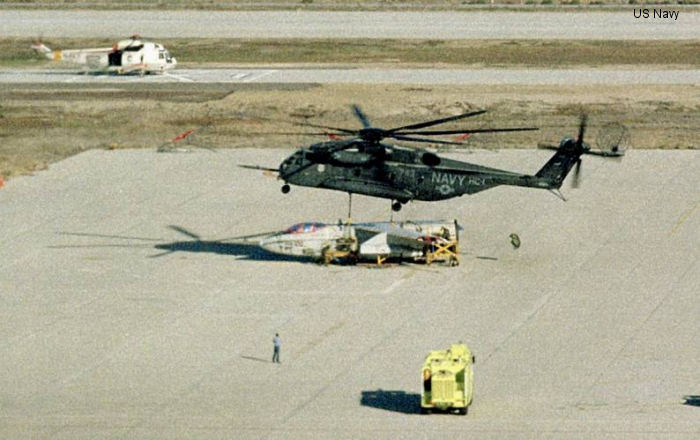 HELSUPPRON ONE,
Fleet Angels
, tail code
UP
, were the US Navy first operational helicopter squadron.
1948 Helicopter Utility Squadron One (HU-1) at NAS Lakehurst
1951 move to Imperial Beach Naval Outlying Field
1965 rename Helicopter Combat Support Squadron 1 (HC-1)
1967 split in
HAL-3
,
HC-3
,
HC-5
and
HC-7
.
Deactivated April 29, 1994.
---
1955
Henry Franklin was helicopter utility squadron commander

Jun58-Jul61 was a aviation electronic tech and qualified as an air sea rescue crewman. Took cruise to wes-Pak aboard USS Shangri-La (CV-38) in 1959, Sasebo, Japan supporting Mine Flotilla One where we had our HUP-2 aboard USS Hamilton county (LST-802) and USS Carter Hall (LSD3); 1960-1961 cruise on USS Duval County (LST-758) to Midway-Hawaii setting up tracking stations on islands for NASA

1962
to 1965, Gulf of Tonkin long cruise on the Corral Sea (CVA-43), with 2 two UH-2As. Scattered one on deck while transferring a generator via external net. Tail rotor vortex. Nobody injured but some very pissed blue shirts. Squadron was HU-1 Guardian Angels then went to HC-1

1963-66 I was with HU-1/HC-1. 17sep63 UH-2A
149776
was lost. In 1965 A/C 149021, 149022 and 151306 were on the USS Midway (CVA-41) assigned to HC-1 Det Alpha. LT George Arthun

1965 I took 5 UH-2B on a 9 month deployment, we were the first det to bring all home. AFCM Joseph Barbutt

1965 I'm Lt Fritz Meyer , USN I was a member of HC-1 at Ream field until Jan68 when I was transferred to Hc-7 while at Cubi or on the North SAR station. my HC-1 Det was Det 19. Prior to that I short cruised on the Kitty Hawk and then deployed to V.N.aboard the Ranger . I am vague on times but spent Christmas 1966 in Hawaii. The following year I had my own SAR Det on North SAR. My co-pilot was Cornelius Harrington ( Skip) Yates III. My crew leader was Abner ADJ-1 . My crew included Stan Gooch AE-2 , Earnest Meyer , John Freeman , and some other gentlemen who were so well behaved that I cannot remember their names although I see their faces in my memory every day. I was blessed with the best. FCM

1965-Sep67 HC-1 sent 13 CSAR Dets to the Tonkin Gulf. We flew the UH-2Bs. I was on Det 11 Oct 66 thru March 67. Our helo was
149762

Sep66, arrived HC-1 assigned to Det 65, USS Enterprise. Did two West Pacs 66-67and 67-68. During night Carrier Qualifications aboard Enterprise on Nov. 18th 1968 crashed at sea. Spent three months Naval Hospital Balboa in San Diego and got my discharge. To think about it, that was over 50 years ago. My name is Ken Carpenter and am living 60 miles north of Seattle, WA.

Dec65-Dec66, I checked into HC1. Left for WestPac in May aboard St Paul. (My recollection was the Helana) We were CSAR (Det 19 or 23). Crew was Lt Larry Sherman, Ens Ron Bradley, Chief AD Saunders, AT1(AC) Bob Seddig, AMS2(AC) Kleckley, ADJ3 (AC) Ed Hilty, AMS3 Harold Geer, AN Tony Dellacrosse. We sailed on USS King, USS Chicago after arriving in the PI. Any feed back would be greatly appreciated. We Did 2 tours, no rescues, but delivered mail and the Chaplin. We flew the UH-2A, camouflaged, armor plated bird. I returned in Sep66 due to my wife surgery. The Det returned in Oct or late Sept

1966 to 1968 I was in HC-1, (AE-3) Barry Puckett. We took two UH-2A/Bs to Antartica on the USCGC Staten Island. 16 Navy on a Coastguard Icebreaker (Det.53) I was also on the USS Enterprise 1968 WestPac (Det.65) We took three UH-2Cs and ended up spending about three weeks off the coast of N.Korea when the USS Pueblo was captured. Spent remainder of westpac off north and south Vietnam on Yankee station. Our Det. did 8 rescues. I would love to here from anyone from HC-1

1966-1969, Assigned to HC-1 out of AE"A" school in Jacksonville. 1967-1968 Served on two cruises. Kitty Hawk and Enterprise. On Enterprise for the horrible time off Hawaii . Sad day with all the killed and wounded. Spent last year 1969 living in a beach house with Dennis Zuleger AE3, Paul Swartz ADJ3, Herb Eckardt,adj3, Marrvin Long ADJ3,. Great place for parties in the "Brown House".. Barry Puckett in earlier posting here was a name I recognized. He liked the rock and roll bands at the EM club. Went back in later years and they had moved to North Island. Ream Field was special as you could walk anyplace in a short time. Great bunch of sailors. Loved it when the new barracks got built. John (Red) Schwecke AE2,

29jul66 Ens. C J Cooney HC-1 Det.29 deployd to Republic of South Viet Nam with seven other officers and eight enlisted men, to fly attack helicopters then known as gun ships

1967-1971, I was in HC-1, I made two WestPac cruises. 1969 on the Bon Homme Richard and 1970-71 on the John Hancock. On the Bonnie Dick, I was involved in a crash. All four crew recovered. Seasprite
149767
lost at sea. Met many great guys on that cruise and stay in touch with several of them. ADJ-3 D.L.Wiczek

1967-69 HC-1 Ream Field, great memories ,best buds,wild times,the old barracks,the pool(south of the runway.) Det14 TYCO Last cruise using the UH-2(Bs) on a WestPac.I fart dust now,cant recall many names anymore,but recall a few L.G.Nicholas,A.J.Smallbrock. Yea-great memories during some rough times. Still Kicking and hanging my hat in Connecticut. Steve

1968, I was transferred to HC-1 along with a buddy named Dennis Evanson,from VS-25 which was stationed at North Island. I really thought Ream Field was special; smaller, and more of a "family", than life at N.I. At the time I had made E-4, so living in the "new" barracks with private rooms was luxury, compared to life on board the USS Yorktown, CVS-10, where I had made my first cruise. Being assigned to Det 7, , was another new experience, and I remember Chief Ganderton, and his British accent, which took me a while to get used to. remember our cruise aboard the USS Ticonderoga, to the Far East, in 1969. It was while on this cruise that I made E-5, and that made life a lot more enjoyable, including better pay. The rumor that we were going to Australia, never came true, but the friends I made in HC-1, will never be duplicated. I remember Oscar Delfin, always dependable, and guys like Toleman, Rlussell, Eades, and Reeder. I also remember Krupa, McNown, Ron Shimel, who influenced me to buy my first motorcycle when we were in Japan. Also remember a guy namerd Buchols, and Fowler. I especially remember our O in C., LCDR Martin. Also Lt Morgan, LTJG Walker, LTJG Smith and Newkirk. I especially enjoyed working with LTJG, Davis and Newman. After our cruise was completed in 1969, I really enjoyed my motorcycle in San Diego, and explored the area, from Tijuana, to LaJolla, and points east. It seemed that by the middle of summer 1970, we had been assigned to th4e USS Hancock CVA 19, which was stationed in Alameda. We started "short cruising" out of Alameda in late summer, and by Sept 1st, I was discharged. I later learned that they DID get to go to Australia on their 1970-71 cruise. I will never forget those 4 years in the Navy, and will always cherish them. Respectfully, Ed Zimmerman

1968 to 1969 attached to HC-1 SAR set 19 on USS Hancock as aircrew. Toney Hanson AT1 Det 19 Aircrew POC. Previous HC-1 during (1966 to 1967) attached to Combat SAR Det on extended duty for air rescue of downed pilots off coast of N. Vietnam. I am getting so damned old I cannot remember the names of my shipmates for those cruses but I was there and felt like I was doing something. Saved 2 pilots on the combat SAR and 1 pilot plus the helos swimmer who we lost that night when he fell off the sling during the pilots recovery. We all came home. Best duty I ever had in 20 yrs of service.

Apr68-Jan72 I,Frank Chupko, was a rescuecrewman and flew a lot with Frank Dudek from Dearborn.(Now deceased) While short cruising on the Oriskany we made two rescues in two days of pilots training to go to Nam.(Early 1970)They were both at night and the first one was during a big storm and the pilot had cut off his D-ring. Needless to say I was the swimmer both nights

Aug68-Sep79, C.T.Hall, I was in the outfit. An outstanding group

1968-71, HC-1 Dennis Burgi AT-2 I was on the Oriskany 69/70 and the Kittyhawk 70/71,if I remember my dates right. we flew UH2-C's, (hukietukes)also known as Kaman's Killers, because of their dependability. a couple of pilots named "Squeeky" O'neil and "Bugallo" Bulgelski. He was cool. Worked nights, 7pm-7am. Good crew, one bad chief on one cruise. We managed to have a good time aboard ship and on liberty. Some of the crew, Greg Luft(AIMD-AT), Frank Dudek, one of the best guys I ever knew, unfortunately deceased now,Pat Golden from Syracuse, Frank Chupko from Scotch Plains,N.J., Tom Robinson,ADJ crazy and fun, from Staten Island, N.Y.,and many more good guys to serve with. Wish I could remember all their names, but hard enough remembering mine. LOL

1969-1971, I was SAR crew with HC1 det7. Lt Newkirk, chief Ganderton, Lt Walker. Wish could remember all. Rember Chupko, Ernie Skeen, Bickhart, Draggish went down off the coast of IB flew on the search mission for them. Was about five UH-2C looking. Coast Guard came under them and picked them up. HC1 CO was not happy. Dont remember his name but think we called him Grey Ghost. Known as Gus ADJ2 at the time

1969 - 1971, Not sure of the dates but I was Frank Chupko's roomate when we lived on the beach before we deployed. Spent much time hanging out at the Ye Olde Plank Inn listening to Ernie Skeen sing Merle Haggard tunes. I have a recording somewhere which I need to put online. I shipped out on USS Bon Homme Richard CVA-31, Frank on the Kitty Hawk. Later we reunited to take the Bonnie Dick to it's final destination in Bremerton. We both went for some shakedown cruises on the Constellation and raised some hell in Oak Harbor. Ernie Skeen was in charge which made it even more exciting. After that I parted ways with HC-1 and went to Moffett Field NAS in Mountain View, CA. The HC-1 crew was a great group of folks, and we've lost a few. John Poltrack

1969 to Oct 1972 I flew as a rescue crewman with Det7. We were attached to the USS Hancock (CVA-19). I made 2 West Pac cruises. In 70 to 71 we flew the UH-2C and the 72 cruise we had converted to the SH-3G. Jerome Schleier AO.

Jul69-Sep71, Doron Schleifer AT-2 Served with HC1. West PAC on USS Ranger from Jun70 carrier quals to Jun71. Even though I was in ships company, still kept Connected with HC1 Det1 Crew. Great bunch of guys.

1970-1971, I was HC-1 Det-7 cruise on Hancock CVA 19 Tom Robinson (thomasrobinson48 comcast.net) from NW Indiana ADJAN (Navy gave me ADJ3) trying to get me to stay in. I remember Lt Newkirk, Chief Ganderton, Lt Walker, I have a squadron list of names somewhere. I worked with Bruce Ekhoff AMS2nd class, Rich Krupa AMH2nd class, Billy Walk (got sick and missed the 70-71 cruise). Luis Pabey ADR3nd class from EC Ind., James Eades ATR2, Stephen Lesly AE2, Clide Lotspeich ATN2, David Rafeld AE2, Marion Ames ATN3, Harlan Browning AMH3, Oscar Delfin AZ3, Larry Harper AMS3, Mike Landt ADJ3, Alan Nichols AE3, Charles Zinck PR3,Jerome Schleier AO3, David Wiczek ADJ3, John Green ADJAN, Ed GreenAEAN, Roy Guthrie AN, Lorenzo Sahagun TN, James White ATN3, James Eblen ADCS, Aryln Daugherty AT1, Milo Henderson AMH1, Don Meitl AE2, this came from my orders signed Aug 18, 1970 by CDR R.L.Wheeler. I never was able to find a patch for HC-1 Det-7 or Ream Field NAS Imperial Beach Helicopter Base.

Nov70
-Jun71 and Jan/Oct 1972, HC-1 Det7 WESTPAC cruises on USS Hancock (CVA-19). I have copies of cruise reports Det7 and Det6 combined for Apollo 17 recovery on USS Ticonderoga(CVS-14) Dec72. Det7 decommissioned Jan73. Richard Wald, PN2

Jul71 I was with the Det as an A/C on the USS Okonawa for the Apollo 15 recovery; On the 1972 cruise I served with HC-1 Det 7 as a Rescue Aircrewman on the Hancock. I had 2 rescues. 1 with Takota and I forget my partner a/c on the other.It was my honor to serve with all of these fine shipmates! Smith AMS.

Mar72-Aug75, I was assigned to HC-1 as a Staff Aviation Storekeeper (AK). It was NAS Imperial Beach when I arrived. The designation NALF Imperial Beach was started in 1974. I have many Fond Memories of my time there. There were People of all Races I met and will always remember including Friends like Ike Woods, Vic Johnson and Virgil Freelen, HC-1, Det. 1 (Ike is now deceased), Jake Jordan, Tollie Giddings, Jr.: Bobby Clinton, Louis Moore, Mike Brown (HC-1 Staff) Melvin Rainwater (HC-1, Det 1 and so Many Others I don't have space to write. Forgive me if I left someone out. There are so Many! My enlisted August 15, 1975; Just before the Squadron move to NAS North Island and the base being designated an OLF. Samuel Kemp

1972, If I recall Smith ems Hc1 dat 7 on the Hancock around Oct, Nov, Dec. You are somebody also flew into Danang air base off of the Hancock, I remember because I flew along as the commander asked if I would like to go,I lost my best friend, do you remember fish, remember how he passed, great bunch of guys miss ya, boy did ya tease the hell out of me I always wanted to be an actor looked up to u guys all of you

1973 March 09. I was in HC-1 det 6 doing a WESPAC. I was flown in from NASIB (Ream Field) upon arrival of CVA 43 to Subic Bay. Being from So. Cal this shipboard life was new and very different.. I do not think I was liked all that much, but that is okay I was a kid and just trying to figure things out. A little mentoring may have helped. I was an ADJ/AN stryker. I was mostly utilized for everything but what was my training. Never smoked or played craps under the ladders, so I spent much of my 'down time' sitting in the flightdecks of various aircraft reading the NATOPS manuals. Here I was an enlisted and just did not realize that my drive and skill sets would never be put to use. If I knew what I know now, I would have gone to college and enlisted as an officer, with a chance of breaking aircraft instead of fixing aircraft. None the less, one zero, Officer Hunt allowed me the opportunity to fly one of the H3 Sea Kings in between ops one day on WESPAC and somehow it made it all worth it.. Thank you again Mr. Hunt. I got out of the Nav ASAP and got my private pilot, multi with IFR endorsements. I flew for the next forty years. I went back to school and became a Registered Nurse. I just did everything backwards. Oh well, no second chances.. I sure would like to hear what happened to some of my squadron shipmates. Steven Apodaca, Bruce Wiesner, Guy DeVillez, Rick Laird, Mike Campbell, Tom Renolds, Tom McGrath etc. There are a couple of zero's I would like to know what happened with their lives.....

To the previous post ... Mike Campbell here. Left HC1 det 6 (decommisioned) in late 73 for a Skylab pickup, then on to HS2. Left the Navy Feb. 75. Worked building and trades for 2 years then off to college. 1981 became a firefighter, emt, emt instructor/coordinater, hazmat tech, hazmat medical officer Went to administration as an investigater, code enforcement. Retired 1 month after my 56th birthday. Tom Reynolds made Chief and retired, Chief Hassett retired in Imperial Beach and passed away a number of years ago. The rest are unknown. Greg Wahl, Bootcamp, Atwood,Jones etc great bunch of guys.

1975-1979, I was in HC-1 as an ADJ. Was stationed at Ream Field in Imperial Beach, CA when I first arrived which was dubbed "Helicopter Capitol of the World", then transitioned to North Island in Coronado, CA. Attended ADJ training in Millington Tennessee, FAM school with HS-10 at Ream Field and Aircrew training with HSL-31. Volunteered for flight duty and flew in HC-1 Det 3,4 and 5. Had the opportunity to visit our sister squadron in Atsugi, Japan on one of our WestPacs aboard the USS Coral Sea who were stationed on the USS Midway. Fond memories of all the crazy men and women in that squadron both stateside and overseas. Had a blast in Fallon when we were flying the HH-3As for Det 5. Who can forget the Whirlybird bar right across the street from Ream Field in Imperial Beach..lol

Jul75-Dec78, I served in HC-1 Det5. I was an AOAN and worked on the armament on armored H-53. I loved my time there and still visit Coronado and Imperial Beach to Reminisce. I miss my buddies Keith Puchtel, Brad Eager, Ed Sullivan, all you guys! We carried Mini-guns, and M60s on board for our Combat Search and Rescue mission. We also recovered torpedoes from the submarine forces. Exciting stuff!

Dec75-Jul78 I was in detachment with CVW-5 embarked on the USS Midway (CV-41). We flew SH-3Gs

1980
-1982, I was with HC-1 Det 6 as one of the three COMSEVENTHFLEET VIP Pilots and also the NATOPS/Instrument Instructor and Det Maintenance Officer. at the time I was a LT on my second tour of duty. Call Sign was/is "Phantom". We were permanently stationed in Atsugi Japan as an overseas Det. Ken Curtis (LCDR) and Paul Miller (ENS) were the other two pilots at that time. Ralph Edwards was the Warrant AMO. Later Walt Fuller (LCDR) replaced Ken as OIC. VADM Trost - later to become CNO and then VADM Holcomb were COMSEVENTHFLEET's at the time we flew. We had Blackbeard "01" -
148989
at that time which was the last flying SH-3A in the Navy. I took in possession of our first SH-3G "Big Tail" SeaKing @ 1981 and did a complete redesign of its interior, exterior and added a bubble cargo door window. NIPPI in Atsugi did all the working including the engineering of the cargo door window to ensure it wouldn't be affected by the engine exhaust heat. With the bubble window the Admiral could look all directions from his seat next to it. Also, the seat was wired so he could talk on any of the aircraft's radios including HF. I also had NIPPI put metallic VADM racing stripes down the fuselage sides. We had such a great Det and personnel who maintained "Blackbeard". I did cross deck over to Det 2 on the Midway for a cruise or two to let some of their JO's get a chance to fly our VIP bird. During one cruise we spotted and rescued, on two separate days, Vietnamese refugee "boat people" (93 total) that the Blueridge took aboard. My final tour of duty was as a Professor teaching Aviation Safety Programs and Mishap Investigation at the Naval Postgraduate School in Monterey when I retired in 1995 after 21 years of duty and the only tour of duty not in a cockpit. Joined the California State Guard Army Reserves (CASMR)in 2006 and now a Colonel and the Deputy Commander of the CA State Military Police. Presently COMACCLOGWING Training Administrator for my full time job. I still go to North Island from time to time and see USS Midway across the bay looking small with the city skyline in the background and miss seeing HC-1 at the hangars and all our SH-3's that use to be on the flightline/seawall. LCDR Dennis Fandey USN(RET).

1981–1983, with HC-1 Det 2 on the USS Midway (CV-41) and with HC-1 Det 6 on the USS Blue Ridge (LCC-19), covering for LCDR Dennis Fandey USN (RET), while he gained some experience operating in an aircraft carrier environment. Because Dennis & I swaped detachments, I was able to be home for the birth of our twin sons. In the end I netted more sea time than I would have liked to, but it was worth it to be home for the birth of our first children. During my time in Det 2 the OIC's were LCDR Chris Tande followed by LCDR Jeff Hunt. The following are some of the LT's & below pilots that I flew with in Det 2: Ivey, Levy, Hyers, Burker, Moret, Umbach, Henderson, Southworth, Miller, Howard, Kennedy, Mizak, Hill, Garcia (deceased) and Vollmer (deceased). During my all too brief time with Det. 6 the OIC was LCDR Walt Fuller and Paul Miller (deceased) was the other pilot. I ran into one of the crewmen from Det. 6, Earl Montgomery, during the period (2006-2016), when I was a Navy contract VERTREP pilot assigned to the Military Sealift Command (MSC). I believe that Earl is still working for MSC and one of his collateral duties is rescue swimmer on one of the rib boats on the USNS supply ship that he is assigned to at the time. LCDR Rodney (Rod) Cordt USN(RET)

1981-1984, I was attached to HC-1 Det.6, Blackbeard 01. Arrived ad AD3 Roger Slater, was working with the Engine shop to maintain the 2 T-58 Turbo shaft engines. As above I also worked with LCDR Ken Curtis and LCDR Fuller. Had many great times at sea with the guys and lots of Fun in Ports. I transferred to NALCOWESTPAC Logistics in 1984 or 3 years for an out of rate tour writing Flight Schedules for C-12, S-3 and doing MAC - SAM requests for the Air Force. Then I transferred to VP-16 in Jacksonville Florida for 3 1/2 years working on P-3's where I went to Flight Engineer school and Naval Aircrew School. I transferred to VQ-1 Atsugi Japan in 1991, soon squadron moved to NAF Misawa Japan where I stayed with VQ-1 until I retired in 1997 with 22 years service. Best time I ever had was with the Military. I am presently working for Rolls-Royce OWC as a Flight Technician for the Gulfstream AC and will be here until I retire in about 5 years.

1982-1985: HC-1, Det 6 Pilot. I reported to this unit in December 1982 and upon arrival at Yokota AFB was picked up by the OIC, LCDR Walter Fuller and LTJG Paul MIller flying an old SH-3G: BLACKBEARD-01 (149679). We flew a few miles south to NAS Atsugi where there was a new flight suit with my name on it in the Ready Room, which I put on as I immediately went flying with the OIC as his copilot. 4 hours later I was able to check into the BOQ and settle in for the most invigorating 2 years of my life. Most of my flight hours were logged with Walt Fuller & Paul MIller (deceased 1990). I also served under LCDR Don Petitmermet who followed CDR Fuller as OIC, and I flew with a great group of junior officers and talented NCOs. The other 1st tour pilots included: (ENS or LTJG) Steve Trotta, Walt Bednarski, Tim Eason, Chuck Fuller & Tom Digan. LT Rod Cordt & LT Rick Southworth came over from our sister unit in Japan, HC-1, Det-2 (commanded in those days by LCDR Jeff Hunt -- a New Mexico native with an acerbic sense of humor) to help out from time-to-time. We had great NCOs, including the Maintenance Chief, Juan Galvan with help from CWO4 John Paddock, and AD1 Williams, AM1 Patenio, AT1 Tungate, AD1 Slater and others, plus Air Crew I recall like AD1 Castro & AM1 Montgomery. We were visited every year by HC-1 leaders who came out from San Diego (NAS North Island): CDR Richard Barr & CDR William Calhoun, both of whom were Vietnam veterans who flew in HAL squadrons flying off the river barges. We supported VADM Staser Holcomb, and old S-2 driver serving as COMSEVENTHFLT, and he liked to play tennis with our Yeoman, First Class Petty Officer Dwayne Alexander. VADM James Hogg would later take command of 7th Fleet, a black shoe sailor who was easy to work with, and we swapped out airframes to begin rework on 149679 at Nippi Aircraft - across the field at NAS Atsugi, taking on the slightly different 148973. We deployed aboard USS BLUE RIDGE (LCC-19) and operated alone and in various Task Groups across all of WESTPAC. We spent many days ashore at NAS CUBI PT where we had our own Quonset Hut off the lower apron of the airfield, so we all gained experience flying to Manilla either to transfer passengers at the International Airport or ferry VIPs to/from the US Embassy on the waterfront. We also visited our USAF friends at CLARK AFB and supported periodic 7th Fleet confabs up in the mountains at Baguio -- a wonderful spot in the Pacific. We had a special Navy Helo bar in Olongapo City, The Rufadora as I recall, where you could always find your friends after hours. We also visited Hong Kong on a regular basis to coordinate with the British who still ran the place, and worked/played with the Royal Australian Navy in Malaysia. The annual summer cruises around Japan with the Japanese Navy Flagship were always a highlight of the year as we were entertained in many ports around the island nation, some that had not seen a US Navy ship for decades. Team Spirit in Korea was always a big deal and we would forward deploy to an old Army Post, USAG PUSAN, where we would take over the football field and make it our home for 3 weeks in March/April. Many long flight-hour days (10 ) and some challenging landings on new ships from US and allied Navies. We got to train 6 US Army Huey drivers how to land on a ship, with support from USS DENVER (LPD-9). Had many adventures in Guam, Pattaya Beach, U-Tapao, Singapore, Okinawa and other Japanese islands. I left Det 6 as an O-3 Maintenance Officer for a cross-deck tour with Det 2 on USS MIDWAY (CV-41). This allowed me to complete certain training certifications that were not possible for me to obtain flying for C7F in Det 6. At the beginning of 1985 I rotated to shore duty and was sent to Navy Recruiting Command in my hometown of Minneapolis. I led the Officer Recruiting section and flew the T-34B (144022) assigned to the District, which covered several states. The other T-34 pilot at NRD MPLS was LT Lyle Hansemann (deceased 1993) -- a west coast helo driver from the SH-2 community. I retired the T-34B with a cross-country flight to Davis-Monthan AFB in Arizona in August 1987 and left active duty the following month to attend graduate school. I have worked ever since in the Biotechnology industry, but will never forget my formative experiences as a young naval aviator in WESTPAC detering the Soviet Pacific Fleet during the Reagan Administration with John Lehmann as SECNAV in the pre-internet days. Ted Snelgrove

1983-1984, I trained under Master Chief Kazmar and staff at NAS North Island SH-3 S.A.R. School. This man mad a life long impression on me!!! Amazing individual!!! Vincent Chirafisi
HS-4 Black Knights

I was attached to HC-1 honorable discharged 08may86. Amh3 maintained sh3g &ch53-e sikorsky helos. I am very horned to have been a member of such a historical naval squadron

1985-1989 Deployed with HC-1 Det 6. Flew mostly aboard
149679
(Blackbeard one) as SAR Crew. Best people, Best memories! Even though our mission was VIP, We got a great rescue toward the end of my tour. Found a survivor still swimming after the rescue/search had been officially called off!

1987-1992, HC 1 DET 6. What happened to all the plaques and the the memorabilia nailed to the wall in the Roofadora after Pinatubo blew?

1988-1991 I was with HC-1. We did not have CH-46s, but we did have
CH-53E
s, 4 of them, on loan from the USMC

1988-1992, attached to HC-1, I was a SAR aircrewman and AT. Would anyone remember a time at San Clemente Island when we lost an engine while trying to launch Mk 27 ASW target ?

1989–1990, with HC-1 Fleet Replacement Squadron (FRS) as a Flight, Ground & SIM Instructor and Department Head of the FRS H-3 Maintenance School in San Diego. Our CO was CDR Littleton. HS-10 was the first of the two H-3 FRS's to transition to SH-60F's, so HC-1 took over all the West Coast H-3 Utility FRS duties. OBTW If any of you would like to learn more of the early history of HC-1, the following link is to the PBS movie "Scramble the Seawolves" about the HA(L)-3 Sea Wolves, during their time in Vietnam and is narrated by Mike Rowe of Dirty Jobs fame. https://video.kpbs.org/video/scramble-the-seawolves-yacuzi/ A couple of former HC-1 CO's are featured in the film; CDR Dick Barr & CDR Al Billings. LCDR Rodney (Rod) Cordt USN(RET)

1989-1982. I went through the FRS then went to the operational side of the squadron. Deployed with the Det 3 'Sultans of SAR' aboard USS Tripoli (LPH-10) to Desert Shield / Storm. CDR Littleton, the previous HC-1 CO at the time, was the air boss on Tripoli. Our OIC was LCDR Ed McNamee. He came from the HS community and eventually went on to be the CO of the USS Kitty Hawk (CV-63). Prior to transiting the Straits of Hormuz, we cross decked to USS Tarawa (LHA-1) and supported Operation Sea Soldier off the coast of Oman. Tripoli headed into the Gulf with an embarked HM unit to perform mine clearing operations. Tripoli subsequently hit a mine along with USS Princeton (CG-59) and had to be towed to Bahrain for subsequent repairs. Shortly after entering the Gulf, we cross decked again to USS Ogden (LPD-5) for a few weeks and proceeded north to Kuwait Bay. We returned to Tarawa and proceeded some weeks later back to San Diego. Along the way the ARG was diverted to Bangladesh for a Typhoon relief tasking before continuing to home port. I should note that the det had two hotel models, BUNOs
149708
and
151550

1989-1992, I was attached to HC-1. Was a Plane Captain then worked in corrosion control. Many turnarounds, daily inspections and 7/14 days. Missed that sh

My father Dennis Blackwell passed away Sept. 4th 2014. He was a member of this vaunted Squadron. He served aboard the USS Ranger, USS Oriscany, and the USS Kearsarge during the Vietnam Conflict. I am trying to contact his old team mates to tell them of his passing. Thank You: Clayton Blackwell

The CH-53 were not on loan from the Marines in 1984. They were assigned to HC-1. HC-1 was the official first Navy squadron to have 53s on the West Coast. Mark Halstead USN RET HC-1 53 Crewman 1984/86 ( helis: thanks! )