Satellite and aerial maps of CFB Shearwater with nearby locations
Toggle Map
1918 to present

44° 38' 0'' N - 63° 29' 0'' W
3.5nm SE of Halifax, Nova Scotia
ICAO: CYAW
IATA: YAW
Elevation: 167 feet
Opened in Aug 1918 as US Naval Air Station Halifax on the eastern shore of Halifax Bay, near Dartmouth, to support anti-submarine patrols off the Canadian east coast. With the end of WWI, the Canadian Naval Air Service was disbanded in Dec 1918 and the base was put under maintenance. It reopened in Feb 1920 with the creation of the Canadian Air Force, as Canadian Air Board Station Dartmouth. As the RCAF was contracting to a peace time strength after WWII, the RCN required an east coast base. The base was handed over to Naval control on 1 Dec 1948 and was renamed RCNAS Shearwater.

In Aug 1951, rotary wing operations began when the first Bell HTL-4s arrived, followed by Sikorsky HO4Ss in Apr 1952. In May 1963, the first of 41
Sea King
s started to replace the HO4Ss. On 1 Feb 1968, the armed forces of Canada were consolidated into the
Canadian Armed Forces
and the base was renamed CFB Shearwater. In the summer of 1981, the CS-2 Trackers of VT406 left for CFB Summerside. When the EW unit 434 Sqd moved to
Greenwood
(NS) in May 1995, this left Shearwater as a Sea King only base. CAF 12 Wing also has operational control over
MH443
at
Patricia Bay
near Victoria (BC) on the Pacific coast, which departed from Shearwater in Jul 1989.

Canadian Coast Guard Accepts Bell 429 in Shearwater, 14-Mar-16 : Delivery of 15 new Bell 429 helicopters for Canadian Coast Guard is on budget and ahead of schedule with 12 already in service. In addition, seven new Bell 412 will be delivered starting in 2017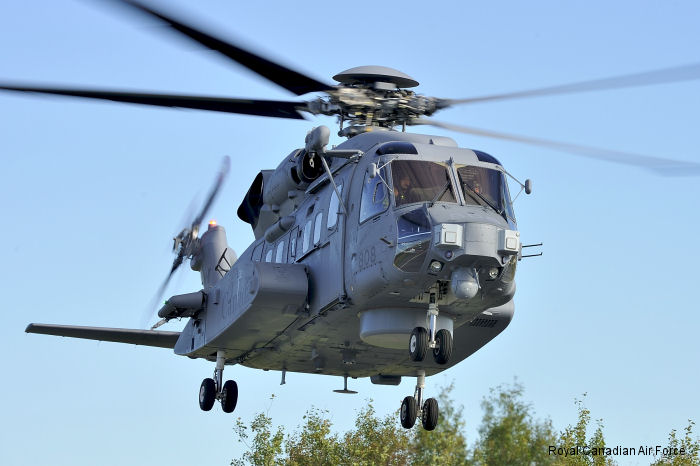 Canada Accepts Six Sikorsky CH-148 Cyclone, 19-Jun-15 : The Royal Canadian Air Force (RCAF) is a major step closer to operating a new world-class maritime helicopter fleet with the official acceptance of six CH-148 Cyclones on June 19, 2015.
By Date
|
By Serial