Satellite and aerial maps of HMS Drake with nearby locations
Toggle Map
1889 to present

50° 23' 34'' N - 4° 11' 39'' W
1nm SE of River Tamar bridge
ICAO:
IATA:
Elevation: 15 feet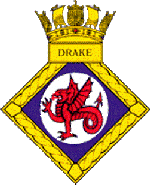 The Royal Navy has been associated with Plymouth and Devonport since before the 1500s. The Royal Dockyard itself was opened in 1691 to the south of the main site and work started on the Barracks in 1880. By 1889 the barracks were in use and named
HMS Vivid
. The base continued to develop and the Dockyard expanded northwards along the English side of the River Tamar. On the Cornish side, bunkers and later oil storage facilities were improved. In 1934, HMS Vivid was renamed HMS Drake and the base capabilities were further extended as World War II loomed.
After the war, the base was extensively repaired both from wartime damage and to face the challenges of the nuclear age. During the spring of 1953, the somewhat haphazard naming of the various buildings was overhauled and the blocks were renamed after famous British
sea dogs
, such as Benbow, Boscawen and Hawkins. In 1960, the Hydrographic School moved from
Chatham
and by 1964 it had moved again into the main base complex.
Building has continued with the completion of the covered Frigate Complex over the old Keyham Yard dry docks in 1977 and work at the north end to improve the Assault Ship docking area, the helipad and the nuclear submarine refurbishment and replenishment facilities. A restructuring of the naval base management arrangements resulted in the amalgamation of
HMS Defiance
(the Fleet Maintenance base at Devonport) and HMS Drake on 17 Apr 1994.

When
Portland
closed in spring 1999,
FOST
moved its HQ here.
In Apr 2003, the natural sciences were consolidated further into a single Hydrographic, Meteorological and Oceanographic school on the base. During Jun 2013, with the closure of nearby Turnchapel and the relocation of the landing craft from Poole, the rapid assault component of the
Royal Marines
was concentrated alongside the Assault Ship moorings in Weston Mill Lake to become
RM Tamar
, within the base.
The naval base is now the largest in Western Europe and the name HMS Drake has been extended to cover most of its operations. The base makes up a significant part of UK Restricted Airspace EG-R002, at ground level.