Search and Rescue (SAR) and Transport variant for Royal Danish Air Force. RTM322-250 engines.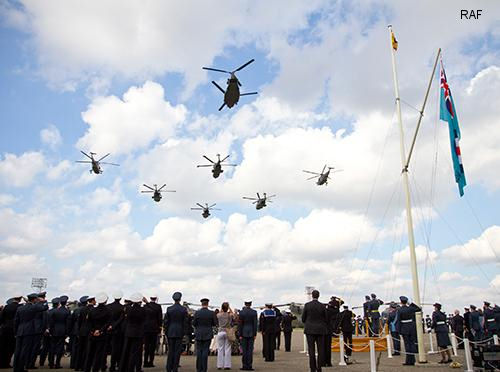 Royal Air Force Hand Over Merlin To Royal Navy, 01-Oct-14 : Yesterday marked the end of an era for the Royal Air Force and the start of a new one for the Royal Navy as the official handover of the Merlin helicopter took place in a formal ceremony at RAF Benson in Oxfordshire.
Six Danish EH101 Helicopters goes to the RAF, 30-Mar-07 : UK / Italy - AgustaWestland and the UK Ministry of Defence (MoD) have today signed an agreement to modify six EH101 Merlin helicopters the MoD are buying from Denmark, to provide additional helicopter support for the UK armed forces. The agreement also includes the purchase of six new build EH101 Merlin helicopters that will be delivered by the MoD to the Royal Danish Air Force to replace the original aircraft.
List of Operators of AgustaWestland EH101 Mk.512
| | |
| --- | --- |
| From | Organisation with model EH101 Mk.512 |
| 1998 | |
| 2005 | |
| 2007 | |
Construction Numbers on database of EH101 Mk.512


C/N
Year
History
50089
2003
M-501 : 50089/DEN01 return to UK as ZJ990
ZJ990 : First delivered to the Royal Danish air force as M-501 +
27aug09 pictured (pic1) at RAF Benson
RAF 50089/DEN01; 2011 type:HC3A 28/78Sqn./AA
08jul12 HC.3A type pictured (pic2) as 78 Sqn /AA at RIA+


ZJ990

: RN from Sep16; Sep17 pictured (pic3) asg 845Sq trainin+

50095
M-502 : 50095/DEN02 d/d 10jan06; Esk 722 RESCUE 02. ex UK ZJ991

50106
2005
M-503 : 50106/DEN03 return to UK as ZJ992; Jul06 pictured (pic1+
ZJ992 : Delivered to RDAF as M-503 in 2006, arrived in UK for c+
RAF 50106/DEN03 in June 2009 /AB 28/78Sqn.
29jul09 pictured (pic2) as /AB at RNAS Culdrose Air Day
21aug13 HC.3A type 28/78Sqn./AB Geilenkirchen dep. next+


ZJ992

: 27jul18 as 845Sq /AB pictured (pic3) at London Heliport+

50114
M-504 : 50114/DEN04 d/d 19jan06; Esk 722 RESCUE 04. ex UK ZJ993

50121
2005
M-505 : 50121/DEN05 return to UK as ZJ994
ZJ994 : Delivered to RDAF as M-505 on 2 Feb 2006. Returned to +


ZJ994

: hc.3a 02jul16 pictured (pic1) as 845 NAS /AC at RNAS Yeovilto+
Jun18 pictured (pic2) with ZK001 as HC.3A type /AC at A+

50123
2005
M-506 : 50123/DEN06 return to UK as ZJ995
ZJ995 : Delivered to RDAF as M-506 on 29 Apr 2006. Returned to +
May 2011 Merlin HC.3A ZJ995/AD pictured at RAF Benson

50136
M-507 : 50136/DEN07 d/d 19may06; Esk 722 RESCUE 07. ex UK ZJ996

50145
M-508 : 50145/DEN08 d/d 16mar06; Esk 722 RESCUE 08. ex UK ZJ997

50148
2005
M-509 : 50148/DEN09 return to UK as ZJ998
RDAF; 16jul06 pictured (top) as /Rescue-09 at RAF Fairf+
ZJ998 : Delivered to RDAF as M-509.  Returned to UK on 29jun07+
2011 pictured (bot) as HC.3A type at RAF Benson


ZJ998

: Royal Navy; 03mar18 HC.3A type 845Sqn./AE visit Schipho+

50157
M-510 : 50157/DEN10 d/d 28aug06; Esk 722 RESCUE 10. ex UK ZJ999
24oct13 pictured at NAF El Centro, USA
28jul15 at Odense universitetshospital

50160
2005
M-511 : 50160/DEN11 return to UK as ZK001
ZK001 : Delivered to RDAF as M-511.  Returned to the UK on 29j+
Jul12 78Sqn /28
23jul12 pictured (pic1) in Union Jack Burst special li+
hc.3a 21aug13 HC.3A type 28/78Sqn./AF Geilenkirchen dep. next+
23jan15 type HC.3A 28 Sqn /AF at Shawbury
15may15 pictured (pic2) at Newquay airport


ZK001

: Royal Navy; 03mar18 HC.3A type 845 Sqn /AF visit Schiph+
Jun18 pictured (pic3) as HC.3A type /AF at APROC 2018 i+

50161
M-512 : 50161/DEN12 d/d 17nov06; Esk 722 RESCUE 12. ex UK ZK00+
24oct13 pictured at NAF El Centro, USA
29aug17 over Derbyshire, England

50162
M-513 : 50162/DEN13 d/d 19jan07; Esk 722 RESCUE 13. ex UK ZK003
21jul13 pictured at RIAT 2013 RAF Fairford, UK

50165
M-514 : 50165/DEN14 d/d 02feb07; Esk 722 RESCUE 14. ex UK ZK004+

50222
M-515 : 50222/DEN15 d/d 05Jun09; UK test serial ZK160

50223
M-516 : 50223/DEN16; d/d 24Jul09; UK ZK161

50224
M-517 : 50224/DEN17; d/d 21Aug09; UK ZK162

50225
M-518 : 50225/DEN18 d/d 08Oct09, UK test serial ZK163
11oct14 seriously damaged 13km E Mazar-e-Sharif, Afghan+
08may18 Back in Danish service after being rebuilt afte+

50226
M-519 : 50226/DEN19; d/d 29Oct09; UK ZK164
18mar14 visit Gilze Rijen

50227
2010
M-520 : 50227/DEN20; d/d 20Jan10; UK ZK165
Aug15 Esk 722 as /Rescue20

20 C/N.