Search and Rescue (SAR) and Transport variant for Royal Danish Air Force. RTM322-250 engines.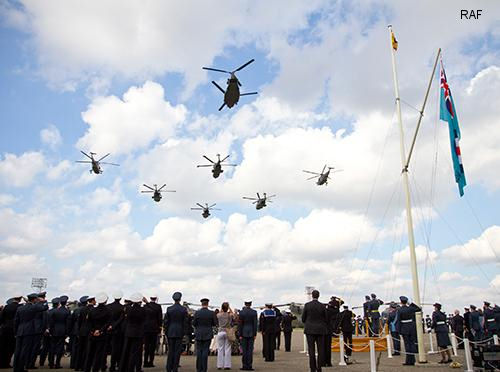 01-Oct-14 -

Yesterday marked the end of an era for the Royal Air Force and the start of a new one for the Royal Navy as the official handover of the Merlin helicopter took place in a formal ceremony at RAF Benson in Oxfordshire.
30-Mar-07 -

UK / Italy - AgustaWestland and the UK Ministry of Defence (MoD) have today signed an agreement to modify six EH101 Merlin helicopters the MoD are buying from Denmark, to provide additional helicopter support for the UK armed forces. The agreement also includes the purchase of six new build EH101 Merlin helicopters that will be delivered by the MoD to the Royal Danish Air Force to replace the original aircraft.
List of Operators of EH101 Mk.512
Global Distribution of EH101 Mk.512
| | C/N | Year | History |
| --- | --- | --- | --- |
| | 50089 | 2003 | M-501,ZJ990 |
| | 50095 | 2004 | M-502,ZJ991 |
| | 50106 | 2004 | M-503,ZJ992 |
| | 50114 | 2004 | M-504,ZJ993 |
| | 50121 | 2005 | M-505,ZJ994 |
| | 50123 | 2005 | M-506,ZJ995 |
| | 50136 | 2005 | M-507,ZJ996 |
| | 50145 | 2005 | M-508,ZJ997 |
| | 50148 | 2005 | M-509,ZJ998 |
| | 50157 | 2006 | M-510,ZJ999 |
| | 50160 | 2006 | M-511,ZK001 |
| | 50161 | 2006 | M-512,ZK002 |
| | 50162 | 2006 | M-513,ZK003 |
| | 50165 | 2006 | M-514,ZK004 |
| | 50222 | 2009 | M-515,ZK160 |
| | 50223 | 2009 | M-516,ZK161 |
| | 50224 | 2009 | M-517,ZK162 |
| | 50225 | 2009 | M-518,ZK163 |
| | 50226 | 2009 | M-519,ZK164 |
| | 50227 | 2009 | M-520,ZK165 |