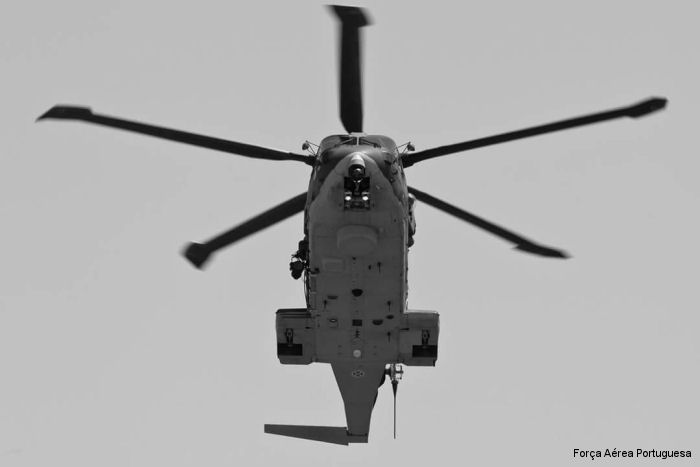 Designed as a replacement for the Sea King, the EH-101 (named Merlin in Royal Navy service), is a joint venture between
Westland
(UK) who developed the original WG34 design on which the EH-101 is based and
Agusta
(Italy). A new company called E.H.I. was established between the two partners in 1980 to manage the project. The HM1 is an anti-submarine variant intended to replace the Sea King HAS6, and the Lynx HAS3 & HMA8 on suitably equipped frigates. Other versions will replace Sea Kings in transport roles in both the RN and RAF and an airborne-early-warning version is planned. A US101 version was developed in 2003 to compete in the VHX to replace the United States Presidential helo, flown by US Marine squadron
HMX-1
. EHI officially became AgustaWestland International Limited (AWIL) in 2004, recognising the transfer of control over Westland Helicopters to Agusta Helicopters of Italy

The EH-101 was originally to be known as the EHL-01, but a clerical error in re-typing caused the lower case letter l of European Helicopter Ltd to be misread as a one. The rest, as they say, is history.

First flown October 9, 1987. On July 2007, the EH101 was renamed by Agustawestland as the
AW101
.
Since 2016 marketed by
Leonardo
.
Derivatives & Versions of EH101
Model
Year
History
CH-148 Petrel

1987
1987
In 1987 Canada placed an order for 42 EH101 to be assembled locally in 2 main variants, 28 CH-148 Petrel as a shipborne helicopter to replace the ...

Merlin HM.1

1995
1995
Royal Navy variant with manufacturer designation Mk.111 and built at Yeovil, Somerset UK. The British MoD placed an initial order for 44 Merl ...

EH101 Mk.510

1997
1997
Civil transport variant, two built

EH101 Mk.110

1998
1998
ASW/ASuW variant for Italian Navy with T700-GE-T6A engines
Also defined: Maritime Patrol Helicopter (MPH)
first 1 plus 8 batch built at Vergiate last two at Yeovil

Merlin HC.3

1998
1998
RAF variant built at Yeovil, Somerset, UK. The British MoD placed an initial order for 22 Merlin HC.3 airframes in Mar 1995.
All of the Merlin HC3's are operated by 28 Sqn based at RAF Benson. Their first operational tour was in Bosnia which started in April 2 ...
In order to lift and support the Royal Marines, the Merlin HC3 and HC3A due to transfer to the Royal Navy Commando Helicopter Force will need to ...

CH-149 Cormorant

2002
2002
Search and Rescue (SAR) variant for Canada. Manufacturer designation Mk.511

EH101 Mk.112

2003
2003
AEW variant for Italian Navy with Eliradar APS-784 radar in a bigger radome under fuselage. T700-GE-T6A engines.

EH101 Mk.410

2003
2003
TTH Transport/Utility (UTY) version for Italian Navy for amphibious operations. Rear ramp and blade folding. T700-GE-T6A engines.
tail boom folding too

EH101 Mk.512

2003
2003
Search and Rescue (SAR) and Transport variant for Royal Danish Air Force. RTM322-250 engines.

EH101 Mk.514

2003
2003
Search and Rescue (SAR) for Portuguese Air Force. RTM322-250 engines

EH101 Mk.515

2003
2003
Fisheries Protection variant for Portugese Air Force. RTM322-250 engines

EH101 Mk.516

2003
2003
Combat Search and Rescue (CSAR) variant for Portugese Air Force. RTM322-250 engines

EH101 Mk.413

2004
2004
ASH Amphibious Support Helicopter for Italian Navy

EH101 Mk.518

2005
2005
MCH-101 variant for Japan assembled by Kawasaki

HH-71 CSAR-X

2006
2006
AgustaWestland teamed with Lockheed-Martin for the USAF Combat Search and Rescue (CSAR-X) competition to replace the HH-60G Pave Hawk. The one ...

KHI MCH-101

2006
2006
Mk.518 variant for Japan assembled by Kawasaki

VH-71 Kestrel

2006
2006
Manufacturer designation AW101-519 On January 28, 2005 an EH.101 US built variant known as the US101 was selected in the VXX program, to provi ...
On May 15th 2009 NAVAIR instructed Lockheed Martin Systems Integration to stop work on the VH-71.
On June 1st 2009 the US Navy announced the termination of the VH-71 System Development and Demonstration (SDD) program contract for the convenien ...
In June 2011, nine VH-71s were purchased for $164 million by Canada for use as spare parts for its fleet of AgustaWestland CH-149 Cormorant searc ...

Merlin HC.3A

2007
2007
Due to the shortage of Support helicopters within the UK armed forces the UK MOD agreed to purchase the 6 Joint Supporter model Merlins from the ...

AW101 610

2010
2010
Export version for the Navy of Algeria

AW101 VVIP

2010
2010
AW101 643, Commercial VIP variant

AW101 640

2011
2011
export version for Saudi Arabia

AW101 641

2011
2011
export VIP version for India

AW101 642

2012
2012
export VIP version for Argelia

Merlin HM.2

2012
2012
Following the UK MoD Merlin Capability Sustainment Programme (MCSP) of the late 1990s, a contract was signed in Dec 2005 with a consortium led by ...
First delivered to RNAS Culdrose for evaluation in September 2012. 30th and last one delivered on July 2016

AW101 611

2013
2013
CSAR version for Italian Air Force designated HH-101 Caesar. Based on this variant are the unarmed Norwegian AW612 and Canadian Cormorant upgrad ...

AW101 612

2013
2013
Norway search and rescue variant. Fitted with advanced SAR equipment package including a multi-panel Osprey AESA surveillance radar system that p ...

Merlin HC.3i

2015
2015
Royal Navy interim variant until HC.4 is ready. Seven HC.3 modified with folding rotor heads

Merlin HC.4

2016
2016
Announced 2014, the conversion of 25 RAF Mk 3 and 3A Merlin helicopters to be operated by the Royal Navy as the Commando Sea King HC.4 replacemen ...

Crowsnest Merlin

2019
2019
In May 2015, the UK MoD and prime contractor Lockheed Martin UK selected Thales to provide the mission equipment for Crowsnest, the replacemen ...

AW101 614

2021
2021
Export version for the Navy of Poland