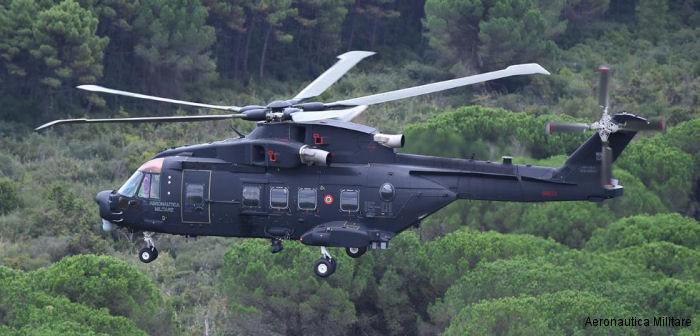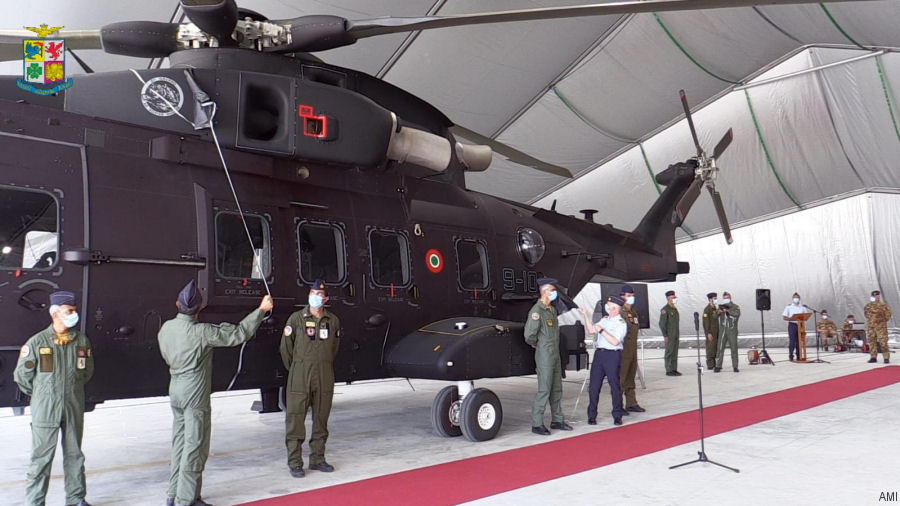 HH-101A Caesar Delivered to AMI 9th Stormo, 05-Aug-20 : #Caesar The Italian air force 9th Combat Search and Rescue Wing (9 Stormo) at Grazzanise air base performed welcome ceremony to the Leonardo HH-101A Caesar helicopter
Night Aerial Refueling Capability for Italian HH-101, 21-Sep-18 : #AerialRefueling The Italian Air Force is the first in Europe to achieve certification for helicopter night aerial refueling in a completely autonomous way using their HH-101 with the KC-130J Hercules tanker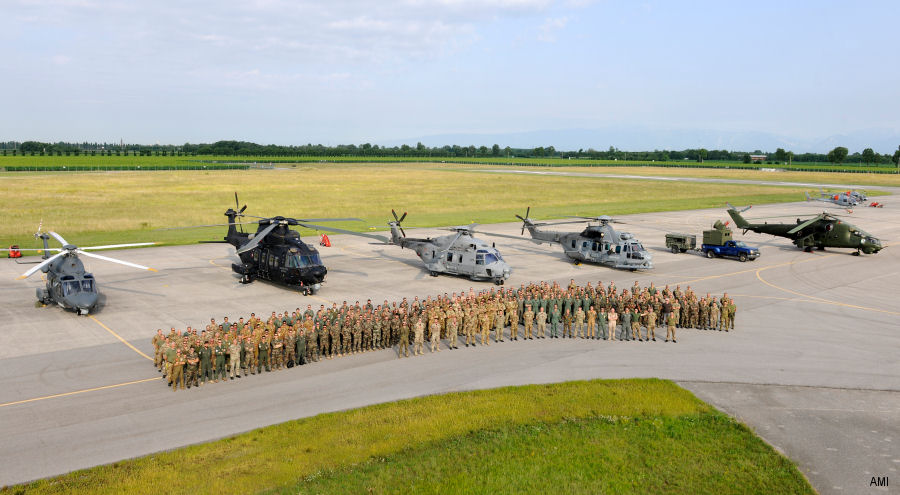 APROC 2017, 28-Jun-17 :

Italian air force held the Air Centric Personnel Recovery Operatives Course (APROC), the main training event in Europe in combat search and rescue.
List of Operators of AgustaWestland AW101 611
From
Organisation with model AW101 611
2000
2014




Construction Numbers on database of AW101 611


C/N
Year
History
50257
2014
ZR352 : AgustaWestland UK, AMI/CSAR01; pictured (pic1) at Yeov+
pictured (pic2) in AMI livery at Yeovil
pictured (pic3) at FIA14, HH-101 CSAR AMI type
MM81864 : AMI 15-01
pictured (pic4) at Udine city, 55th Anniversary Frecce +
at Trapani for Exercise Trident Juncture 2015 ; attend+
pictured (pic5) at Cervia airport, Associazione Arma +
15° Stormo Cervia, Italy
With (removable) aerial refueling probe
Demonstration at Warsaw for Polish Navy
Emergency landing during the flight from Poland to Ita+
04sep17 pictured (pic6) at Targi Kielce, Poland for MSP+

50258
2014
ZR353 : AgustaWestland UK, AMI/CSAR02
MM81865 : AMI 15-02 Jun14
Test trials in base firm's livery with one red (?!) mai+
Test flight in primer livery equipped with large probe+
Test flight callsign Westland 05
X81865 code - still firm yellow livery
Black livery, without main rotor blades
Salon De Provance Airbase 701
50th Anniversary AM Air Rescuer Unit (ARS)
RIAT

50259
2014
MM81866 : AMI 15-03 , test serial ZR354
Test flight Callsign WHE07
Callsign Westland 06
Opening of the European Personnel Recovery Center COA+
pictured (pic2) at Udine city Italy 55th Anniversary +
pictured (pic3) at Cervia Airport during AAA Venezia +
pictured (pic4) at Cervia airport, Associazione Arma Ae+
at AgustaWestland Training Center and 72 Stormo base i+
At 6° Reparto Manutenzione Elicotteri for first (of al+
"Tende Scaglia" Special Operations Forces Operation
at Venice for Joint Small Operation 2018
SAR activity for Italian Air Force F-35 at Poligone
50th Anniversary AM Air Rescuer Unit (ARS)

50260
2015
MM81867 : AMI 15-04, test serial ZR355 Oct15
with aerial refueling probe
81 CAE Centro Addestramento Equipaggi
at Rivolto for APROC 2017
AMI 15-04, test serial ZR355 Venegono
15-04 First asg 23 gruppo "Veltri" with arms on engine +
pictured during first maintenance of HH-101A at Grazzan+

50261
2016
MM81868 : AMI 15-05, test serial ZR356; pictured (pic1) (pic2) o+

26aug17 pictured (pic3) at Jesolo city Venice (ITA) Int+
"Triveneto 2018" Italian OSCE Regency
RIAT Airtattoo

50263
2016
MM81869 : AMI 15-06 test serial ZR357 at Exercise Ca.STA march 2+
Exercise VEGA 2017 (part of Joint Stars 2017)
1 BAOS (Brigata Aerea Operazioni Speciali) TENDE SCAGL+
pictured at Istrana airport Treviso city for 100 year+
pictured (pic2) at Istrana airport, 100 years of 20th A+
pictured (pic3) same circustancies
Jun18 as /15-06 at APROC 2018 in Gilze-Rijen
8-9mar20 Special biocontainment transport for Coronavi+

50266
2018
MM81870 : AMI 15-07 test serial ZR358 Series Mk.611
Joint Stars 2019
Agusta family day 2019


50267
2019
MM81871 : AMI 15-10 test serial ZR359 Series Mk.611 first flight
Delivery Flight

Ceremony for first officially assigned

50269
2019
MM81872 : AMI 15-11 test serial ZR360 Series Mk.611
Trasferito da Cervia a Grazzanise. Nuova base degli HH-+

50271
2019
MM81873 : AMI 15-12 test serial ZR361 Series Mk.611 first flight +
Last test and delivery flights
15-12 grey livery
15-12 grey livery

50272
2019
MM81874 : AMI 15-13 test serial ZR362 Series Mk.611 in new gray +
Test flight Callsign WHE04
Test flight Callsign WHE03
Test flight

50274
2020
MM81875 : First flight
Seen approacing Cascina Costa facility with the MM part+

12 C/N.