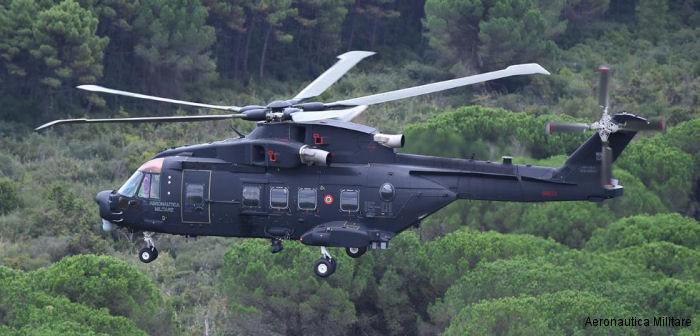 CSAR version for Italian Air Force. Model AW101 611
Night Aerial Refueling Capability for Italian HH-101, 21-Sep-18 : #AerialRefueling The Italian Air Force is the first in Europe to achieve certification for helicopter night aerial refueling in a completely autonomous way using their HH-101 with the KC-130J Hercules tanker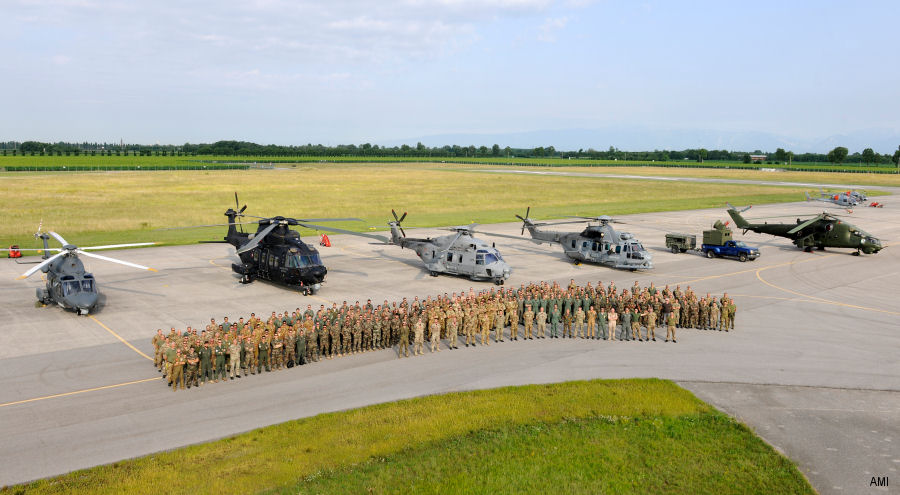 APROC 2017, 28-Jun-17 :

Italian air force held the Air Centric Personnel Recovery Operatives Course (APROC), the main training event in Europe in combat search and rescue.
AgustaWestland and AMI Training Agreement, 05-Aug-14 : AgustaWestland is pleased to announce that it has signed a cooperation agreement with the Italian Air Force for training services aimed at further strengthening their already well-established cooperation through the future set up of joint training services.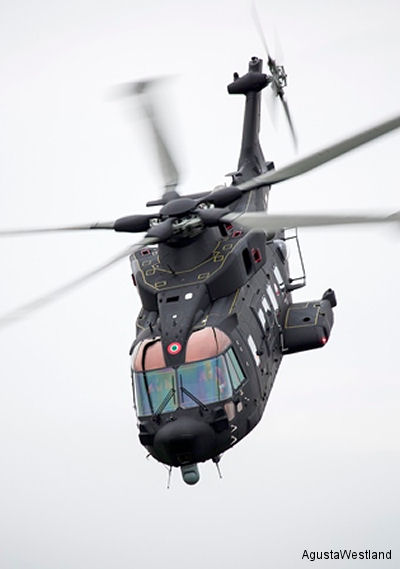 Maiden flight for Italian HH-101A CAESAR, 19-Mar-14 : AgustaWestland, a Finmeccanica company, is pleased to announce that the first AW101 for the Italian Air Force, designated the HH-101A "CAESAR", made its maiden flight at AgustaWestland's Yeovil facility in the UK today.
List of Operators of AgustaWestland HH-101A Caesar
From
Organisation with model HH-101A Caesar
2000
2014




Construction Numbers on database of HH-101A Caesar


C/N
Year
History
50257
2014
ZR352 : AgustaWestland UK, AMI/CSAR01; 04feb14 pictured (pic1) +
20mar14 pictured (pic2) in AMI livery at Yeovil
14jul14 pictured (pic3) at FIA14, HH-101 CSAR AMI type
MM81864 : AMI 15-01
04sep15 pictured (pic4) at Udine city, 55th Anniversary+
03oct15 at Trapani for Exercise Trident Juncture 2015 ;+
07oct15 pictured (pic5) at Cervia airport, Associazione+
09oct15 15° Stormo Cervia, Italy
Demonstration at Warsaw for Polish Navy
Emergency landing during the flight from Poland to Ita+
04sep17 pictured (pic6) at Targi Kielce, Poland for MSP+

50258
2014
ZR353 : AgustaWestland UK, AMI/CSAR02
MM81865 : AMI 15-02 Jun14
Test trials in base firm's livery with one red (?!) mai+
Black livery, without main rotor blades
13jan16 Salon De Provance Airbase 701

50259
2014
MM81866 : AMI 15-03 Jul15, test serial ZR354
Opening of the European Personnel Recovery Center COA+
04sep15 pictured (pic2) at Udine city Italy 55th Anniv+
07oct15 pictured (pic3) at Cervia Airport during AAA V+
10sep15 at AgustaWestland Training Center and 72 Stormo+
At 6° Reparto Manutenzione Elicotteri for first (of al+
SAR activity for Italian Air Force F-35 at Poligone

50260
2015
MM81867 : AMI 15-04, test serial ZR355 Oct15
81 CAE Centro Addestramento Equipaggi
Jun17 at Rivolto for APROC 2017
AMI 15-04, test serial ZR355 Venegono 12oct18
15-04 First asg 23 gruppo "Veltri" with arms on engine +

50261
2016
MM81868 : AMI 15-05, test serial ZR356; 11jul16 pictured (pic1) (+
Osoppo
26aug17 pictured (pic3) at Jesolo city Venice (ITA) Int+
RIAT Airtattoo

50263
2016
MM81869 : AMI 15-06 test serial ZR357 at Exercise Ca.STA march 2+
Exercise VEGA 2017 (part of Joint Stars 2017)
1 BAOS (Brigata Aerea Operazioni Speciali) TENDE SCAGL+
11may18 pictured at Istrana airport Treviso city for 1+
Jun18 as /15-06 at APROC 2018 in Gilze-Rijen

50266
2018
MM81870 : AMI 15-07 test serial ZR358 Series Mk.611

7 C/N.