The AgustaWestland AW101 611, known as HH-101A Caesar in italian service, specially developed for Special Ops / Combat Search and Rescue (CSAR) missions. Carries a crew of five plus twenty fully equipped troops. Features 3 M134 7.62 mm pintle mounted Gatling-type machine guns installed on right and left sides and on the rear ramp, armoured cockpit seats, ballistic protection for machine gun operators as well as for critical systems and an Integrated Electronic Warfare System providing self-protection against radar, laser and infrared threats. It also has an air-to-air refuelling kit for extended range operations.

12 ordered for 15 Stormo / 1 Brigata Aerea Operazioni Speciali.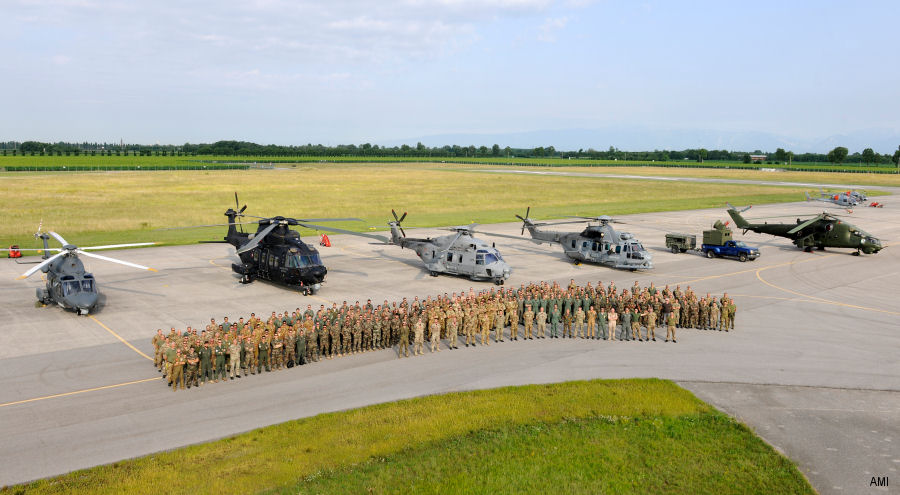 APROC 2017, 28-Jun-17 :

Italian air force held the Air Centric Personnel Recovery Operatives Course (APROC), the main training event in Europe in combat search and rescue.
AgustaWestland and AMI Training Agreement, 05-Aug-14 : AgustaWestland is pleased to announce that it has signed a cooperation agreement with the Italian Air Force for training services aimed at further strengthening their already well-established cooperation through the future set up of joint training services.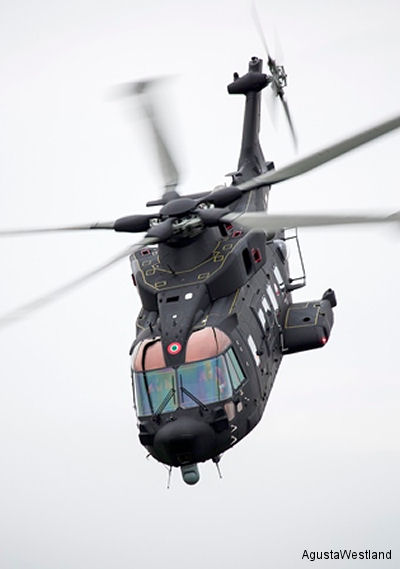 Maiden flight for Italian HH-101A CAESAR, 19-Mar-14 : AgustaWestland, a Finmeccanica company, is pleased to announce that the first AW101 for the Italian Air Force, designated the HH-101A "CAESAR", made its maiden flight at AgustaWestland's Yeovil facility in the UK today.
C/N
Built
ID In this Organisation
In other Org


50257
2014
MM81864: AMI 15-01

ZR352: AgustaWestland UK, AMI/CSAR01; 04feb14 pictured (pic1) +


---

20mar14 pictured (pic2) in AMI livery at Yeovil


---

14jul14 pictured (pic3) at FIA14, HH-101 CSAR AMI type

50258
2014
MM81865: AMI 15-02 Jun14

ZR353: AgustaWestland UK, AMI/CSAR02

50259
2015
MM81866: 10sep15 at AgustaWestland Training Center and 72 Stormo base+

50260
2015
MM81867: AMI 15-04, test serial ZR355 Oct15

50261
2016
MM81868: AMI 15-05, test serial ZR356; 11jul16 pictured (pic1) (pic2)+

50263
2016
MM81869: AMI 15-06 test serial ZR357 at Exercise Ca.STA march 2017