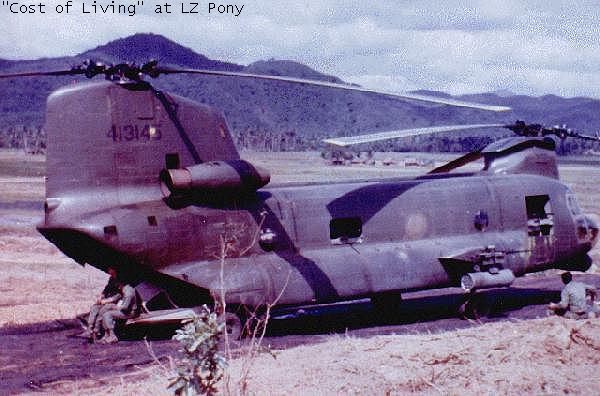 Four CH-47A Attack Cargo Helicopter were converted to gunships in November 1965. The four aircraft were named Cost of Living, Easy Money, Stump Jumper, and Birth Control.

Weaponry consist of five M60D 7.62x51 mm machine guns or M2HB .50 caliber machine guns, two M24A1 20 mm cannons, two XM159B/XM159C 19-Tube 2.75 rocket launchers, or sometimes two M18/M18A1 7.62x51 mm gun pods, and a single M75 40mm grenade launcher in the nose.


Stump Jumper was lost in a taxiing accident in August 1966.
Cost of Living was lost when its M-24A 20mm mounting pins came lose, causing the weapon to fire into the forward rotor blades. The damage caused the aircraft to crash. None of the 8 crew members survived.
Birth Control was lost to enemy fire, and the crew was rescued by Easy Money.
Easy Money was taken out of action in 1968, restored, and is currently on display at Redstone Arsenal, Alabama.
List of Operators of Boeing-Vertol ACH-47A Guns A Go-Go
From
Organisation with model ACH-47A Guns A Go-Go
1960









4 C/N.