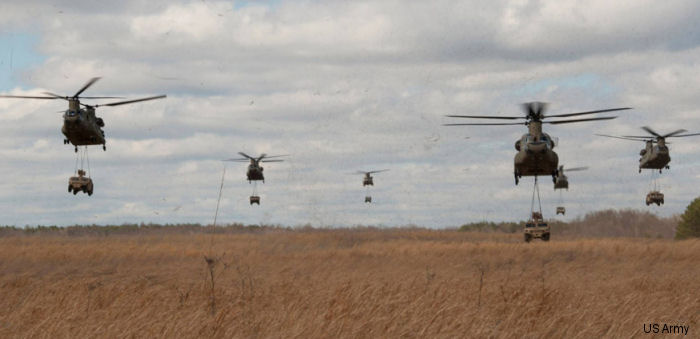 Development began in 1956 as the Vertol model 114. In Jun 1959 a US Army contract for 5 prototype effective battlefield medium/heavy lift helicopters was awarded. The second prototype was the first to fly on 21 Sep 1961 and the CH-47A entered US Army service in Aug 1962. In the meantime (1960) Boeing had acquired Vertol.

The CH-47 Chinook is tandem rotor medium/heavy lift helicopter with a pair of 3 bladed, contra-rotating rotors atop a square section, semi-monocoque, all-metal fuselage, supported on a non-retracting quadricycle undercarriage. Twin engines mounted externally on either side of the rear rotor head above a downward opening rear loading cargo ramp. Variable number of cargo hook hard points on the fuselage underside.

Hugely successful design has been developed and improved for over forty years in a number of versions and for a variety of customers, with every prospect of life extensions for another thirty.

Also built by Kawasaki in Japan and Meridionali in Italy. Chinooks have served in all branches of the US military and para-military and the armed forces of Argentina, Australia, Egypt, Greece, Iran, Italy, Japan, Libya, Morocco, Netherlands, Singapore, South Korea, Spain, Taiwan, Thailand and the UK. A commercial version (the
Model 234
) is also available. Canadian military examples are designated CH-147.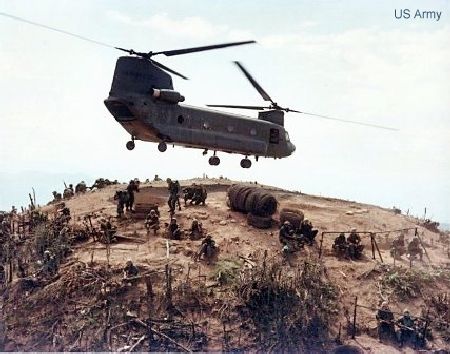 50 Years of Delivering Chinook Helicopters, 16-Aug-12 : RIDLEY TOWNSHIP, Pa. -- As Boeing marks the 50th anniversary of delivering the first H-47 Chinook military helicopter, the company is nearing completion of a $130 million renovation of its production line near Philadelphia that will help it meet global demand for the latest model, the CH-47F.
Boeing to Modernize More Spanish Chinook Helicopters, 15-Dec-99 : PHILADELPHIA, PA - The government of Spain has awarded a contract to Boeing to modernize five Boeing 414 International Chinook helicopters to the Spanish Army's CH-47D configuration. This order represents the final installment in a modernization program that began in 1991.
Model
Year
History
YHC-1B / YCH-47A
1960
CH-47A Chinook
1961
ACH-47A Guns A Go-Go
1965
Four CH-47A Attack Cargo Helicopter were converted to gunships in November 1965. The four aircraft were named Cost of Living, Easy Money, Stump J ...

CH-47B Chinook
1966
Powered by two Lycoming T55-L-7C 2,850 shp engines. Featured a blunted rear rotor pylon, redesigned asymmetrical rotor blades, and strakes along ...
The CH-47B was to be ordered by the RAF to replace the Belvedere. Subsequently cancelled.

CH-47C Chinook
1967
EM CH-47C Chinook
1968
347
1970
Testing advanced technologies for future designs, in 1965 Boeing Vertol modified a Bv-107II as a concept demonstrator with four stub wings among ...

CH-147 Chinook
1974
CH-47C for Canadian Armed Forces

B 414 - H-47D Chinook
1979
In 1976 three US Army Chinooks (one for each existent version, A,B and C) were chosen to be converted to the new CH-47D variant which have upgra ...

KHI CH-47J
1988
The CH-47J is a medium-transport helicopter for the Japan Ground Self Defence Force, and the long range SAR helicopter for the Japan Air Self Def ...