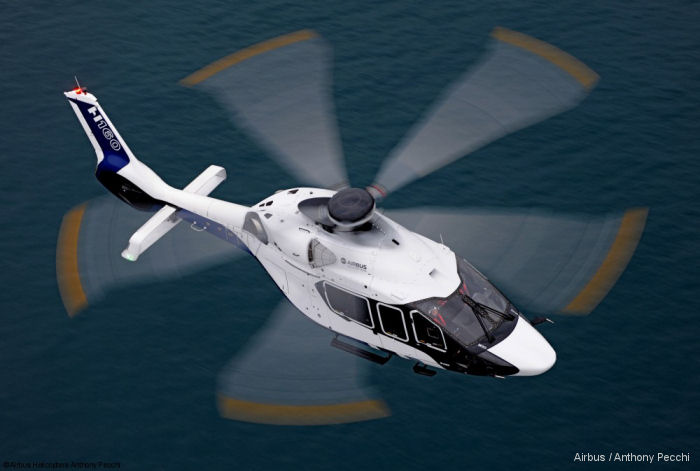 In 2011 Eurocopter announced development of the
Dauphin
replacement with codename
X4
.
A 4-6ton five-bladed main rotor rotorcraft, is the first civilian all-composite helicopter to enter production. The X4 was announced first with a choice of two powerplants: Turbomeca new 1,100shp Arrano 1A or the Pratt & Whitney Canada PW210. The Arrano was finally selected in February 2015. The H160 includes the avionics suite
Helionix
.
On March 3rd, 2015 the new name H160 was first unveiled at HAI Heli-Expo in Orlando, Florida
First prototype rolled-out on May 29, 2015 at Marignane in the presence of French Prime Minister Manuel Valls. First flight took place by PT1 powered with P&WC engines on June 13, 2015. Aircraft PT2, first with Arrano engines, first flew on January 27, 2016. PT3, first with cabin interior, performed maiden flight on October 13, 2017.
The passenger transport (commercial, oil and gas, etc) variant was scheduled to enter service in 2019 followed by the emergency medical services (EMS) version by 2021. Military variant planned for the French Armed Forces, 400 expected to be delivered under the Hélicoptère Interarmées Léger (
HIL
) program from 2024.
The H160 is due to enter into service in 2020.
Model
Year
History
ACH160
2020
The ACH160 is the VVIP variant of the H160 customized by Airbus Corporate Helicopters with customer specific needs

H160M
2023
Announced March 2017, the H160 Military variant planned for the French Armed Forces, 400 expected to be delivered under the Hélicoptère Interar ...



List of Operators of Airbus Helicopters H160
| | |
| --- | --- |
| From | Organisation with model H160 |
| 2018 | |
| 2019 | |
| 2021 | |
| 2022 | |
Construction Numbers on database of H160 or its versions


C/N
Built as
Year
History
mockup
mockup : 04oct17 pictured at London Excel for Helitech 2017

PT1
2015
F-WWOG : H160 prototype, P&WC engines; 28may15 first ground test+
first flight at Marignane

PT2
2016
F-WWPL : Airbus Helicopters France #02; 27jan16 pictured (pic1) +
winter campaign at Yellowknife, Canada
04sep17 pictured (pic2) aboard Mistral in Toulon during+
21feb18 in Las Vegas for Heli Expo 2018
01mar18 pictured (pic3) departing the Las Vegas Convent+
demo tour in Dallas/Fort Worth
demo tour arrived at Sugar Land, TX
21jun19 pictured (pic4) with French Prime Minister Edou+
Sep19 trials with French DGA in Southern France with A4+

PT3
2017
F-WWPA : Airbus Helicopters France #03 f/f Marignane First H160+
Dec17 painted in carbon design livery

2018
F-WWOR : First serial H160 f/f at Marignane, 17dec18 demo flig+
pictured in cold weather certification program in Finl+
? : Babcock (MCS France?) d/d 2020

5 C/N.