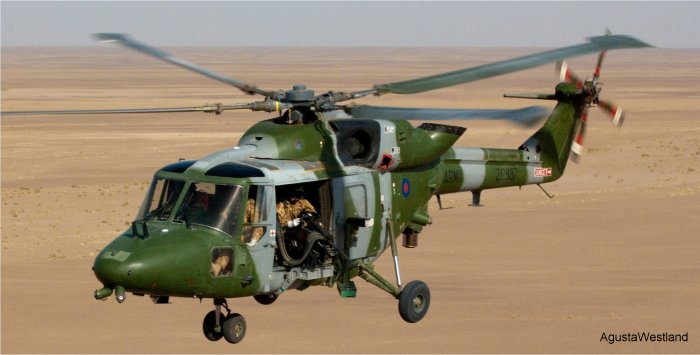 In December 2008 the UK Ministry of Defence signed a contract with AgustaWestland to pull forward
AW159 Lynx Wildcat
programme technologies to provide a rapid upgrade for 12 British Army
Lynx AH Mk.9
aircraft with CTS800-4N engines to significantly improve the performance of these aircraft in hot and high operating conditions, such as those found in Afghanistan.
On 2010 a contract was signed to the conversion of the remaining 10 AH.9 as well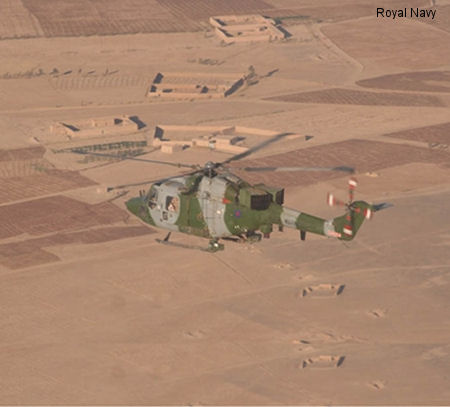 UK 847NAS switch to the Lynx Mk.9A, 13-Jul-12 : This is the very last 'Royal Marines' liveried Lynx Mk7 battlefield helicopter – easily distinguishable from their maritime Mk 8 counterparts courtesy of their grey-green battlefield camouflage and skids instead of wheels as landing gear – to fly with 847 Naval Air Squadron.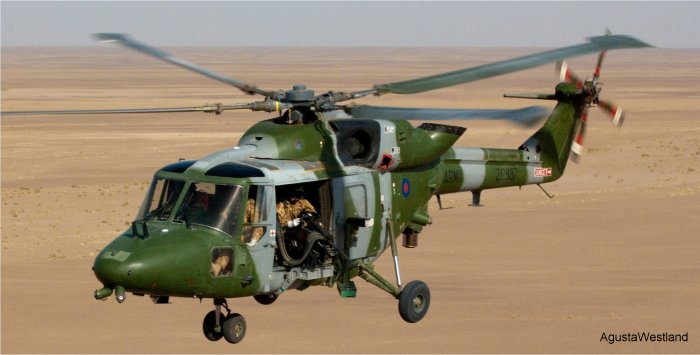 AH Mk.9As Set To Complete Delivery in December 2011, 15-Dec-11 : A ceremony was held today at AgustaWestland's Yeovil facility to mark the completion of the Lynx Mk9A programme and the scheduled delivery of the 22nd and final Lynx AH Mk9A helicopter to the British Army Air Corps in December 2011. The twenty-two aircraft programme was the result of Urgent Operational Requirement contracts placed in November 2008 and March 2010 and will be completed three months ahead of schedule. The ceremony was hosted by Graham Cole, Chairman, AgustaWestland Ltd, with the guest of honour being Brig James Illingworth, Deputy Commander of the Joint Helicopter Command & Director of Army Aviation.
Ten More Lynx Upgrades For The British Army, 26-Mar-10 : AgustaWestland, a Finmeccanica company, is pleased to announce that it has been awarded a £42 million contract extension by the UK Ministry of Defence for the upgrade of 10 more British Army Lynx Mk.9 helicopters with LHTEC CTS800-4N engines.
First Upgraded British Army Lynx Flies With New Engines, 16-Sep-09 : AgustaWestland, a Finmeccanica company, is pleased to announce the successful first flight of the British Army's first Lynx AH Mk.9A fitted with more powerful CTS800 engines, just 10 months after contract award. The maiden flight, lasting 60 minutes, took place today at AgustaWestland's Yeovil facility with the aircraft handling as expected.
List of Operators of AgustaWestland Lynx AH9A
From
Organisation with model Lynx AH9A
2009