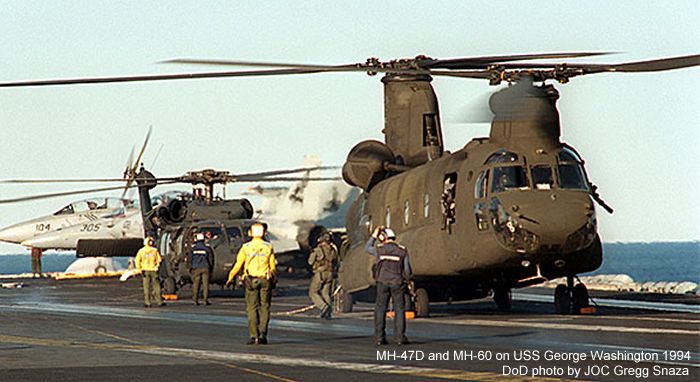 Introduced in mid-eighties, twelve D aircraft ( 6 ex CH-47A and 6 ex CH-47B ) were converted for use by the US Army
160th Special Operations Aviation Regiment
.
Modifications included an in-flight refueling probe, a fast-rope rappelling system, FLIR, NVG, RWR, IR countermeasures and a SATCOM. Weaponry were 2 M134 miniguns on the forward cabin door and escape window and one M240D on the rear ramp.
Retired by 2008 and replaced with
MH-47E
s
Survivors were converted to
CH-47F
or probably
MH-47G
models
List of Operators of Boeing MH-47D Chinook
From
Organisation with model MH-47D Chinook
1982






Construction Numbers on database of MH-47D Chinook





12 C/N.