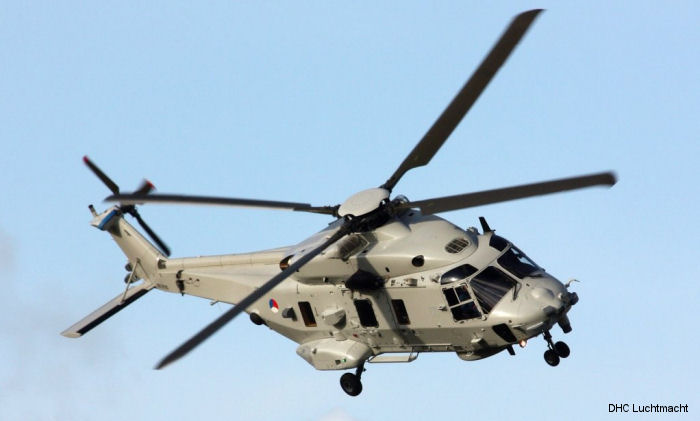 The NH90 is a medium sized, twin-engine, multi-role military helicopter originally envisioned in 1985 but suffering from both technical and funding problems for more than a decade. The programme was only relaunched in July 2000 when a major order was made by the partner countries.
Developed for
NAHEMA
(NATO Helicopter Management Agency, part of
NSPA
) in two main variants: the Tactical Transport Helicopter (TTH) and the NATO Frigate Helicopter (NFH) It has been ordered since then by 9 other nations with deliveries beginning in 2006.
NH90 are manufactured in Venice Tessera (Italy), Marignane (France) and Donauwörth (Germany) whilst local aircraft are also assembled in Patria (Finland), Brisbane (Australia) and Albacete (Spain).
The NH90 can be powered by 2 RTM322-01/9 or 2 GE T700-T6E engines according the customer choice.
First combat deployment took place on August 2012 with Italian Army TTHs in Afghanistan and an embarked Dutch NFH was deployed off Somalia next January.
As of January 2013, 529 NH90s have been ordered by 13 nations (plus Portugal which cancelled the order) with 133 already delivered. Together they have logged more than 31,000 flight hours.
On November 2014, French Army NH90 were deployed to Mali, followed by the Germans in 2017 and Belgians in 2018.
As of April 2016, the 270 NH90s in use achieved 100,000 flight hours.
300th aircraft delivered on December 15, 2016 to Spanish Army.
As of March 2018, 543 NH90 have been ordered with 350 delivered which completed 175,000 flight hours.
As of October 2019, 399 NH90 are operational and completed over 230,000 flying hours.
As of April 2020, more than 560 aircraft have been contracted.
Model
Year
History
NH90 TTH
2006
The TTH is the basic variant of the NH90 equipped to transport 20 troops or 2500 kgs of cargo for standard heliborne operations such as tactical ...

MRH90 Taipan
2007
The NH90 was selected by the Australian armed forces in 2005 as the MRH90 (Multi Role Helicopter). Initial orders covered 42 aircraft which reach ...

NH90 NFH
2007
The NFH variant is an autonomous antisubmarine (ASW) and antisurface warfare (ASuW) aircraft operating mainly from naval ships and with an advers ...