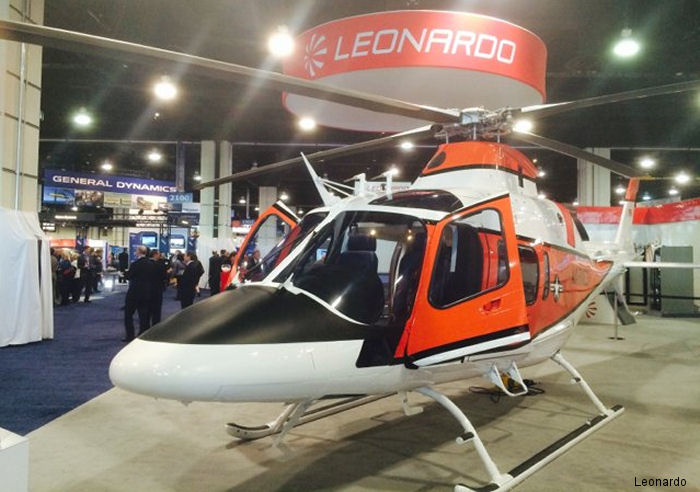 Based on the
AW119Kx
, the TH-119 is Leonardo' entry for the
US Navy Advanced Helicopter Trainer
competition. Is a single engine IFR light helicopter first unveiled at the Navy League Sea-Air Space Exhibition in Washington DC on May 2016. Fitted with
Genesys Aerosystems
avionics and a Pratt & Whitney
PT6-B
engine.
Is the company proposal for the US Navy new trainer helicopter to replace the
TH-57 Sea Ranger
and to be produced (if wins) by
AgustaWestland Philadelphia
.
Two prototypes converted from AW119Kx unveiled in 2016 and 2017. First IFR equipped TH-119, a converted AW119Ke, performed maiden flight on December 20, 2018. IFR certification expected early 2019.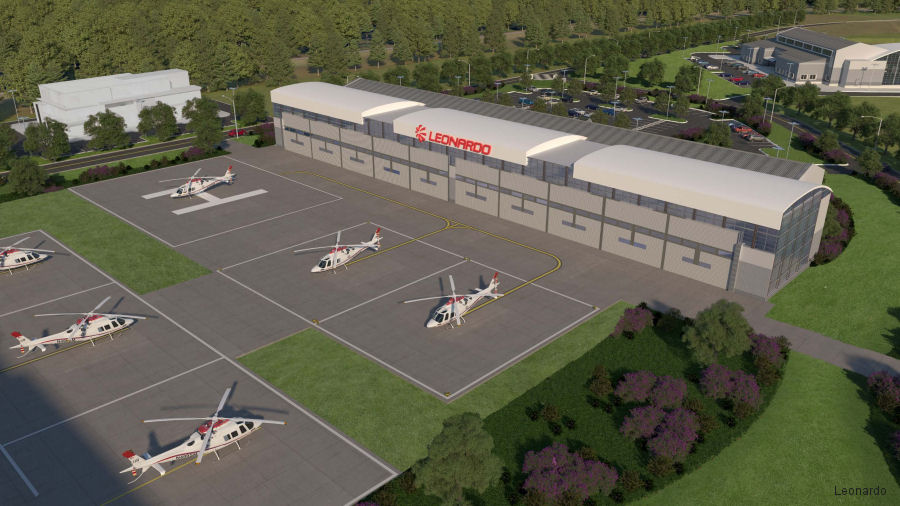 Leonardo to Open Support Center if Wins TH-73 Tender, 25-Sep-19 : #TH73 If selected as the US Navy' future trainer helicopter TH-73, Leonardo plans to build a TH-119 support center in Northwest Florida near NAS Whiting Field which is where all helicopter pilots for the Navy, Marine Corps and Coast Guard are trained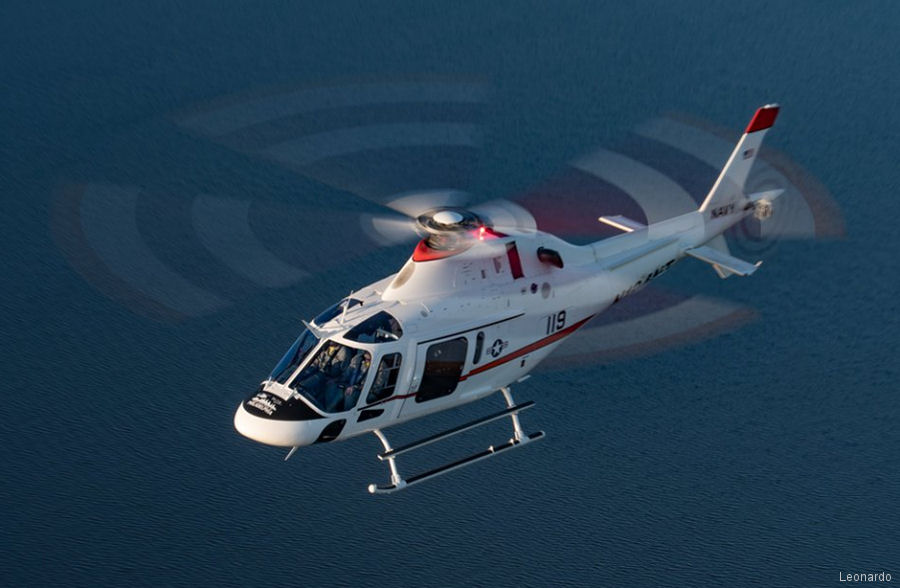 TH-119 Obtains FAA IFR Certification, 18-Jul-19 : #certification The TH-119 obtains Federal Aviation Administration (FAA)'s Instrument Flight Rules(IFR) certification. Is the first and only IFR certified single engine helicopter in decades and is Leonardo's bid to replace the US Navy's fleet of aging Bell TH-57 Sea Ranger trainers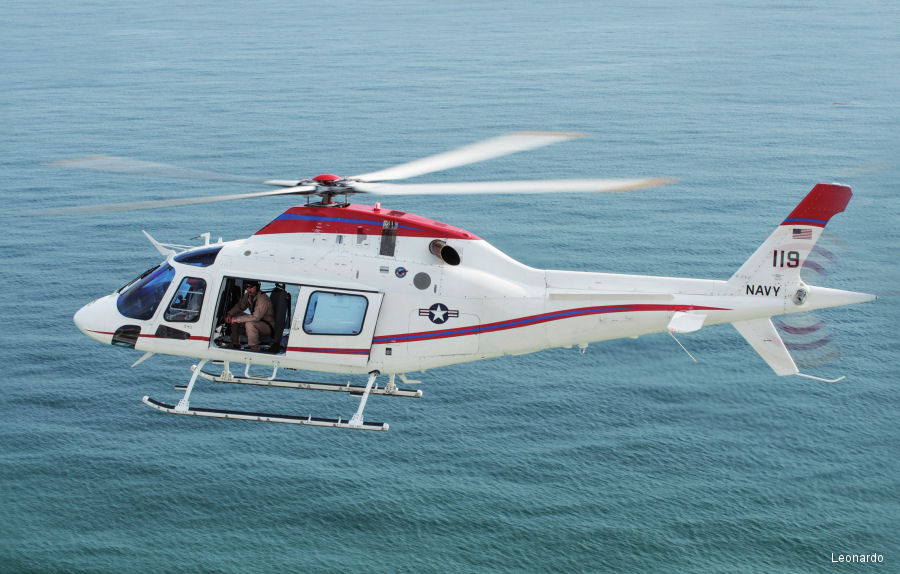 Leonardo Submits TH-119 for US Navy TH-XX Program, 03-Apr-19 : #THXX Leonardo has officially submitted its TH-119 to the US Navy TH-XX Advanced Helicopter Training System. Based on the AW119Kx and made in Philadelphia aims to replace the TH-57 Sea Ranger trainers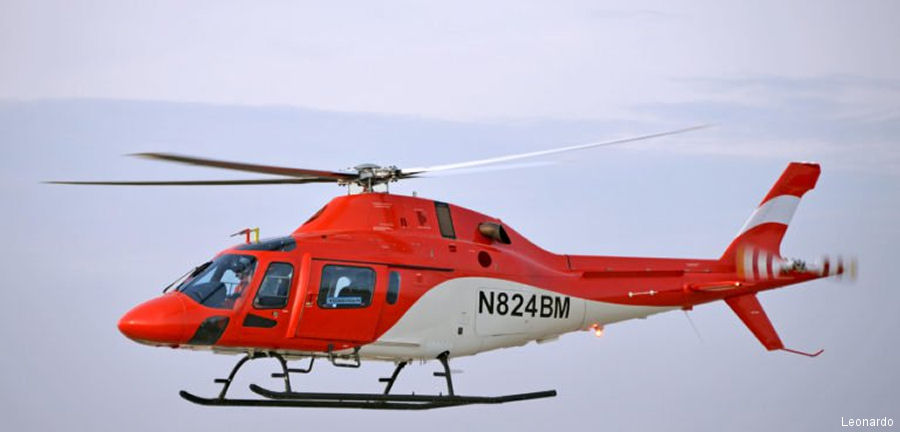 Leonardo TH-119 IFR First Flight, 22-Dec-18 : #TH119 Leonardo's offer for the US Navy Advanced Helicopter Trainer program, the TH-119, performed first flight equipped with IFR at Philadelphia plant
List of Operators of AgustaWestland TH-119
From
Organisation with model TH-119
2016






C/N
Year
History
14725
2008
N629JS : aw119ke AgustaWestland, PA May/Dec 2008
ZS-RRN : AMS 2009-2017
N824BM : AgustaWestland, PA from Aug17; conv TH-119 f/f 20dec18
18jun19 pictured (pic1) with Mayor Jim Kenney in tour +
Ju19 FAA IFR certification
Nov19 pictured (pic2) in TH119 livery for the TH-73 com+

14786
2012
N490SM : aw119kx AgustaWestland, PA Jan12
N194NT : AgustaWestland, PA Jul12-Oct15
26oct17 TH-119 type demonstrator pictured at NAS Whitin+


N194NT

: Bank of Utah Trustee at Salt Lake City, UT from Oct15

14792
2012
N499SM : aw119kx AgustaWestland, PA; US Navy Advanced Helicopter Trainin+
31oct14 pictured (pic3) at Naval Helicopter Association+
May16 picture (pic4) as TH-119 at the Navy League Sea-+
24mar17 in Nepal with Simone Moro to validate 24,000 f+
I-AWCV : AgustaWestland, Italy from May17

3 C/N.