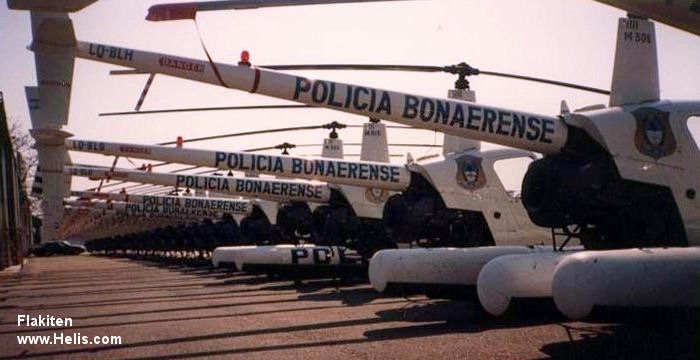 In 1992 the Buenos Aires State Police begun a plan of enlargement of the area of cover of its air fleet. For this plan was needed a cheap and easy to handle helicopter, and the R-22 was chosen. With this helicopter and more than 50000 flight hours new operation concepts were created to improve the service. The pilots had a cheap helicopter what permitted to maintain high levels of training. in 1999 the helicopters R-22 were sold, due the high number of flying hours that they had.
Buenos Aires Police R-22 Versions:
B - Version (like B290, B297) Robinson R-22 Beta with two fuel tanks (main 75 liters , aux 41,2 liters ).
I - Version (like I299, I300) Robinson R-22 Beta with IFR panel and only main fuel tank.
M - Version (like M304, M310) Robinson R-22 Mariner.
V - Version (like B287V) Robinson R-22 Beta with VOR equipment.

C/N
Mod
Built
ID In this Organisation
In other Org


2246
beta
1992
LQ-BJA: Ex-N2354B, Police Serial B246, to N341ZG (2002) Crash 2003/0+

2255
beta
1992
LQ-BJB: Ex-N2355N, Police Serial B255, to N349VH.

- N349VH: Volar Helicopters Inc at Fort Lauderdale, FL from Apr02

2258
beta
1992
LQ-BJC: Police Serial B258 1993-2001 to N348VH

- N348VH: private at Hayward, CA


---

American Rotorcraft Llc at Boulder City, NV Jan/Sep 200+


---

Primos Enterprises Llc at Las Vegas, NV Oct/Nov 2009


---

Vertical Solutions Helicopter Company Llc at Dover, DE +

2261
beta
1992
LQ-BJD: Police Serial B261, to N346VH

2266
beta
1992
LQ-BJE: Police Serial B266, to N458BP

2267
beta
1992
LQ-BJF: Police Serial B267, to N10786

2269
beta
1992
LQ-BJG: Police Serial B269, to VH-HBB

2274
beta
1993
LQ-BJH: Ex-N23587, Police Serial B274, to VH-HVX

2275
beta
1993
LQ-BJI: Buenos Aires Province Police /B275, test serial N23610, to V+

N23610: Robinson toward LQ-BJI


---

- VH-HCP: to ZK-HBZ


---

- ZK-HBZ: 2008 noted New Zealand


---

HBZ was owned by Neville

2279
beta
1993
LQ-BJJ: Ex-N7166G, Police Serial B279, to N5018U

2280
beta
1993
LQ-BJL: Police Serial B280, to VH-HEB, to ZK-HFL

2282
beta
1993
LQ-BJM: Police Serial B282, to N7079J

2283
beta
1993
LQ-BJN: Police Serial B283, to VH-HGU

2284
beta
1993
LQ-BJO: Police Serial B284, to VH-HPI, to ZK-HDI

2285
beta
1993
LQ-BJP: Police Serial B285, Crash 29-sep-98 at Adrogue, one killed.

2286
beta
1993
LQ-BJR: Police Serial B286, to N350VH

2287
beta
1993
LQ-BJS: Ex-N23635, Police Serial B287V (V - VOR), to N344VH

2288
beta
1993
LQ-BJT: Ex-N80043, Police Serial B288, to N347VH

2289
beta
1993
LQ-BJU: Police Serial B289, crash at Escobar 22/Aug/1995, one killed+

2290
beta
1993
LQ-BJV: Police Serial B290, to N678BH

2291
beta
1993
LQ-BJW: Police Serial B291, to VH-HHL

2295
beta
1993
LQ-BJX: Police Serial B295, to VH-HMU

2296
beta
1993
LQ-BJY: Police Serial B296S, to N679BH, to F-GTGT

2297
beta
1993
LQ-BJZ: Police Serial B297

2298
beta
1993
LQ-BLA: Police Serial I298. IFR Equiped. Crash at Mar de Cobo 1994/0+

2299
beta
1993
LQ-BLB: Police Serial I299. IFR Equiped, to N341SL

2300
beta
1993
LQ-BLC: Police Serial I300. IFR Equiped, to N338VH

2302M
mariner
1993
LQ-BLD: Ex-N80524, Police Serial M302, to N3052P, to N3052P, to G-CB+

2303M
mariner
1993
LQ-BLE: Ex-N80631, Police Serial M303, to N341VH

2304M
mariner
1993
LQ-BLF: Ex-N80645, Police Serial M304, to C-GJZR.

2305M
mariner
1993
LQ-BLG: Ex-N80753, Police Serial M305, to N339VH, to Mauritania (XA-+

2308M
mariner
1993
LQ-BLH: Police Serial M308, to VH-HZG

2309M
mariner
1993
LQ-BLI: Police Serial M309, crash at Escobar 22/Aug/1995, one killed+

2310M
mariner
1993
LQ-BLJ: Police Serial M310, to VH-HZI, to ZK-HFO.

- VH-HZI: to ZK-HFO


---

- ZK-HFO: ex VH-HZI

2311
beta
1993
LQ-BLL: Police Serial B311, to N342VH, to N338AC, to N58FH

- N9322R: private in the Great Lakes area by Jul16; Blue with a w+

2313
beta
1993
LQ-BLM: Police Serial B313, to N343VH

2314
beta
1993
LQ-BLN: Police Serial B314, to N345VH

2315M
mariner
1993
LQ-BLO: Police Serial M315, to N516PB (2002) Crash landing 2004/28/0+

2316M
mariner
1993
LQ-BLP: Police Serial M316, to CN-HTU.

- CN-HTU: Morocco Jul02-Sep07


---

- F-GUSP: 22aug13 pictured at Le Touquet-Paris-Plage, France

2317M
mariner
1993
LQ-BLR: Police Serial M317, to CN-HTV.