As of July 2016, over 40 BK117-850D2 helicopters were upgraded in various countries around the world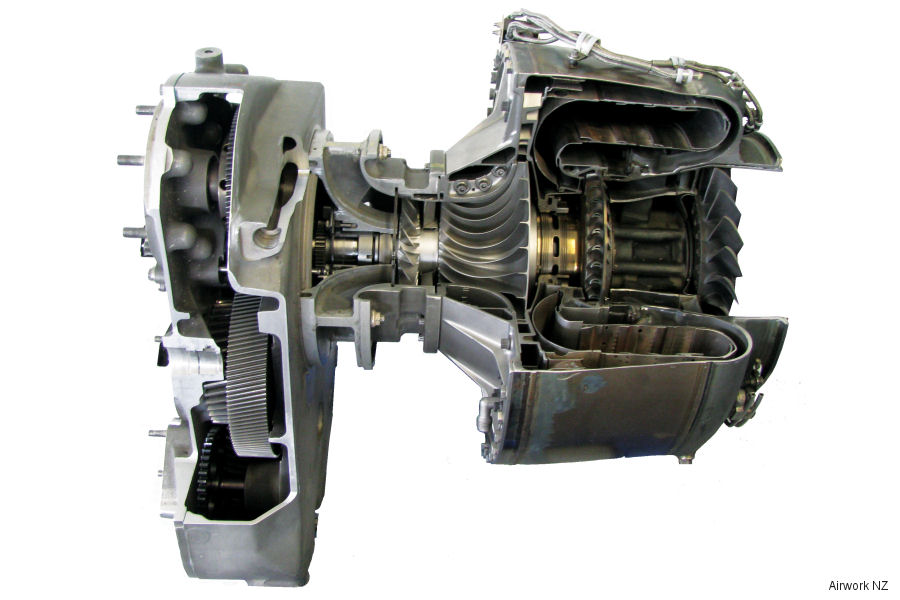 300K Flight Hours for Airwork's LTS101 Customers, 11-Jun-18 : #services Airwork NZ' customers across five continents have flown collectively over 300,000 flight hours with their Honeywell LTS101 (600, 650, 700, 750 and 850 series) engines on AS350/355 and BK117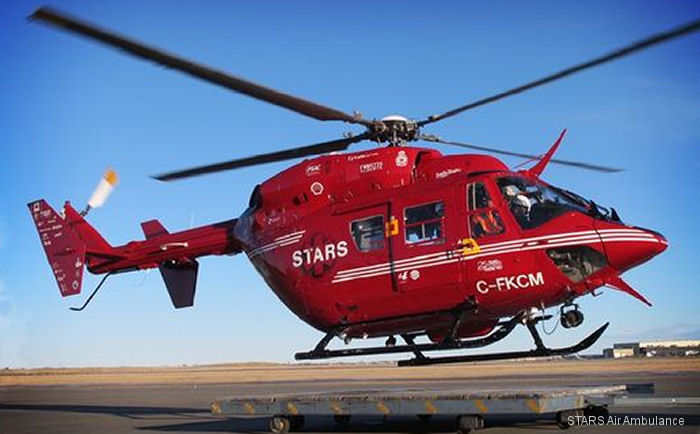 Airwork to Upgrade STARS BK117 Fleet, 18-Jan-17 : Airwork NZ will upgrade 3 of 8 Alberta's STARS (Shock Trauma Air Rescue Service) BK117-B2 to the BK117-850D2 type installing Honeywell LTS101-850B-2 engines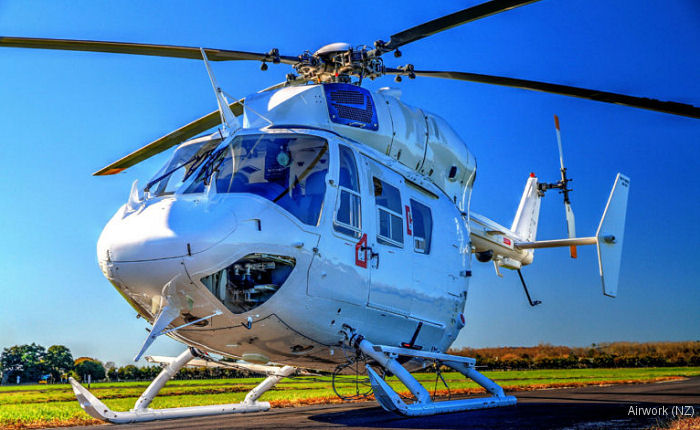 Three New Bk117-850D2 Upgrades, 10-Nov-16 : Airwork (NZ) has delivered in the last months three more upgrades on the Bk117B2 helicopter to the Bk117‐850D2 type powered with the LTS101‐850B‐2 engine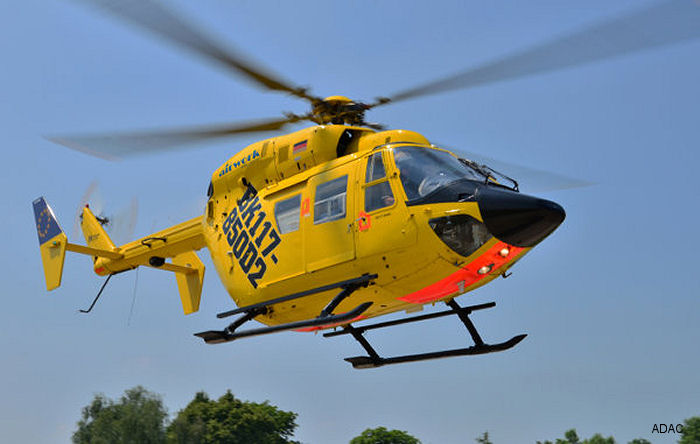 ADAC Upgrades 2 Aircraft to BK117-850D2, 19-Jul-16 : German emergency medical helicopter service ADAC Luftrettung upgraded 2 of its BK117-B2 aircraft with the enhanced LTS101-850B-2 engines. First European operator of the type.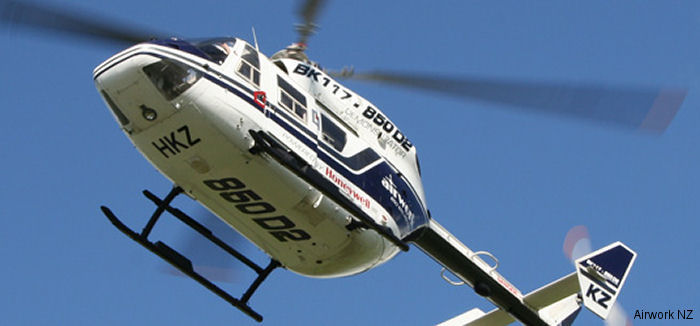 Indonesia STC for Airwork BK117-850D2, 14-Jun-15 : Airwork announce that with colaboration of PT Sayap Garuda Indah Heli SGI, the BK117-850D2 has gained STC certification with the Directorate General of Civil Aviation (DGCA) for Indonesia
EASA approves BK117-850D2 STC, 16-Mar-12 : The European Aviation Safety Agency (EASA) has approved a Supplemental Type Certificate (STC) for the BK117-850D2 engine upgrade.
C/N
Mod
Built
ID In this Org
In other Org


7105
bk117a3
1986
BK117-850D2 noted as 850D2 type by Jul13

D-HMUF: Polizei Bayern Feb87-May97, test serial D-HBPZ


---

D-HMUF: Eurocopter Germany Mar98, conv to A-4


---

D-HMUF: DRF Luftrettung Jul99-Dec12, conv to B2 type


---

C-GGSA: Great Slave Helicopters from Jan13

7219
bk117b1
1990
ZK-HDR: BK117-850D2 Airwork (NZ) Ltd Jul/Oct 2019; conv to Z BK117-850D2 ?

N7161Y: MBB, test serial D-HFDJ


---

- N213AE: PNC Bank Na Trustee Aug08; New Zealand ntu


---

- CP-2909: Bolivia, to ZK-HDR


---

N117WC: TVPX Aircraft Solutions Inc Trustee at North Salt Lake,+

1022
bk117a-4
ZK-HHV: BK117-850D2 Airwork NZ, conv to 850D2 type; to 5Y-EXH

- JA9922: Japan, to ZK-HHV


---

ZK-HHV: HeliLink NZ, B2 type


---

- 5Y-EXH: Kenia, to P2-HBM


---

P2-HBM: Heli Niugini Papua New Guinea, ex 5Y-EXH

1089
bk117b-1
1994
ZK-HKZ: BK117-850D2 Airwork NZ 2008, conv to 850D2 type

- JA6672: Kawasaki, to HL9210


---

- HL9210: South Korea, Apr94 - 2008


---

ZK-HKZ: ARHT from May08; note the prefix ZK is not worn on the +

7017
bk117a1
1984
ZK-HNP: BK117-850D2 Airwork NZ from Mar15, conv to 850D2

- N317RM: USA, test serial D-HBKS


---

- N951AM: to N365CH


---

- N365CH: to N627AM


---

N627AM: Rocky Mountain Holdings Llc at Englewood, CO Jun99-Dec+

7095
bk117a3
1985
ZK-HQD: BK117-850D2 Airwork NZ at Papakura Aug12-Jul13, conv to 850D2

N116MB: ERA Med 2007-2012


---

N116MB: owned by ERAMed was a backup helicopter for Lifeflight +


---

- ZS-RCP: Aeronautic Solutions, South Africa by 2016; 2019 still

7102
bk117a3
1986
ZK-HQJ: BK117-850D2 Airwork NZ from Sep12

N526MB: ERA Med, canc May12


---

C-GBKD: Great Slave Helicopters from Jul14

1031
bk117b-1
ZK-HUP: BK117-850D2 Airwork NZ Sep98-Jul99 , conv to 850D2; ZK-HZG ntu

- JA9942: Keiai Apr89-Mar97; Hokuriku Central Airlines Mar97-Jul9+


---

ZK-HUP: Helicopters Otago Ltd from Mar01


---

rescued crew of ZK-IMX


---

Landed survivors from Southern Lakes Helicopters crash+

7179
bk117b1
1988
ZK-INI: BK117-850D2 Airwork NZ from Dec12, conv to 850D2

N5405G: USA, test serial D-HBHV; conv to B2 type


---

STAT MedEvac from Jun87


---

N5405G: Johns Hopkins Lifeline, op by STAT MedEvac, noted 2002-+


---

- N5405G: Maxus Leasing Group at Cleveland, OH Jul05-Jan12


---

CJ Systems Aviation at Englewood, CO Feb12-Jun14


---

- VH-BKR: Heli Holding Ltd at Auckland, NZ from Nov16, op by Roto+

7061
bk117a3
ZK-IVB: BK117-850D2 Airwork NZ Aug14-, conv to 850D2

N950MB: MBB, test serial D-HBNI


---

- N117CH: to N312LS


---

- N312LS: to N504LH


---

N504LH: Lutheran Air, noted Jun07


---

N143AM: Omniflight Helicopters Feb08-Apr14


---

ZK-IVB: Garden City Helicopters at Christchurch airport from M+


---

pictured offering scenic rides around Wellington Harbo+