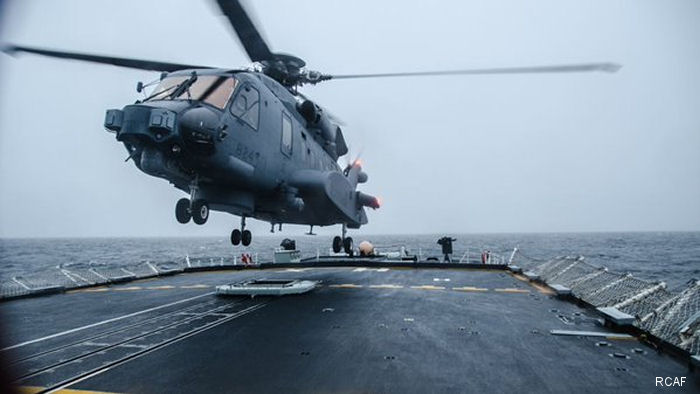 In November 2004, the
Sikorsky S-92
was chosen to replace the
CH-124 Sea King
. The Air Command ordered 28 aircraft for shipboard operations from
Canadian warships
. The first airframe was delivered for trials in 2010. On early 2012 after several complications in the program the first batch of operational aircraft was delayed to 2014.
The CH-148 will require modifications to the haul-down system on the decks of the
Halifax class
FFHs and 12 C-RAST systems are to be delivered by Dec 2011. These will be installed by a team from GD Canada and Fleetway.

As of December 2012 it is unclear when the helicopters in their final configuration will be delivered. $700,000 were spend to undo portions of the Frigates $4-million renovation project to deal with the delays in the helicopter programme.

First 6 Block 1 delivered on June 2015 with 2 another Block 1.1 by December to allow RCAF crew begin training.

On January 2016, an all RCAF crew first lands on a Navy frigate.
On September 2016 was revealed that the entire CH-148 fleet will achieve Full Operational Capability (FOC) around 2025.
By March 2017, 11 helicopters were delivered.
By May 2018 were completed 270 flight hours and 975 landings on the flight decks of the HMCS Montreal and HMCS Halifax frigates. The testing program, by now totaling 10 years and 2800 flight hours, is expected to conclude in 2019 and the RCAF will take delivery of the last of its 28 specially designed aircraft by 2021. According planning, 9 CH-148 will be stationed at Patricia Bay, BC and the rest 19 at Shearwater, NS.

The two first Block 2 fully operational helicopters were in use by May 2018. First overseas deployment took place on July 2018 aboard HMCS Ville de Quebec for a rotation tour of Operation Reassurance, the Canadian contribution to NATO.

Helicopters 16th And 17th were delivered on April 2019. All 28 are expected to be in service by December 2021.

On April 29, 2020 a CH-148 Cyclone from HMCS Fredericton (FH337) crashed into the Ionian Sea near Greece killing all six onboard. The Cyclone fleet was put on an "operational pause' while the accident is under investigation.