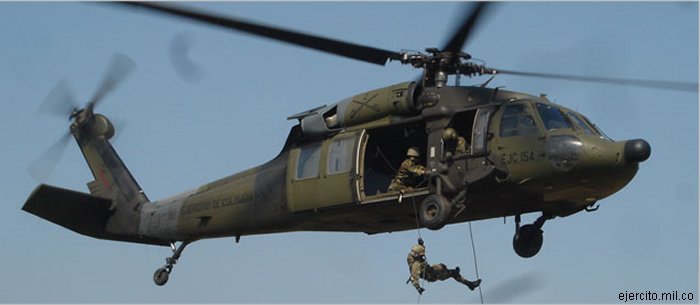 ---
This Brigade use the UH-60 Black Hawk, as a transportation Helicopter, mostly for their Special Forces. It was founded in the middle of the 90s, first they had Huey Helicopters this ones are still in service. His Base is located in Fuerte Militar de Tolemaida.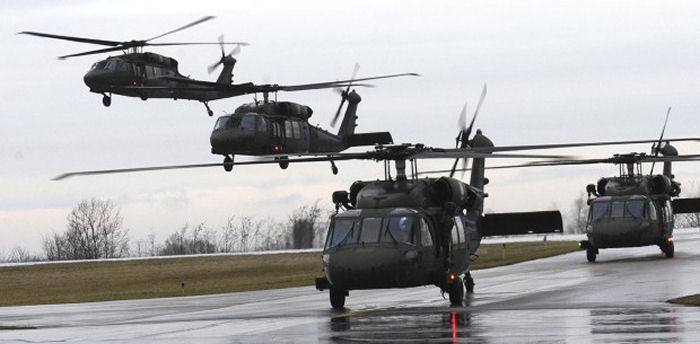 Colombia to Support Black Hawk in Latin America, 04-Aug-16 : Formed in 2012, Sikorsky Colombia operates a Black Hawk depot repair facility fully tooled and equipped to provide complete airframe structural repairs and is now offering its services to Mexico
In-Country repairs for Colombian Black Hawks, 30-Jan-13 : Sikorsky Aerospace Services (SAS) announced plans to structurally repair seven damaged Colombian Army UH-60L Black Hawk helicopters at its base depot in Tolemaida
Colombia In-Country Black Hawk maintenance, 10-Jul-12 : FARNBOROUGH AIR SHOW, London, United Kingdom - Sikorsky Aerospace Services (SAS) today announced the expansion of an existing contract that doubles the size of the in-country maintenance support team for the Colombian Army UH-60 BLACK HAWK fleet. The Colombian Army Aviation – part of the Army's Combined Arms Team – has acquired Scheduled and Unscheduled Maintenance Services for its fleet of UH-60 helicopters to ensure sustained support for operations mandated by the Colombian Army.
Colombian H-60s exceeds 300,000 flight hours, 22-Jun-11 : PARIS, France - Sikorsky Aircraft Corp. announced today at the Paris Air Show that Colombia's UH-60 BLACK HAWK helicopter fleet has surpassed the 300,000 flight hour milestone. Colombia's Army, National Police, and Air Force combine to operate nearly 100 BLACK HAWK helicopters for a variety of missions including search and rescue, medical evacuation, disaster relief, anti-drug, and counter-insurgency operations. Sikorsky is a subsidiary of United Technologies Corp.
15 UH-60L for Colombia, 21-Jun-07 : PARIS, France - Sikorsky Aircraft Corp. today announced the signing of a Letter of Offer and Acceptance by the government of Colombia to acquire 15 Sikorsky UH-60L BLACK HAWK helicopters from the U.S. Army. The Foreign Military Sale is valued at approximately $225 million and includes spares, support, and training. Sikorsky Aircraft is a subsidiary of United Technologies Corp.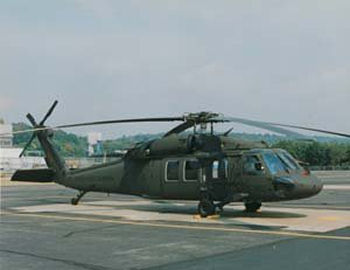 Plan Colombia: 30 More Black Hawks, 18-Dec-00 : Two contracts worth more than $221M to Sikorsky to provide a total of 30 Black HAWK helicopters to Colombia by the end of 2001