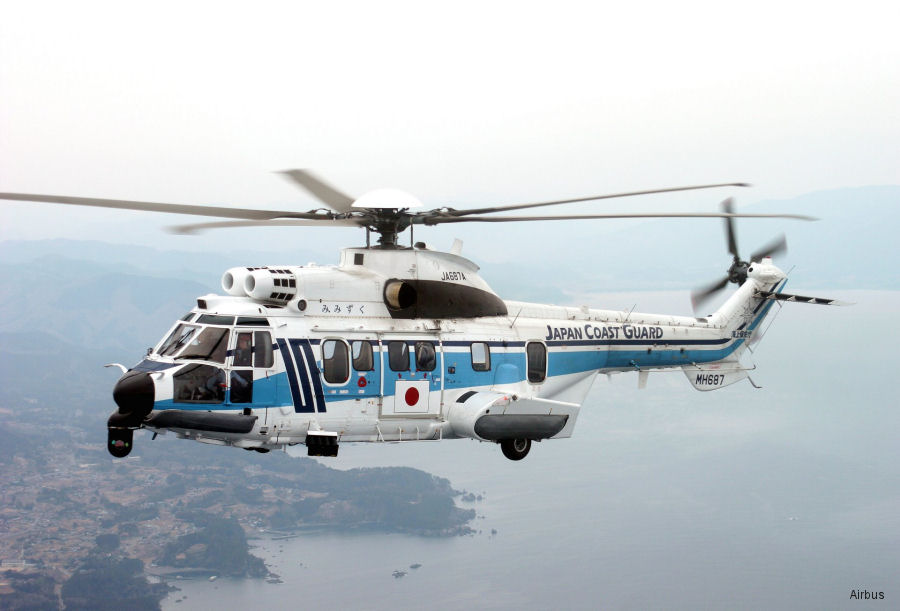 17-Jul-18 -

Airbus' material management programme will cover the maintenance of ten Japan Coast Guard EC225/H225 over five years

#support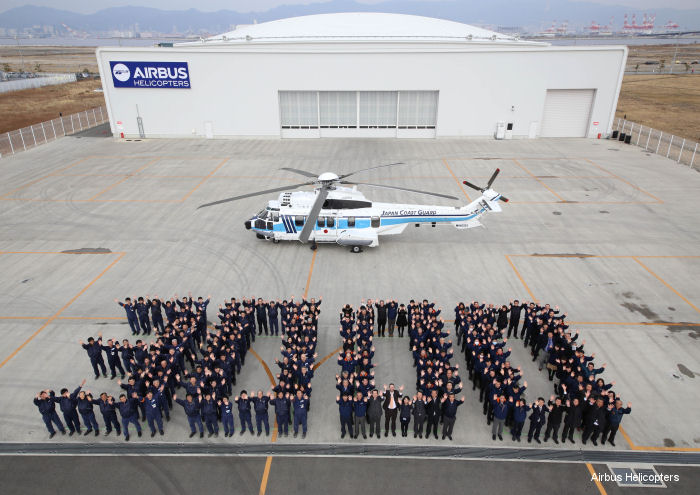 02-Mar-15 -

Japan Coast Guard received the last of 3 EC225LP ordered in 2011 to replaced the one lost during the Earthquake. Is the 3000th helicopter served by Airbus Helicopter Japan hangar since 1971.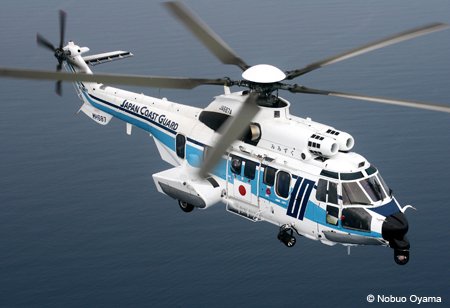 18-Aug-11 -

Marignane, France, Following intensive relief operations after the Great East Japan Earthquake in March, the Japan Coast Guard, Eurocopter Group and Eurocopter Japan have signed a tripartite contract for the supply of three additional EC225 helicopters to the Japan Coast Guard. These aircraft will be the first civilian helicopters to be equipped with the most advanced mission system, to be deployed for search and rescue as well as law enforcement missions.
| | C/N | Mod | Built | ID In this Org | In other Org |
| --- | --- | --- | --- | --- | --- |
| | 2663 | | | JA687A Coast Guard /MH687 from Mar08 | JA687A: Eurocopter Japan Dec07; to Coast Guard |
| | 2670 | | | JA688A Coast Guard /MH688 from Mar08 | |
| | 2854 | | | JA689A Coast Guard /MH689 from Sep13 | JA689A: Eurocopter Japan Sep13, to Coast Guard |
| | 2883 | | | JA690A Coast Guard from Aug14 /MH690, pictured | JA690A: Airbus Helicopters Japan from Jan14 |
| | 2921 | h225 | 2014 | JA691A Coast Guard from Jan15 /MH691; pictured during delivery | JA691A: Airbus Helicopters Japan Oct14-Jan15 |
| | 3015 | h225 | | JA692A Coast Guard from Dec18 /MH692 | JA692A: Airbus Japan Aug/Dec 2018 |
| | 3006 | h225 | | JA693A Coast Guard from Dec19 /MH693, test serial F-WWOZ | |
| | 3011 | h225 | | JA694A Coast Guard from Dec19 /MH694, test serial F-WWOD | |
| | 3009 | h225 | | JA695A Coast Guard /MH695 from Mar20, test serial F-WWOL | |
| | 3001 | h225 | | JA696A Coast Guard /MH696, test serial F-WWOA | |