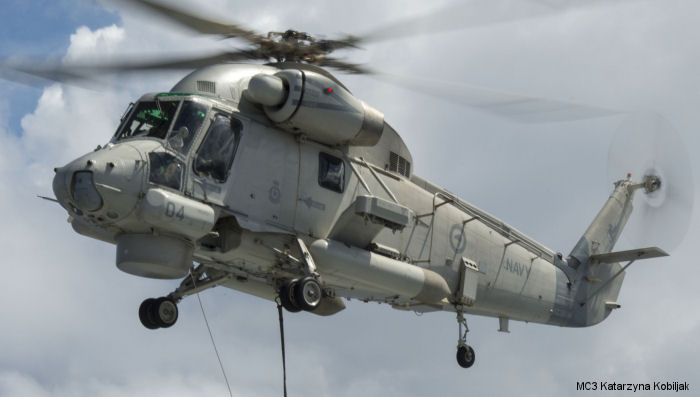 3 operational SH-2F Seasprite airframes and 1 source of spares to replace the Westland
Wasp
in service with the RNZN, under the auspices of
3 Squadron
, RNZAF. First arrived in Aug 1997 at Hobsonville and the other 3 followed that Dec as an interim step prior to delivery of the SH-2G Super Seasprite. Use began from Feb 1998 and the SH-2F was retired in 2001 as SH-2Gs began arriving. The airframes were returned to
Kaman
to support the SH-2G programme. Kaman donated
1 example
to the RNZAF Museum.

Initial order for 5 SH-2G Super Seasprites as a permanent replacement for the martime Wasp, after type selection in Mar 1997 and following temporary use of a smaller number of SH-2F Seasprites. Delivered between  Jun 2001 and Mar 2003, initially for use from the ANZAC Class frigates
HMNZS Te Kaha
(F77) and
HMNZS Te Mana
(F111) and their shore base.

In May 2012 was made a new order for 11 (finally 10) SH-2G (I) and a flight simulator from the
cancelled Australian Seasprite project
. Eight will replace the current 5 SH-2G (NZ) and the other two for spare parts. Expected all delivered by 2016.
The original five SH-2G(NZ) were sold to the
Peruvian Navy
in October 2014.
New SH-2G(I) allocated to STU (Seasprite Transition Unit) by 2015