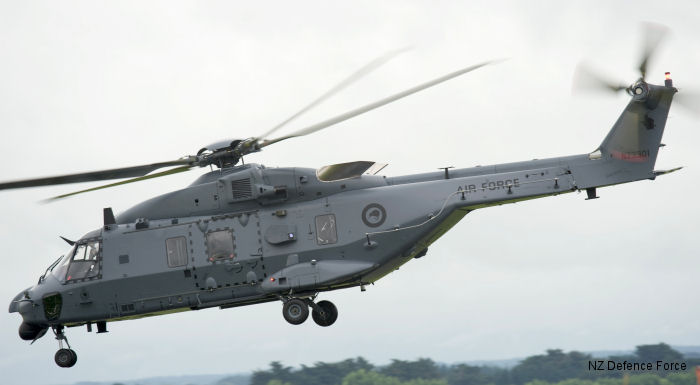 Eight TTH requested to replace the
UH-1H
in use by 3 Squadron. Up to four of them will be able to be transported aboard the new Navy, Multi Role Vessel, HMNZS Canterbury
On 22 Aug 2013, one of the first five RNZAF NH-90 was seriously damaged by a lightning strike, 4 nm NE of
Ohakea Air Base
, requiring the replacement of all main and tail rotors. For an all weather airframe which includes SAR in its role, this is a serious setback to the service introduction programme.

The NH90 was introduced into RNZAF service in 2013.

C/N
Built
ID In this Organisation
In other Org


1177
2011
NZ3301: RNZAF, TNZA01 test serial F-ZWTU

F-ZWTU: NHI/Eurocopter France for New Zealand

1206
2011
NZ3302: RNZAF, TNZA02 test serial F-ZWDD

F-ZWDD: NHI/Eurocopter toward NZ3302

1207
2012
NZ3303: RNZAF, TNZA03 test serial F-ZWDO

F-ZWDO: NHI/Eurocopter to NZ3303

1208
2012
NZ3304: RNZAF, TNZA04 test serial F-ZWDR

F-ZWDR: NHI/Eurocopter toward NZ3304

1209
NZ3309: RNZAF, TNZA09 Feb14, for spares

1229
2013
NZ3306: RNZAF, TNZA06 test serial F-ZWDV

F-ZWDV: NHI/Eurocopter France, to NZ3306

1241
NZ3305: RNZAF

F-ZWBC: NHI/Eurocopter toward NZ3305

1265
NZ3307: RNZAF, TNZA07 test serial F-ZWBT, d/d Feb14

F-ZWBT: NHI/Eurocopter

1267
NZ3308: RNZAF, TNZA08

9 C/N.