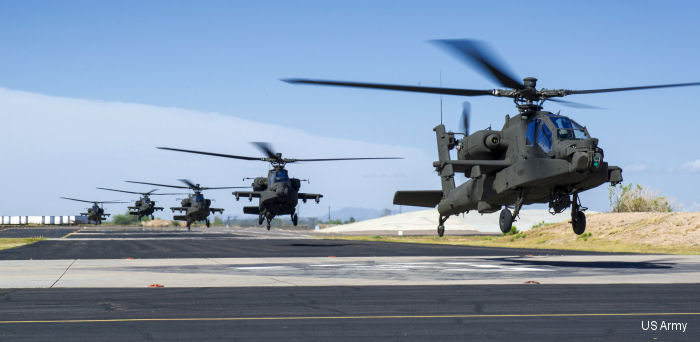 First delivered in October 2011,
Apache Block III
helicopters are in production at the Boeing Company in Mesa, Arizona.
Plans calls for 634 AH-64D to be upgraded to AH-64E standard and production of 56 new-build AH-64E.
On February 2012, 1st Attack Reconnaissance Battalion, 1st Aviation Regiment, Combat Aviation Brigade, 1st Infantry Division was designated US Army FUE (first unit equipped) having their Apaches replaced with the new variant.
By December 2012, 28 of 51 low-rate initial production AH-64Es were already delivered with full-rate production starting in 2013.
On January 2013, Redstone logistics specialist wins Apache Project Office contest to name the AH-64E as
Guardian
.
On October 2019, Boeing delivered the 300th AH-64E to the US Army
On April 2020, Boeing delivered the 500th Apache for US Army and FMS partners.
On January 2021, the US Army began fielding the
Version 6