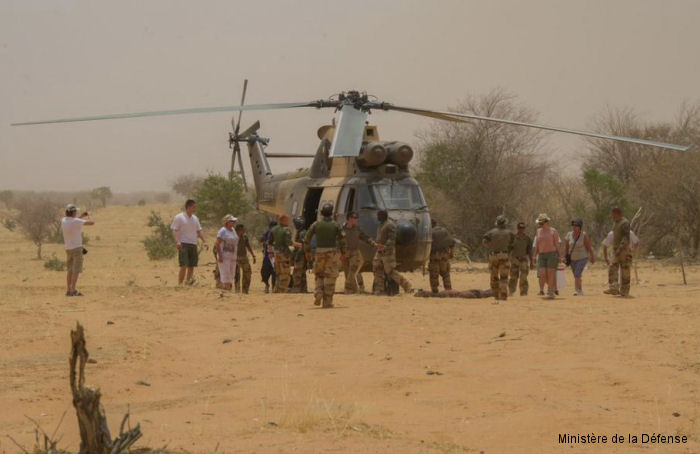 Ministère de la Défense, April 22, 2015 - On April 21, more than 200 French soldiers from Operation Barkhane were mobilized in Burkina Faso and south of Gao, Mali, to allow families mourn Air Algeria Flight AH5017 Mali desert crash victims.

Organized by the Ministry of Foreign Affairs and International Development (MAEDI), this movement was for relatives of the victims of the air crash occurred on July 24, 2014.

The French forces engaged in the Sahel-Saharan Africa, part of the Operation Barkhane against terrorist armed groups, provided expertise in the region and resources to support the organization of this day.

This support is reflected in three aspects:

- Securing the crash site, in coordination with the forces of peacekeepers MINUSMA and Malian armed forces;

- Air transport families from Ouagadougou to the crash site (By tactical transport plane to Gao and then by helicopter);

- Logistical support locally near the crash site (tents, water, sanitation, medical support).

In late July 2014, the French Army had mobilized their resources to the search for the aircraft and securing the support area of ​​the Bureau for Investigations and Analysis (BEA).

The Operation Barkhane includes 3000 troops whose mission in partnership with the G5 countries is to fight against terrorist armed groups that can act in the Sahel-Saharan Africa.

On 24 July 2014 a McDonnell Douglas MD83 aircraft belonging to the Spanish company Swiftair but chartered by Air Algeria disappeared during a commercial flight between Ouagadougou and Algiers with the loss of 118 people including 54 French.

Two Mirage 2000D, a Harfang and Reaper both based at Niamey, and a CASA aircraft based in Gao, were mobilized for the search of the crash zone in the Gossi region, near the border with Burkina Faso. After the crash zone was located by the Serval force, the French soldiers were engaged in two simultaneous missions.

- First, they moved to secure the site. To this end, military helicopters was sent immediately with doctors before being joined by a convoy of 170 French soldiers accompanied by two sections of the Malian armed forces. On site, they have been reinforced by a Dutch and a Togo unit and finally by the MINUSMA. This security, conducted in cooperation between French forces in Mali and MINUSMA, allowed the preservation of the area and the collection of the essential elements to the investigation by the BEA.

- The second French military mission was to support the logistics of Serval to transport and support French, Mali, Algerian and Spanish teams of investigators.
AS532UL Cougar in

Aviation Légère de l'Armée de Terre
Operation Barkhane
MINUSMA
United Nations