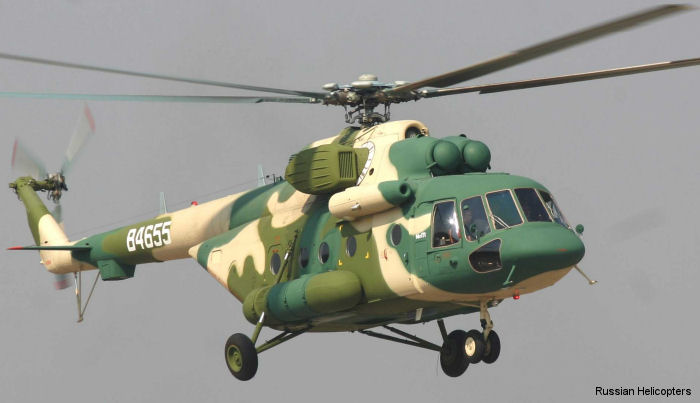 Russian Helicopters, February 16, 2016 - Singapore - Russian Helicopters, part of State Corporation Rostec, signed a framework agreement with Chinese companies «AVIC International Holding Corporation» and «CITIC Offshore Helicopter Corporation» (COHC) to create a maintenance and repair center for Russian-made helicopters in China.

Under the agreement, Russian Helicopters is planning to reequip the maintenance center in Shenzhen, China to repair Russian rotorcraft. At the first stage, authorized maintenance services and operation support will be provided for the Ka-32A11BC helicopters. During the second stage, the capacities will allow for maintenance and repair of Russian-build helicopters of the Mi-8/17 series.

"We're ready to provide extensive support to China to create a repair center and support its activities throughout the entire life cycle of Russian-made helicopters supplied to this country," said Russian Helicopters' CEO Alexander Mikheev. "The new center will ensure high quality service for Russian-made helicopters throughout the entire lifespan."

Taking into consideration the fleet of Russian-built helicopters operating in China, a whole network of helicopter service centers is being planned in China, which would specialize in maintenance of civil and military helicopters, particularly of the "Mi" and "Ka" series. Apart from the technical center in Shenzhen, the Chinese side showed interest in organizing authorized maintenance and repair centers in Shanghai, which would be based at the Haiying automotive repair factory, and at Chengdu, at the Jingjiang factory.

China is one of the biggest operators of Russian-made helicopters. Helicopters of the Mi-8/17 series, as well as the Ka-32A11BCs, are successfully operated throughout the country, particularly in regions with challenging terrain and difficult climates. These helicopters are used for transporting various cargo, medical supplies, humanitarian aid, construction materials; they also perform rescue and emergency recovery operations.

The Mi-8/17 series is the most popular in China. The fleet of these helicopters in China exceeds 400. In 2014, Russian Helicopters completed the delivery of 84 Mi-171E helicopters to Chinese Poly Technologies company. Mi-8/17s are irreplaceable for cargo and passenger transportation, geological exploration, patrolling and firefighting.

The multirole Ka-32A11BC helicopter is also certified in China and boasts high demand. It is ideally suited for highly urbanized cities and China's specific climate conditions. The helicopter can operate efficiently in dense urban areas, hard to reach mountainous and forested regions, and can also land on small vessels, drilling platforms, and on unprepared, hard to access sites.

Russian Helicopters, (part of State Corporation Rostec), is one of the global leaders in helicopter production and the only helicopter design and production powerhouse in Russia. Russian Helicopters was founded in 2007 and is headquartered in Moscow. The company comprises five helicopter production facilities, two design bureaus, a spare parts production and repair facility, as well as an aftersale service branch responsible for maintenance and repair in Russia and all over the world. Its helicopters are popular among Russian ministries and state authorities (Ministry of Defence, Ministry of Internal Affairs, Emergency Control Ministry), operators (Gazpromavia, UTair), major Russian corporations. In 2014 its IFRS revenues increased 22,8% to RUB 169,8 billion. Deliveries reached 271 helicopters.

COHC

CITIC Offshore Helicopter Co Ltd
CITIC Group
Zhōngguó Zhōngxìn Jítuán Gōngsī

AVIC
Mi-8/17 Hip (3rd Gen) in

Russian Helicopters
Ka-32A11BC in

Russian Helicopters