Bell Helicopter, November 05, 2014 - Fort Worth, Texas – Bell Helicopter, a Textron Inc. company, announced today the delivery of two Bell 429s configured for Helicopter Emergency Services (HEMS), Search and Rescue (SAR) and Airborne Law Enforcement (ALE) to the Delaware State Police aviation section.

The milestone aircraft will join the Delaware State Police's current fleet of Bell helicopters and be used throughout the state for a variety of parapublic missions with a strong focus on EMS.

"We are always looking to provide our community with quality, safe service, and these Bell 429s provides us with that," said Colonel Nathaniel McQueen Jr., superintendent of the Delaware State Police. "We are very excited to begin performing missions with this state-of-the-art, multi-mission aircraft, and look forward to our continued relationship with Bell Helicopter."

The Delaware State Police have been a loyal Bell Helicopter customer for nearly 45 years and were the first law enforcement agency in the world to take delivery of the Bell 407.

The police unit currently operates three Bell 407s, a Bell 412 and a fixed-wing Cessna 182.

"The Bell 429 is highly configurable to allow performance of a wide range of missions, and we are honored to hand over these aircraft capable of life-saving and parapublic operations to a life-long customer," said Anthony Moreland, vice president of North American sales. "The aircraft are equipped with innovative hardware and a unique integration of class leading technology and cutting-edge mission equipment that truly set a new standard in the light-twin industry."

The Bell 429 is the only light twin-engine helicopter on the market with true two-litter capability, featuring enough cabin space for two medical attendants and two crew members. The Bell 429 also offers exceptional flight performance with a fully integrated glass cockpit, advanced drive system and best-in-class WAAS navigation and IFR capability. It is the first helicopter certified through the MSG-3 process, resulting in reduced maintenance costs for operators. The Bell 429 also features a spacious cabin and extra large 60 inch side doors, as well as Instrument Flight Rules (IFR) capability certified for single or dual pilot operations.

About Bell Helicopter: Bell Helicopter, a wholly owned subsidiary of Textron Inc., is an industry-leading producer of commercial and military, manned and unmanned vertical-lift aircraft and the pioneer of the revolutionary tiltrotor aircraft. Globally recognized for world-class customer service, innovation and superior quality, Bell's global workforce serves customers flying Bell aircraft in more than 120 countries.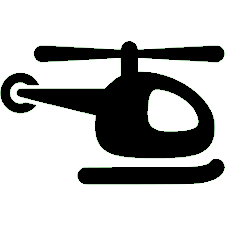 Aircraft mentioned in this article :
429 N2SP N1SP ( State of Delaware )


DSP

Delaware State Police
State of Delaware
429 in

State of Delaware
Two Bell 429s for Delaware State Police