Bell, December 21, 2020
- Fort Worth, Texas – Bell Textron Inc, a Textron Inc company, and Team Valor celebrated the three-year anniversary of the V-280 Valor's first flight.
Since that first flight, the V-280 team has executed a rigorous flight test program flying 200 hours through over 150 individual test flights.
The test program was designed to demonstrate Bell-defined key performance parameters to showcase advanced capability, reduce risk, and inform requirements for the Army's future vertical lift (FVL) initiative on a clean sheet aircraft design.
Bell and Team Valor have systematically decreased risk for the Army's Future Long-Range Assault Aircraft (FLRAA) initiative using data-driven preparation, transparency, and collaboration with the Army, and a dynamic approach to deliver evidence of exceptional performance to inform a program of record.
"Bell's test flight program is a testament to how our workforce approaches program execution, and we are proud of the outstanding efforts put into this revolutionary aircraft in support of our nation's military," said Keith Flail, executive vice president of Advanced Vertical Lift Systems at Bell. "We have a great deal of confidence, backed up by data, that the V-280 will be an affordable, maintainable FLRAA weapon system that delivers the reach, lethality, agility, and survivability the Army needs to organically move, converge, and resupply maneuver forces over unprecedented distances."
The V-280 Valor has surpassed Bell's program goals and expected milestones over the past three years as part of the Joint Multi-Role Technology Demonstration (JMR TD) program. The initial testing of this new aircraft focused on delivering performance data to prove out the speed, range, agility, and efficiency of the V-280's design to enable the Army to move and concentrate forces at the extended distances required for global operations as part of the Joint Force. Testing has included multiple Army Experimental Test Pilots and "Soldier Touchpoint" events focused on the pilots, crew chiefs, mechanics, and infantry squads to gather end-user inputs to inform FLRAA requirements.
As V-280 testing progressed, Bell demonstrated the V-280's ability to execute mission-relevant maneuvers such as fast-rope and sling load operations, autonomous flight, as well as a modular open systems approach that enabled rapid systems integration of a Pilotage Distributed Aperture System (PDAS) and Tactical Common Datalink (TCDL) from Team Valor teammate Lockheed Martin.
Team Valor

"From our first flight in 2017 through today, we have worked closely with our Army teammates to demonstrate a low-risk, affordable, and sustainable FLRAA aircraft that will redefine the battlefield for decades to come," said Ryan Ehinger, vice president and program director for the V-280 Valor at Bell. "The technology is ready. The V-280 aircraft has proven the speed, range, and agility in flight test to transform the Army. The coupling of this air vehicle technology with the work we have been doing in open mission systems will be game-changing and enable delivery of a weapon system that can serve the Army for decades."

Bell and Team Valor continue to work on a refined V-280 Valor design that builds on the data captured during the past three years of testing as part of a competitive demonstration and risk reduction (CD&RR) contract awarded in March of 2020.

About Bell: Thinking above and beyond is what we do. For more than 80 years, we've been reimagining the experience of flight – and where it can take us.

We are pioneers. We were the first to break the sound barrier and to certify a commercial helicopter. We were aboard NASA's first lunar mission and brought advanced tiltrotor systems to market. Today, we're defining the future of on-demand mobility.

Headquartered in Fort Worth, Texas – as a wholly-owned subsidiary of Textron Inc., – we have strategic locations around the globe. And with nearly one quarter of our workforce having served, helping our military achieve their missions is a passion of ours.

Above all, our breakthrough innovations deliver exceptional experiences to our customers. Efficiently. Reliably. And always, with safety at the forefront.

About Textron Inc: Textron Inc. (NYSE: TXT) is a multi-industry company that leverages its global network of aircraft, defense, industrial and finance businesses to provide customers with innovative solutions and services. Textron is known around the world for its powerful brands such as Bell, Cessna, Beechcraft, Hawker, Jacobsen, Kautex, Lycoming, E-Z-GO, Arctic Cat, Textron Systems, and TRU Simulation + Training. For more information, visit: www.textron.com.

The views and conclusions contained herein are those of the authors and should not be interpreted as necessarily representing the official policies or endorsements, either expressed or implied, of the U.S. Government.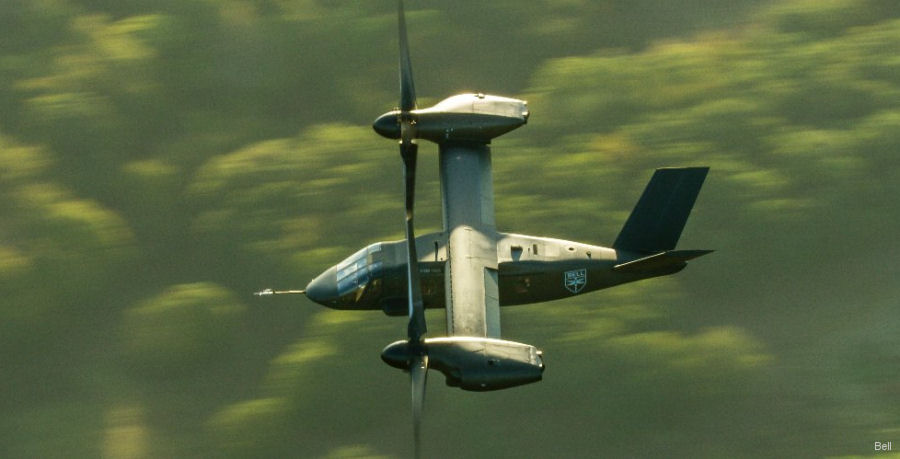 FLRAA >
Bell V-280 Valor