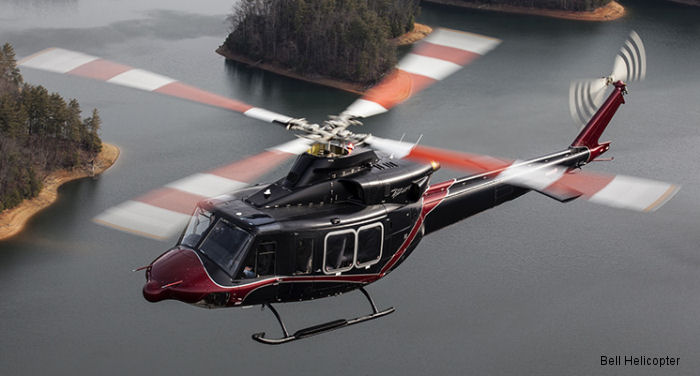 Bell Helicopter, February 27, 2015
- Fort Worth, TX – Bell Helicopter a Textron Inc. company, announced it has recently received certification for an improved Category A (CAT A) procedure on the Bell 412EPI from the Federal Aviation Administration (FAA).
The new CAT A backup procedure provides a significant increase in payload, performance and operational versatility.
The alternate backup procedure for the Bell 412EPI provides improved takeoff capability with increased payload by up to 640 lbs. in standard conditions, while decreasing the required minimum helipad size to 60 feet in diameter.
"The Bell 412EPI is a highly reliable and versatile aircraft, and the CAT A certification enhancement only increases the superior safety capabilities of the aircraft," said Chad Sparks, program director, Bell 412. "When we look at the industry's future needs the biggest one is safety, so we're listening and looking to meet and exceed those needs to maximize efficiency and improve safety."
"We continue to make investments in our modern commercial product line, and we are proud to support our customer's missions," added Sparks.
First introduced in March 2013, the Bell 412EPI improves the Bell 412EP platform with the Bell BasiX Pro fully integrated glass flight deck, providing critical flight information at a glance for greater situational awareness and safety.
The Bell BasiX Pro system is specifically designed to meet the requirements of twin-engine helicopters and is optimized for IFR, Category A and JAR OPS3 compliant operations. The avionics suite also includes high resolution digital maps, electronic charts and approach plates, ADS-B transponder and optional HTAWS and XM satellite links.
The new Bell 412EPI also incorporates the power of Pratt and Whitney's PT6T-9 Twin Pac engines, providing 15 percent more horsepower than the standard Bell 412.
The Bell 412EPI features the BLR Strake and
FastFin
system, which modifies the tailboom to optimize airflow and improve handling, safety and lift.
About Bell Helicopter: Bell Helicopter, a wholly owned subsidiary of Textron Inc., is an industry-leading producer of commercial and military, manned and unmanned vertical-lift aircraft and the pioneer of the revolutionary tiltrotor aircraft. Globally recognized for world-class customer service, innovation and superior quality, Bell's global workforce serves customers flying Bell aircraft in more than 120 countries.
Bell 412EPi

FAA
Federal Aviation Administration