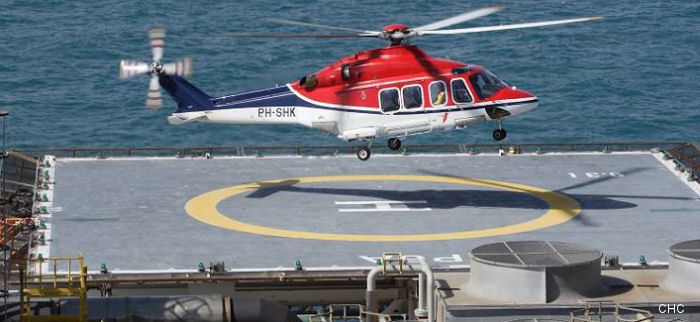 CHC, March 06, 2017 - IRVING, TX - CHC Group today announced that the United States Bankruptcy Court for the Northern District of Texas has confirmed the Company's Plan of Reorganization (the "Plan") and signed a confirmation order to that effect.

The Company expects to complete its financial restructuring process and emerge from Chapter 11 in the next few weeks, after the conditions of the Plan are satisfied.

Under the terms of the Plan, a comprehensive recapitalization of CHC will be completed that will provide $300 million in new capital from certain of the Company's existing creditors, as well as terms for restructured aircraft leases and the option for additional asset based financing commitments of $150 million from The Milestone Aviation Group Limited and its affiliates. In addition, under the Plan, CHC's liabilities will be reduced and its debt restructured.

Karl Fessenden, President and Chief Executive Officer:
"We are very pleased with the Court's approval of our Plan, which is the final legal step in our financial restructuring process and a key milestone toward CHC emerging as a stronger, better capitalized company. Completing this process and effecting our Plan positions CHC as an economically robust and agile competitor in the global helicopter services market and provides the Company with a strong foundation for long-term success. Our competitive financial and operating structure will allow us to capitalize on our legacy of innovation and invest in and grow CHC's business in the years to come. We have also been successful, by working with our various fleet providers, to renew our fleet to the correct mix and number of aircraft to best meet our customers' needs. We remain committed to maintaining a technologically advanced and reliable fleet that helps our customers reach their goals and will continue to raise the standard for safety, customer service and value across the industry."

Mr. Fessenden added, "We thank our employees for their hard work and dedication throughout this process. We also thank our customers, suppliers and other stakeholders for their support and look forward to continuing to partner with them well into the future."

CHC's Plan and Disclosure Statement as well as other information related to the restructuring proceedings are available at www.kccllc.net/chc.

Customers, suppliers and other stakeholders can find additional information about CHC's reorganization at www.chcheli.com/restructuring.

About CHC: For 70 years, CHC Helicopter has provided safe, reliable, cost-effective helicopter service in some of the most remote and challenging environments around the world. With extensive experience transporting customers in the oil and gas industry, supporting search-and-rescue and EMS contracts, and providing maintenance, repair and overhaul services, our dedication to safety and reputation for quality and innovation help our customers reach beyond what they thought possible. Visit www.chcheli.com for information.

Restructuring
CHC
Canadian Helicopter Corporation
CHC Files Plan of Reorganization